If you regularly walk along the river Wandle, or any river path in London, you should know about Giant Hogweed.
Giant Hogweed is a dangerous plant that can cause severe burns, bad blistering and respiratory problems. It grows close to rivers and streams, and has been found in the past by the river Wandle.
This post contains information about how to identify Giant Hogweed, and what to do if you see the plant, or come into contact with it.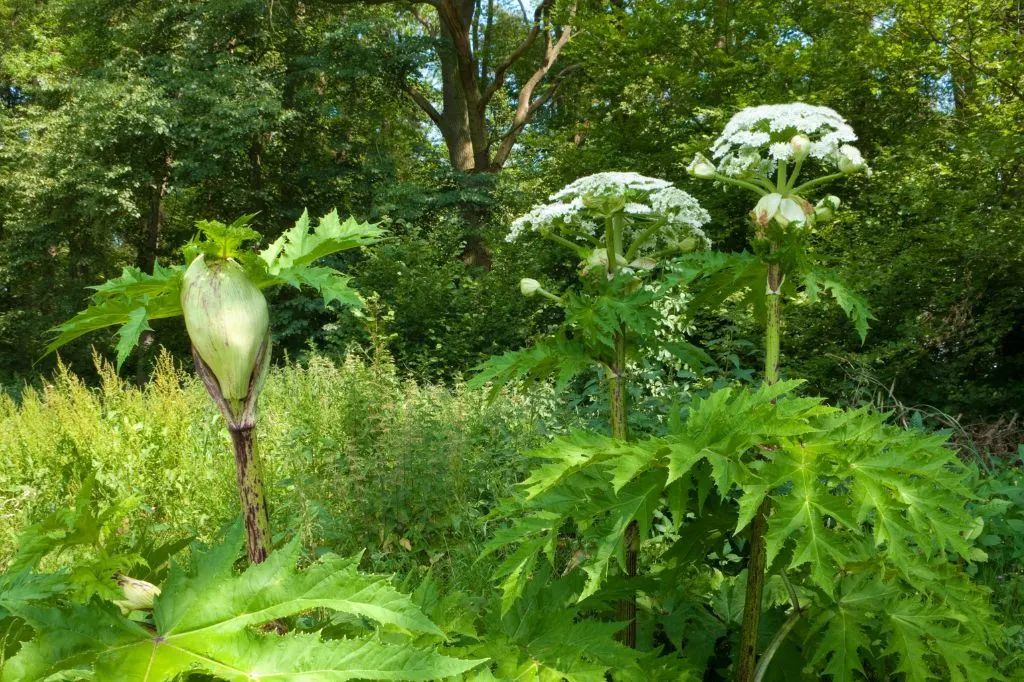 What is Giant Hogweed?
Giant Hogweed is a river plant that is rarely found far from a fresh water source. It is part of the Apiaceae family (carrot family), which includes plants such as parsley, parsnip, cumin and coriander.
Giant Hogweed plants originate from the Caucasus Mountains and Central Asia. They were first introduced to Britain in 1817, when the seeds were sent from Southern Russia to Kew Gardens.
Giant Hogweed was meant originally to be an ornamental plant. Since the 19th century, however, the seeds have escaped, and the plant is now classified as an invasive species.
Where is Giant Hogweed Found in London?
In the past, Giant Hogweed has been spotted in locations all over the United Kingdom, including parts of London such as Wandsworth, Hackney, Hendon, Stratford and Brentford.
Where is Giant Hogweed Found Along the River Wandle?
The last time Giant Hogweed was spotted along the River Wandle was in 2018. At this time it was found in the Wandsworth end of the river close to the Ram Quarter.
Prior to this it was found in multiple places in 2015-16, mainly in Wandsworth, but also in The Grove in Carshalton. The largest amount of the plant was found in between Plough Lane and Trewint Street, in Wandsworth.
Since 2018, no Giant Hogweed has been reported along the river Wandle. The last survey that was carried out was in 2020 and no Giant Hogweed was found at the time.
How Can you Identify the Plant?
The photograph below shows what a Giant Hogweed plant looks like. You can see it is a striking plant with purple blotches on its stems, and large umbrella shaped flower heads. The flower heads can grow up to 60 centimetres in diameter.
Around the base of the leaf stalks you will see coarse white hairs or bristles. There is also hair on the underside of the leaf.
The leaves look like rhubarb leaves, but with irregular and jagged edges. The plant can grow over 5 metres tall.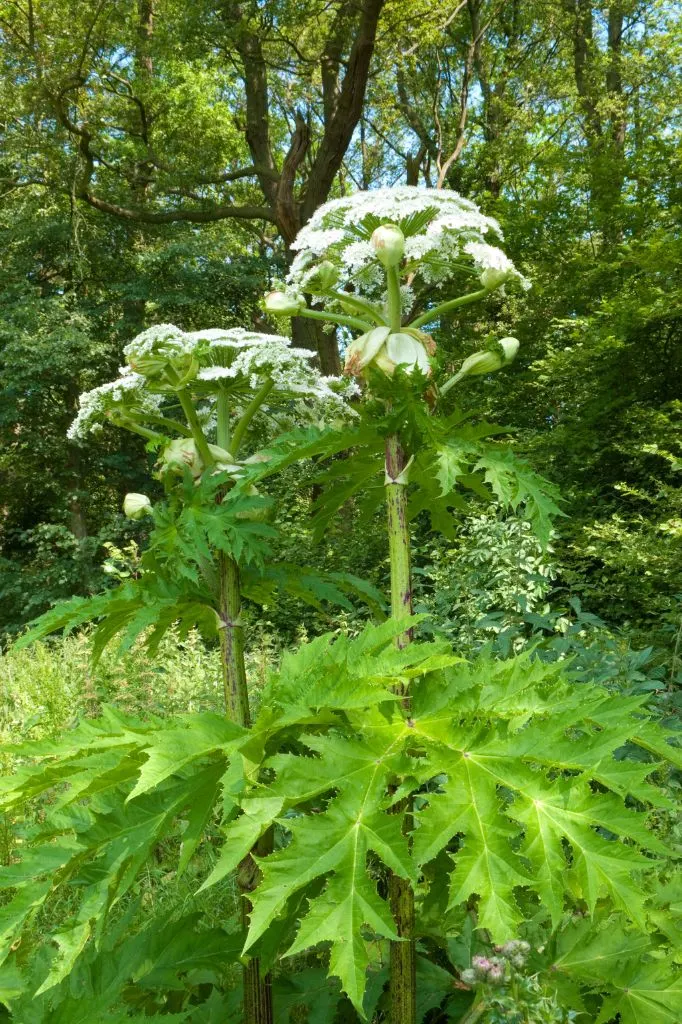 The table below summarises the appearance of Giant Hogweed. It is often mistaken for cow parsley.
Giant Hogweed Apperance
Stems

Green with purple blotches & white hairs.




Hollow with ridges and a thick circle of hair at the base.

Leaves

Up to1.5m wide and 3m long.




Divided into smaller leaflets.




Underside of leaf is hairy.

Flowers

Appear in June & July.




Small & white.




Appear in clusters that face upwards.

Height
Can grow to over 5 metres.
What Happens When you Touch Giant Hogweed?
Giant Hogweed is extremely dangerous. It can cause severe skin burns, and if it gets into your eyes it can cause permanent blindness. It has become known as Britain's most dangerous plant.
If you touch Giant Hogweed, and the sap gets onto your skin, you should wash the area as soon as possible, keep it covered from sunlight, and seek medical attention.
Can Giant Hogweed Hurt Dogs?
Giant Hogweed sap and seeds are dangerous to all animals, including dogs. Although the dog's fur could provide some protection against the toxic sap, it can still cause skin irritation and burns on its mouth, ears and nose.
What do you do if you Find Giant Hogweed in the UK?
If you spot any Giant Hogweed, is it wise to report it to prevent the seeds of the plant from spreading across the country.
You can report sightings of the toxic plant to the Environment Agency, or if you have spotted Giant Hogweed by the River Wandle, you can report it to the South East Rivers Trust.
Under the Wildlife and Countryside Act 1981, it is illegal to grow Giant Hogweed in your garden.
Useful Links
Video to Help You Identify Giant Hogweed in London
Thank you for Reading my Post
Thank you for reading my post about Giant Hogweed in London. The South East Rivers Trust run events every year to spot and remove invasive plants such as Giant Hogweed, as well as Himalayan Balsam, Japanese Knotweed and Floating Pennywort from the River Wandle.
If you have reported any Giant Hogweed sightings near the Wandle, please leave me a comment below and let me know. It's important that local people are aware of the dangers of the invasive plant, and exercise extreme caution if they see one.