The River Wandle is a tributary of the River Thames, and one of the only rivers in London that remains almost entirely above ground. Explore below to find out what the Wandle Valley offers visitors and residents.
Once heavily polluted by industry, the Wandle has undergone major restoration work to clean up the water and restore its wildlife. Today it is a popular place for anglers, nature enthusiasts, and those seeking a peaceful escape from city life.
Information
Discover information about the Wandle, including the origins of its name, its water quality, and the many ways it has been used throughout history.
Wildlife
Thanks to ongoing conservation efforts, the River Wandle has become an important wildlife corridor in the heart of South London. The articles below offer a closer look at the diverse range of species that make the Wandle their home.
Map Showing the Course of the River Wandle
The River Wandle in Earlsfield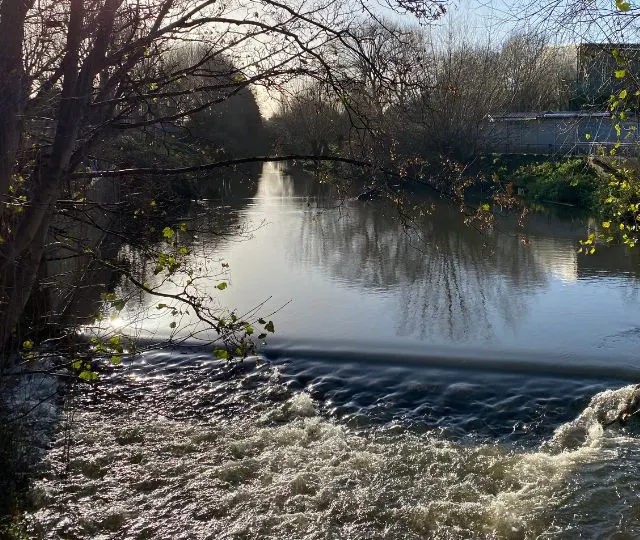 Fishing
The river is home to a variety of fish, including brown trout, chub, and barbel, making it a popular location for anglers of all levels. The articles below provide tips and advice for fishing on the Wandle.
Points of Interest
The river Wandle is more than just a waterway – it's also a treasure trove of beautiful nature reserves and fascinating historical landmarks. In the following articles, you can learn more about the many sights and sounds of the River Wandle.
Where Does the River Wandle Flow?
The river Wandle flows from Croydon and Carshalton to Wandsworth, where it meets the river Thames. Along the way, it passes through several towns with interesting histories and attractions. Explore below to find out more about the towns that the River Wandle flows through.
Other Rivers in London
London is home to a network of rivers and waterways, each with their own unique history and significance. Check out the links below to discover more about London's other rivers.
Wandle Gardening Club
Along the course of the river Wandle, you'll find a number of community gardens where local residents come together to cultivate beautiful green spaces. Explore the articles below to find valuable tips on how to create your own flourishing garden oasis.
Latest Posts
To stay in the loop with what's happening around the Wandle and the Thames, join the Wandle News monthly newsletter.