The River Graveney is a tributary of the River Wandle. It starts as Norbury Brook but turns into the River Graveney as it runs through Streatham and Tooting. In total, the River Graveney runs for 5.9 miles, mostly underground.
This post is about the history of the River Graveney and includes a map showing the river's path.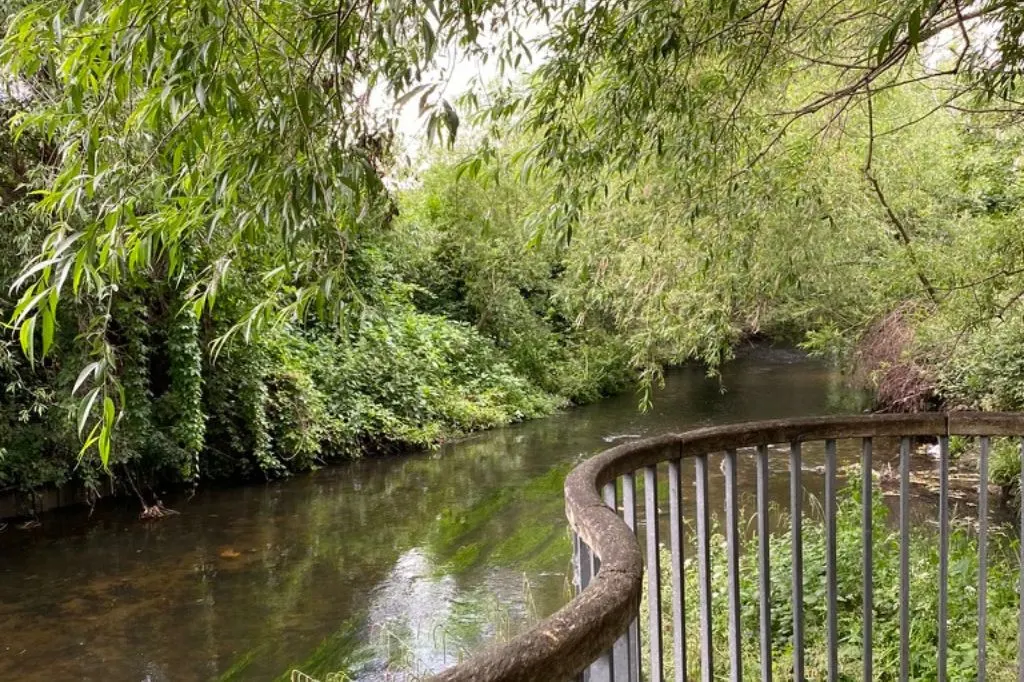 River Graveney Map
The map below shows the path of the River Graveney. The dark dotted line on the map is where the river runs underground. You can see once the river enters Tooting it meets with the River Wandle.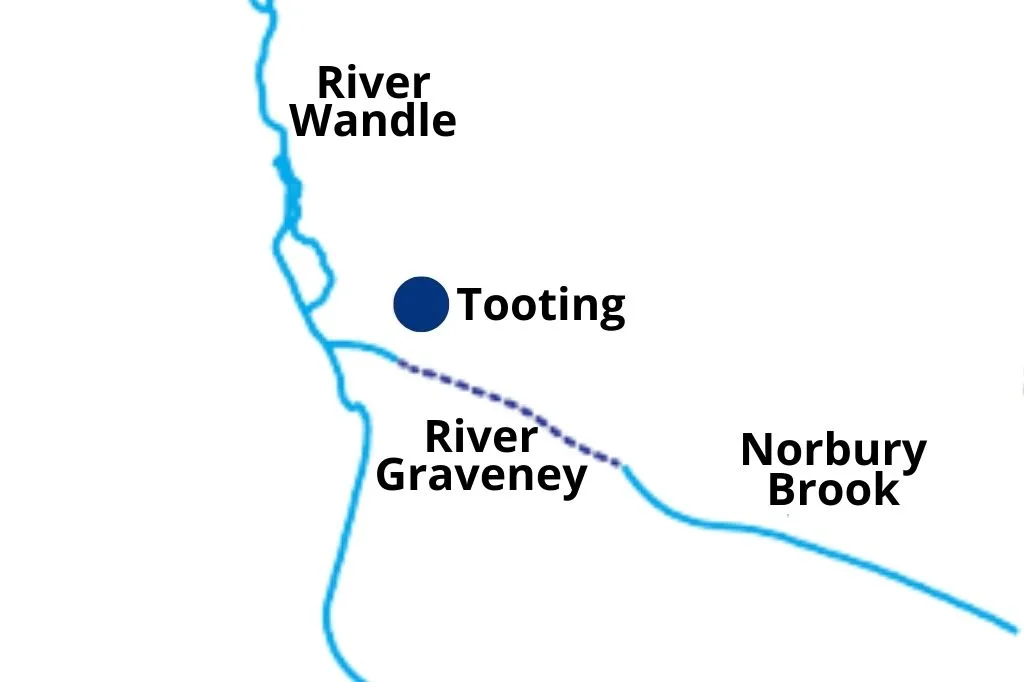 You can see from the map below that the River Graveney meets with the River Wandle just north of the Wandle Meadow Nature Park. This part of the river is entirely artificial, as old Ordnance maps show the river meandering close to the Wandle, but not actually joining it for another mile in Summerstown.
The place where the Wandle and Graveney meet is marked by a viewing platform along the Wandle Trail. The metal viewing platform (shown in the photograph below) is close to the railway bridge that you can see on the map.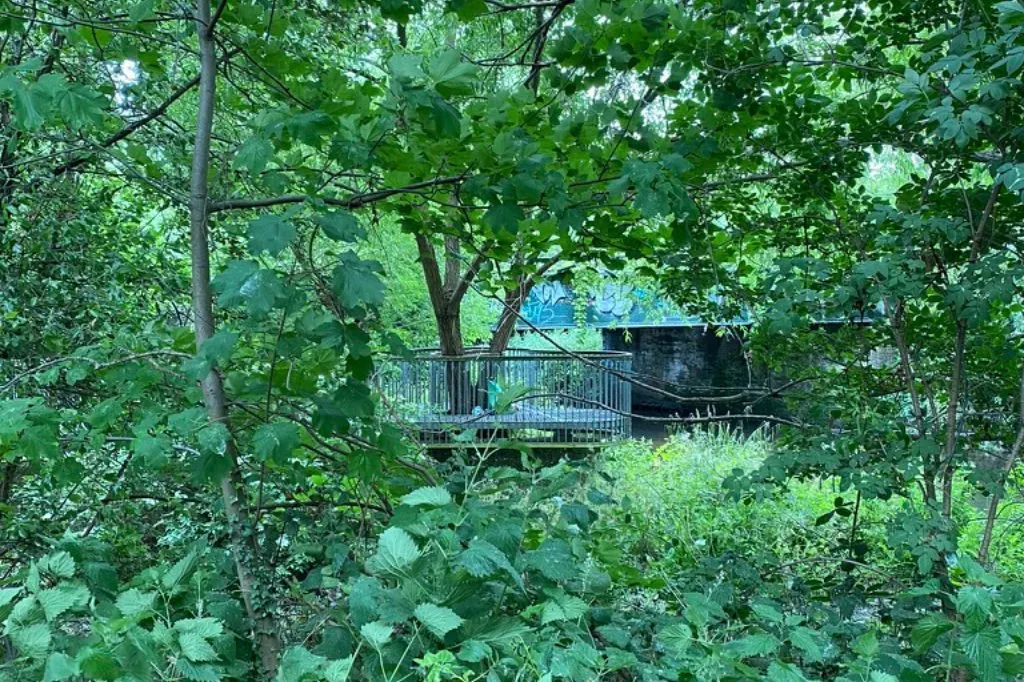 History of the River Graveney
In the Domesday Book, Tooting was divided into two manors. The southerly of the two was Tooting Graveney.
The name "Graveney" comes from the De Gravenel family who owned large pieces of land in the area in the 12-13th century. The River Graveney was named after the parish that it flowed through.
The Graveney is a small stream, which unlike the Wandle, was not powerful enough to support any water mills. Instead it was used in history as irrigation for crops, and to wash away waste.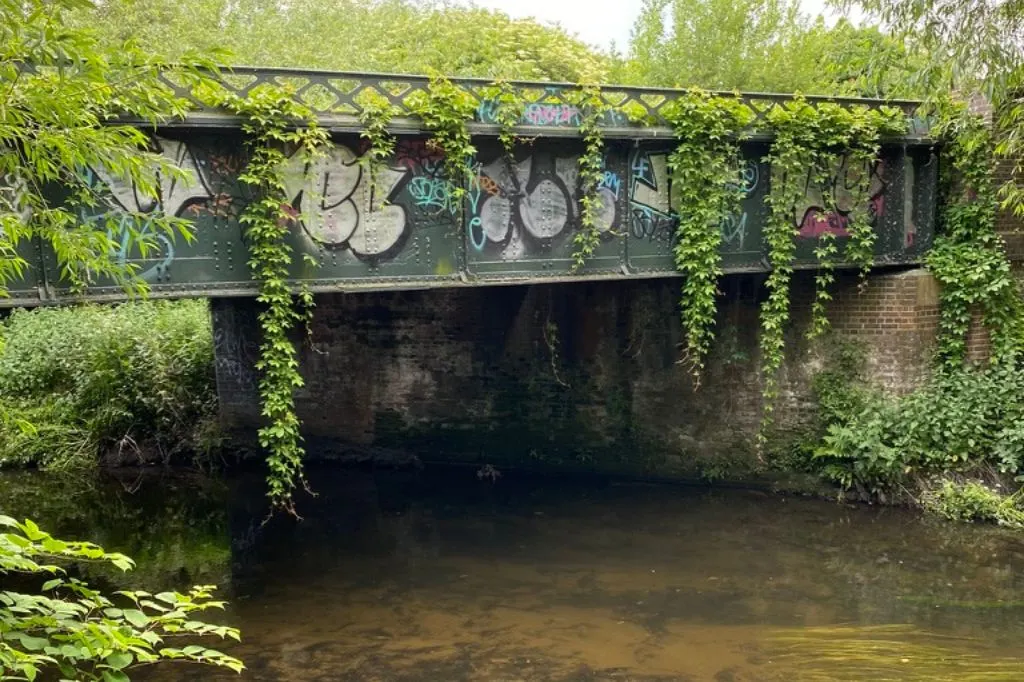 River Graveney Flooding
The River Graveney is monitored regularly for risk of flooding, since the Environment Agency identified around seven hundred properties, including private houses, which were at risk.
The area that is coloured blue in the map below shows the region that is covered by flood alerts for the River Graveney.