Watermeads is a nature reserve owned by the National Trust, and found between Poulter Park and Ravensbury Park on the Wandle Trail. It is a magical place that is perfect for nature lovers.
This post contains everything you need to know about Watermeads Nature Reserve including a map, opening hours, and facilities.
Watermeads Nature Reserve
Watermeads Nature Reserve Map
There is public access to the National Trust nature reserve from London Road, or via the Wandle Trail after you leave Poulter Park. If you are entering Watermeads from Poulter Park, the trail runs alongside the boundary fence to Watermeads for a short distance before you reach the gate.
Opening Hours
The nature reserve is locked at night. It is also locked during times of very cold weather to protect migratory birds.
If you arrived to find the nature reserve closed, there is a path that runs alongside the boundary fence and joins up with the Wandle Trail again.
Facilities
For many years Watermeads Nature Reserve was closed to the public, before work was done to build new paths and fortify the wooden bridges.
Today the wetlands habitat is has two paths that you can follow: one is alongside the river, and another is alongside a small lake.
The nature reserve is like something from a fairytale, with small winding paths, and beautiful plants and trees. It has beautiful views of the Bennett's Hole Nature Reserve, which runs on the Mitcham bank of the river opposite Watemeads, as well as the river Wandle.
There aren't, however, any picnic areas in Watermeads. If you are looking for somewhere nearby to have a picnic, the best places would be Ravensbury Park or Morden Hall Park.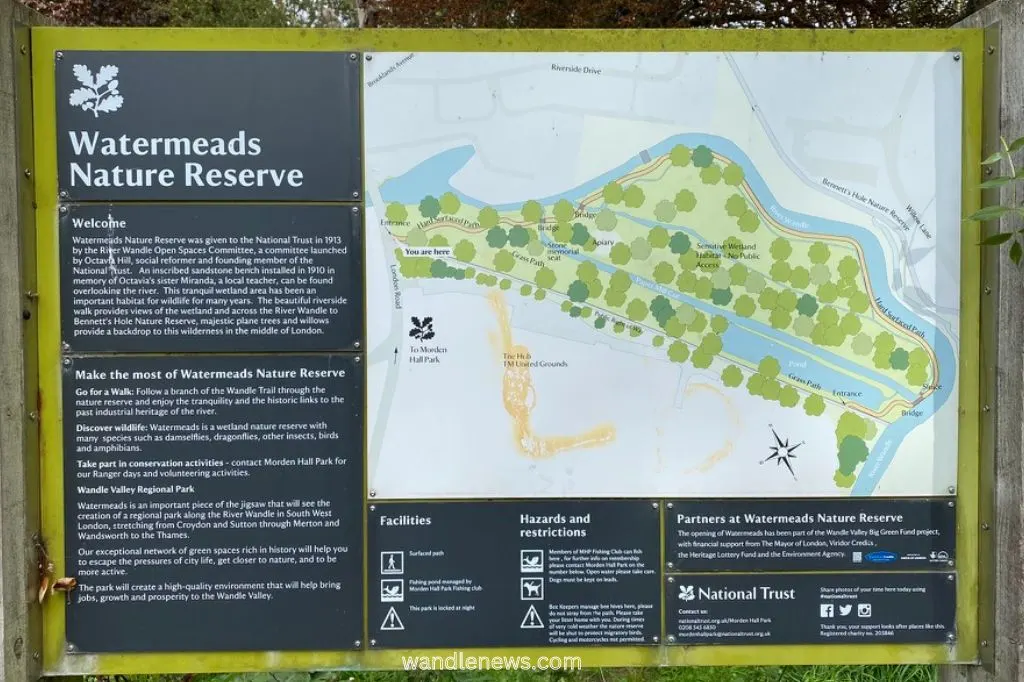 Plants and Wildlife in Watermeads Nature Reserve
Watermeads Nature Reserve has many different species of insect such as damselflies and dragonflies, as well as various birds and amphibians. It is a perfect place to look for wildlife along the river Wandle.
It runs alongside Bennett's Hole, which might be the most secluded stretch of the whole river, and a good spot to watch for Kingfishers.
There is also a rich variety of plants and trees including hazel, cricket bat willows, ash, hawthorn, silver birch, field maple, blackthorn and dog-rose.
Some of the birds you can spot include sand martins, little egrets, grey wagtail, little grebes, and Canada geese. If you are very lucky you might also see a water vole as Watermeads was one of the places where they were reintroduced to the Wandle.
Some non native aquatic invasive species, that you might see in the nature reserve, such as Japanese knotweed and floating pennywort, are regularly removed by National Trust volunteers.
Fishing in Watermeads Nature Reserve
You can only fish in Watermeads if you are a member of The Wandle Piscators.
Watermeads is a great fishing spot because you have both the river Wandle, and a small lake within it. The lake, known as Watermeads Lake, was originally constructed to provide additional water for the mills that once stood there, but later became well stocked for fishing.
The rectangular shaped stretch is also known as "Jack Pond" because of the pike that live in it.
Although the river Wandle is known for being a trout stream, it also contains chub, dace, brown trout, roach, gudgeon, stickleback, barbel, and rudd.
History of Watermeads Nature Reserve
Watermeads was acquired by the National Trust in 1913. It was one of their earliest acquisitions after a campaign by National Trust founder, Octavia Hill. At the time the land was an area of water meadows and trees, and the site of two mills that were operating in the 19th century.
Octavia Hill, and her sister Miranda campaigned to save Watermeads, raising £1,050 to purchase the land. Sadly Octavia died before the nature reserve was formally presented to the National Trust, and in 1915 The Trust received an extra two acres of land, donated in her memory.
Today you can see a stone seat in the nature reserve, to commemorate Octavia's sister, Miranda who was a local teacher. The seat is located by the remains of the snuff mill which can be seen on the river bank shortly after entering the Watermeads from London Road.
Photo Gallery
All the photographs below were taken in Watermeads Nature Reserve in South London. It is a nice place for the local community to relax and enjoy the outdoors.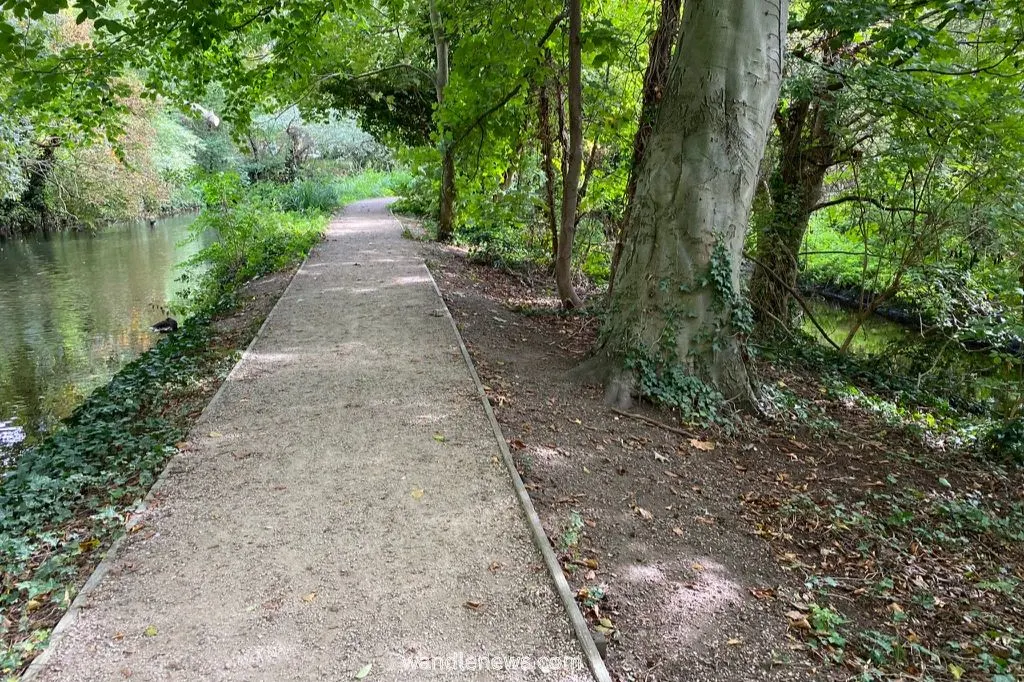 Following the Wandle Trail
If you are following the Wandle Trail, Watermeads is in between Ravensbury Park and Poulter Park. If you are coming from Ravensbury Park, simply cross over London Road, and you will see the entrance to Watermeads in front of you.
If you are coming from Poulter Park follow the boundary fence to Watermeads for a short distance before you come to the entrance gate.
Watermeads is a short walk from Morden Hall Park, which is also owned by the National Trust. To get to Morden Hall Park, following the river through Ravensbury Park.
This Post was About Watermeads Nature Reserve
Thank you for reading my post about Watermeads Nature Reserve. If you have visited the nature reserve, please leave a review below. The eleven acre site is a great place for an afternoon walk, or to spot birds and other wildlife.