Mudlarking is the practice of combing a riverbed at low tide looking for lost treasures, or items of historical significance. Mudlarking on the Thames has a long history, dating back to Victorian times, when people would scavenge the riverbed looking for valuable items they could sell.
Today, mudlarking is a hobby rather than an occupation, with participants looking for items of archeological, rather than monetary value. Some mudlarks even take metal detectors down to the riverbanks to help them in their search.
This post contains everything you need to know to go mudlarking on the Thames, including information about permits, and how to join a mudlarking tour or group in London.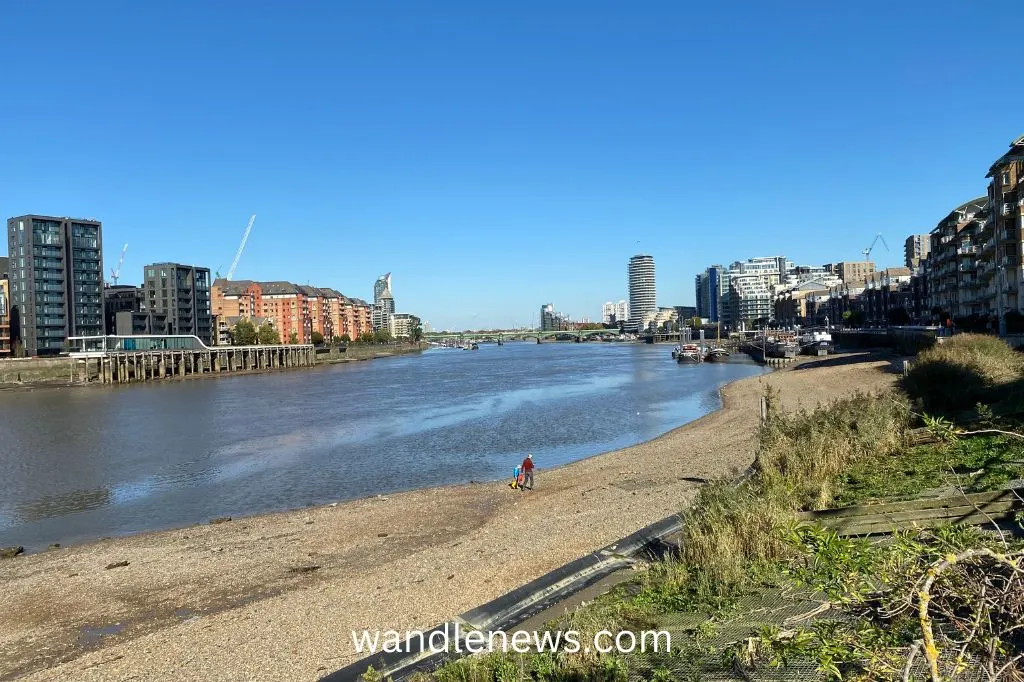 Mudlarking on the Thames
Can You go Mudlarking Without a Permit?
Since November 2016, the Port of London Authority (PLA) have ruled that you are not permitted to search the tidal Thames foreshore in any way without a permit. This includes any kind of beachcombing, scraping and digging, or using a metal detector.
If you are considering mudlarking on the Thames, you should be aware:
A permit is required even if you don't touch or take anything from the Thames riverbed.
A permit is required even if you are only looking, and not scraping or digging.
The PLA, as landowners, legally own everything that is found on the Thames foreshore.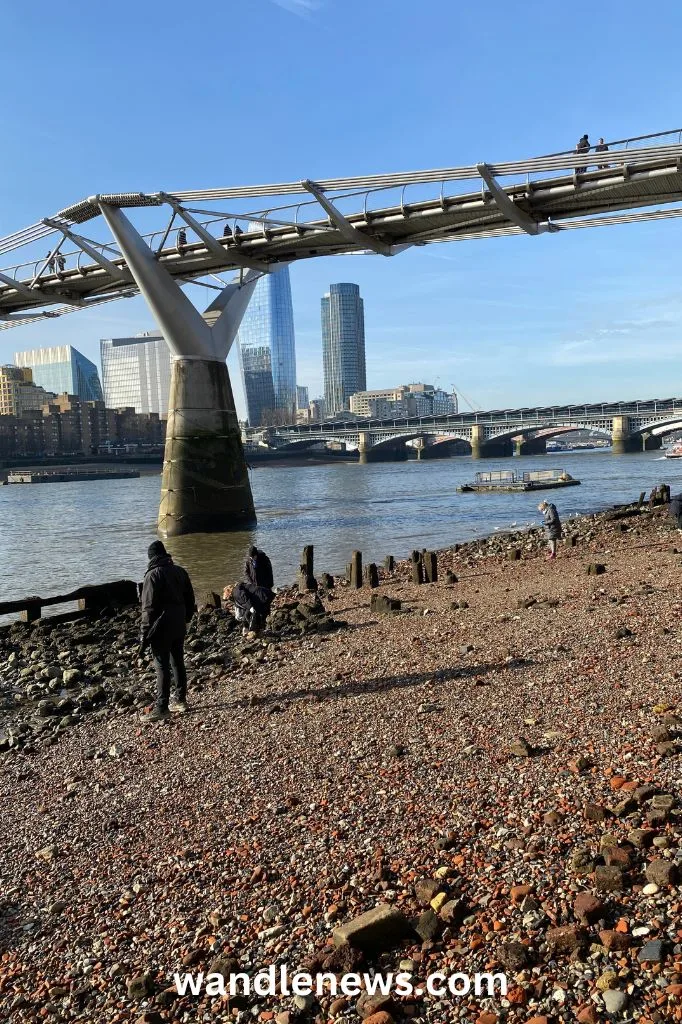 Why do you Need a Permit for Mudlarking?
There are a number of reasons by permits are required for mudlarking.
Firstly, people who are casually searching the Thames foreshore may fail to report significant finds. By regulating mudlarking with permits, it help to protects the historical integrity of the riverbed, and makes it more likely that people will respect the archeological significance of items they find.
Secondly, by requiring a permit it protects the wildlife that live near the river as it reduces the number of people walking on the Thames foreshore. If too many people are walking on the riverbed at low tide it may disturb birds and animals that are nesting or feeding by the river.
Thirdly, walking on the foreshore of the Thames is dangerous. Permit holders are warned of the hazards of going down to the river bank, and advised to go in groups.
If you aren't careful, the tide could rise quickly and cut off your exit. There are also slippery rocks, broken glass and nails on the riverbed, as well as the danger of catching Weil's Disease, a form of leptospirosis contracted from the urine of rats.
How much is a Thames Mudlarking Licence?
There are two type of licence that will allow you to mudlark on the Thames: a standard permit and a mudlark permit.
Standard Permit
A standard permit allows you to dig to a depth of 7.5cm (3inches), but no tools other than hand tools can be used. The fees for a standard permit are as follows:
Adult £96
Junior (15-17yrs) £63 (must be accompanied by a permit holding adult)
Junior (12-14yrs) £36 (must be accompanied by a permit holding adult)
Permits last for 3 years. Monthly permits are £42.
When you apply for a standard permit you need to upload a passport style photograph, and allow a minimum of 4 weeks for processing.
Please note: You cannot apply for a permit for children under the age of 12. If you want to go mudlarking with a child aged between 8-12 years, the PLA recommends you book a tour through the Thames Explorer Trust.
Mudlark Permit
A mudlark permits allows you to dig to a depth of 1.2m (3 feet 11 inches), but no tools other than hand tools can be used. It also gives you access to additional areas that a standard permit doesn't cover.
Mudlark permits are only available to current members of the Society of Thames Mudlarks. To obtain one you must have held a standard permit for at least two years. You must also be able to demonstrate a history of showing your finds to the Museum of London, or reporting them via the UK Portable Antiquities Scheme.
Can Anyone go Mudlarking on the Thames?
Anyone with a permit is allowed legally to go mudlarking on the Thames. It is not recommended however, that anyone goes onto the Thames foreshore unless they have a good understanding of the tides, and local conditions.
The Thames is very dangerous all year round. The water can be freezing cold, and there are often very strong undercurrents. Tides have a reputation for being unpredictable, and anyone who doesn't have a good awareness could get trapped if their exits are suddenly blocked off.
If you are new to mudlarking it is recommended you start by going on a guided tour or with a group. It is also wise to start familiarising yourself with the Thames tides.
Can you Keep What you Find Mudlarking?
You can keep what you find when you are mudlarking unless the object is believed to be treasure, or an item of archeological or historical interest.
Items of Historical Interest
If the object is believed to be of historical interest, it must be reported to Portable Antiquities Scheme Finds Liaison Officer at the Museum of London, within one month of being found.
You can do that either by email or phone. The museum then returns objects to their finder, with a copy of the PAS record.
Please note: If you are visiting from another country you will require an export license to take archaeological items that are over 50 years old, out of the UK.
Treasures
If the object is believed to be treasure, it must be reported to the coroner for the district in which it was found, within 14 days. This is according to The Treasure Act 1996, and includes any gold and silver objects, or groups of coins over 300 years old.
Useful Links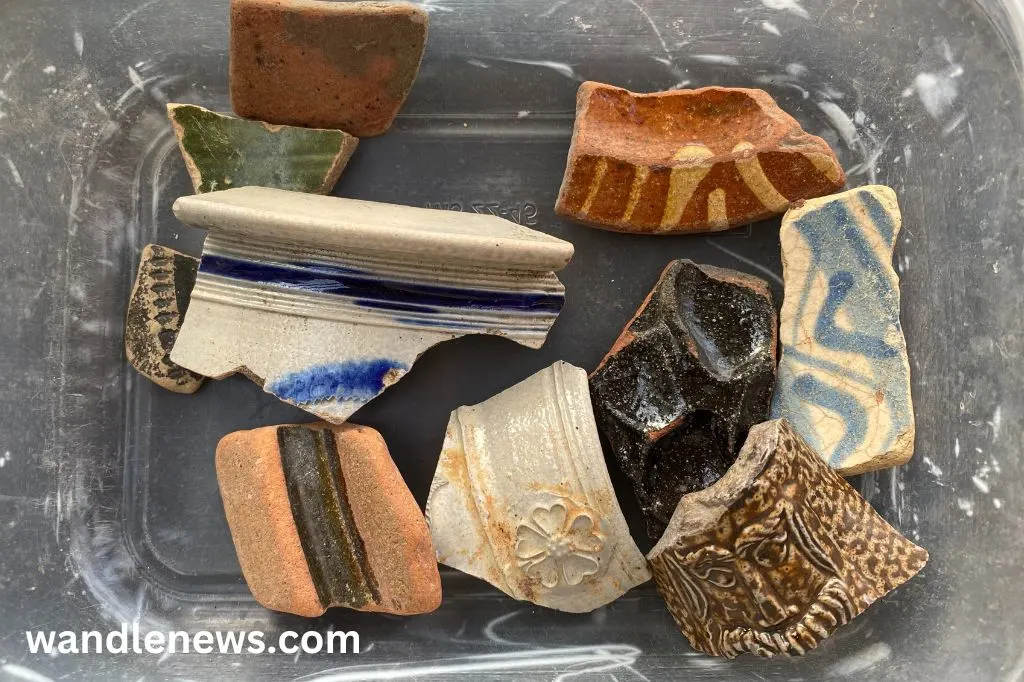 Where are the Best Places to go Mudlarking on the Thames?
If you have a standard permit, there are only certain spots on the Thames where you can go mudlarking. There is an interactive map which shows where digging is allowed.
Some good places to go mudlarking in London include:
Check out my list of Thames foreshore access points to help you find the best place to go mudlarking.
Mudlarking Tours in London
If you are new to mudlarking, a tour is a great way to get started.
The Thames Explorer Trust offers guided tours along the Thames foreshore covering Greenwich, Wapping, Rotherhithe, and the area around the Millennium Bridge. You don't need a permit to join, and the experienced staff will help you find and identify items of archaeological interest.
The Thames Discovery Programme also sometimes organise foreshore walks, focusing on the history and heritage of the river Thames.
Related: My Mudlarking Experience with the Thames Explorer Trust
Mudlarking Groups in London
If you want to start mudlarking as a hobby, you may wish to join some mudlarking groups in London, and follow some well known mudlarkers on social media.
Good London mudlarking groups include:
Popular mudlarking instagram accounts to follow:
There are also some good videos on the Old Father Thames Youtube channel.
Mudlarking in the Victorian Era
The term "mudlarking" was originally used in the 19th century, and late 18th century. It described the activity of poor people in London who would scour the foreshore of the river Thames at low tide looking for items they could sell.
Mudlarks were usually children or elderly people living in poverty, who had no other choice for employment. Mudlarking was a dangerous occupation back then, since the River Thames contained raw sewage, broken glass, and the dead bodies of humans and animals.
Can you go Mudlarking Outside of London?
London is the best place in the UK to go mudlarking. This is because, at low tide the foreshore is mostly gravel, and easy to walk on. Also, the mud at the bottom of the Thames is anaerobic, so it preserves objects well. You are also more likely to discover something in London, than in other rivers in the UK.
If you try to go mudlarking in rivers outside of London, the riverbeds might be more difficult to walk on. For example, the riverbeds in Newcastle, Bristol and Cardiff are just dense mud which you could sink into and drown.
There are also far less options to attend groups and guided tours outside of London. In London, new mudlarkers can join groups where experts understand the tides and currents, and will be able to keep them safe.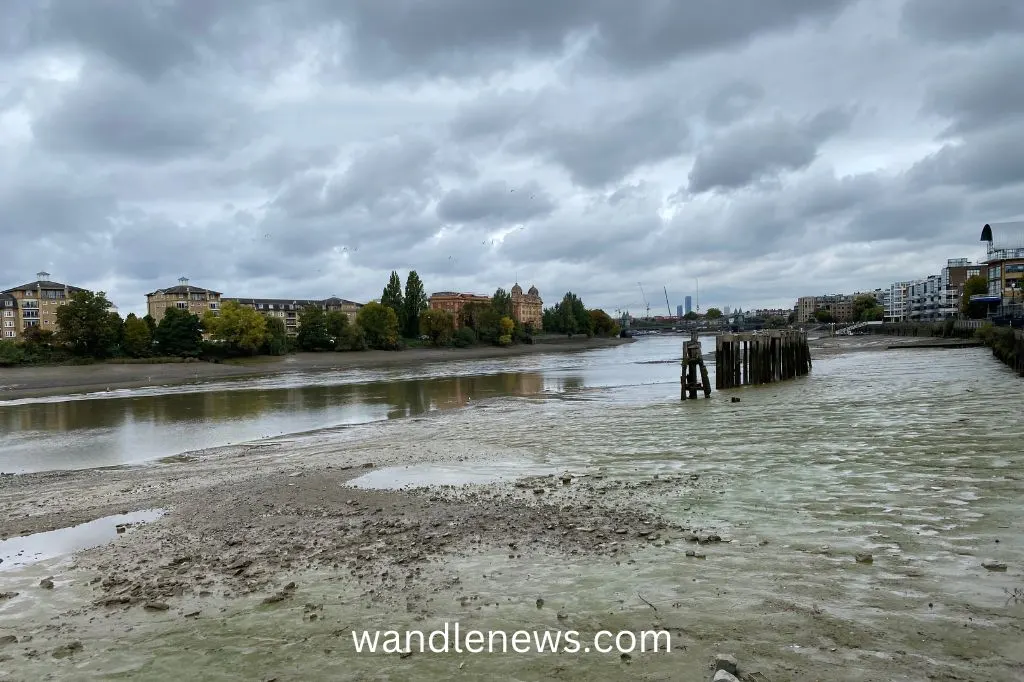 Advice Before You go Mudlarking on the Thames
Before going mudlarking you should consider the following:
The Thames is a tidal river. Make sure you check the tide times to see if the tide is rising or falling.
Do not go on your own, and take a mobile phone with you incase you get into trouble.
Watch the tide and make sure that your exit points are close by so you can get off the foreshore quickly if necessary.
The Thames foreshore contains slippery stones, and sharp objects. Make sure you wear good shoes to protect your feet, and prevent you from slipping.
Wear plastic gloves if you are going to be picking objects up. The exposed riverbed can contain sewage, and there's also the risk of Weil's Disease.
Books About Mudlarking on the Thames
I hope you love the books I recommend! Just so you know, these are affiliate links, so I will receive a small commission (at no extra cost to you) if you buy through the links.
MUDLARKS: Treasures from the Thames by Jason Sandy is a great book if you are new to mudlarking. It shows the findings of 80 different mudlarks, and contains lots of photographs and information about the history of London.
Mudlark'd: Hidden Histories from the River Thames by Malcom Russell is another great book full of research, stories, and fascinating finds. It tells the stories behind historic objects that have been found, and the people that may have once owned them.
Other Posts Related to the River Thames
This Post was a Guide to Mudlarking on the Thames
Thank you for reading my post on mudlarking on the Thames. Some items mudlarks have found on the river Thames include clay pipes, roof tiles, Roman coins, oyster shells, animal bones, pieces of coal, clay pipe stems, glass beads, a piece of Roman pottery, clay tobacco pipes, Venetian glass chevron beads, and every day objects like thimbles.
If you are a treasure hunter, and have found anything interesting on the Thames foreshore, please leave me a comment below and let me know!