Rotherhithe Beach is a small stretch of the Thames riverbed in Rotherhithe, which is exposed at low tide. The beach is directly opposite Wapping, and was once a thriving dockyard area during the 18th and 19th centuries. This post contains everything you need to know about visiting Rotherhithe Beach.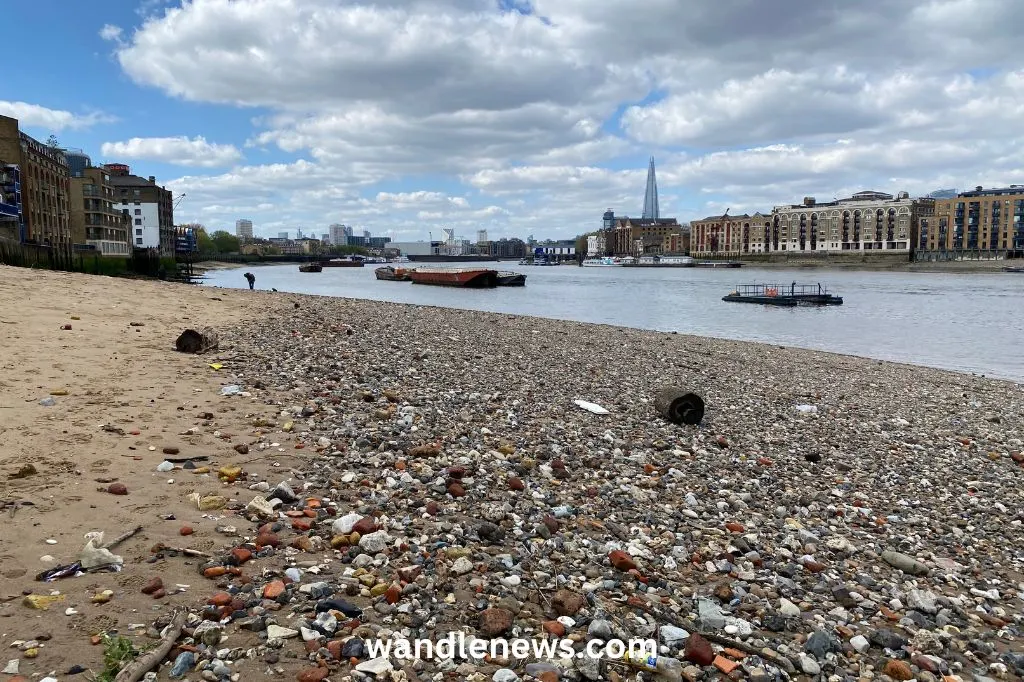 Location
Rotherhithe Beach runs alongside Rotherhithe Street from the Mayflower Pub to Octagon Court. The exact location of the beach is marked on the map below. The nearest tube stations are either Rotherhithe on the London overground, or Canada Water on the Jubilee Line.
Below is a photograph of Rotherhithe Beach taken from the Thames Path. Be sure to check the tide times before you go, and aim to go around an hour before low tide.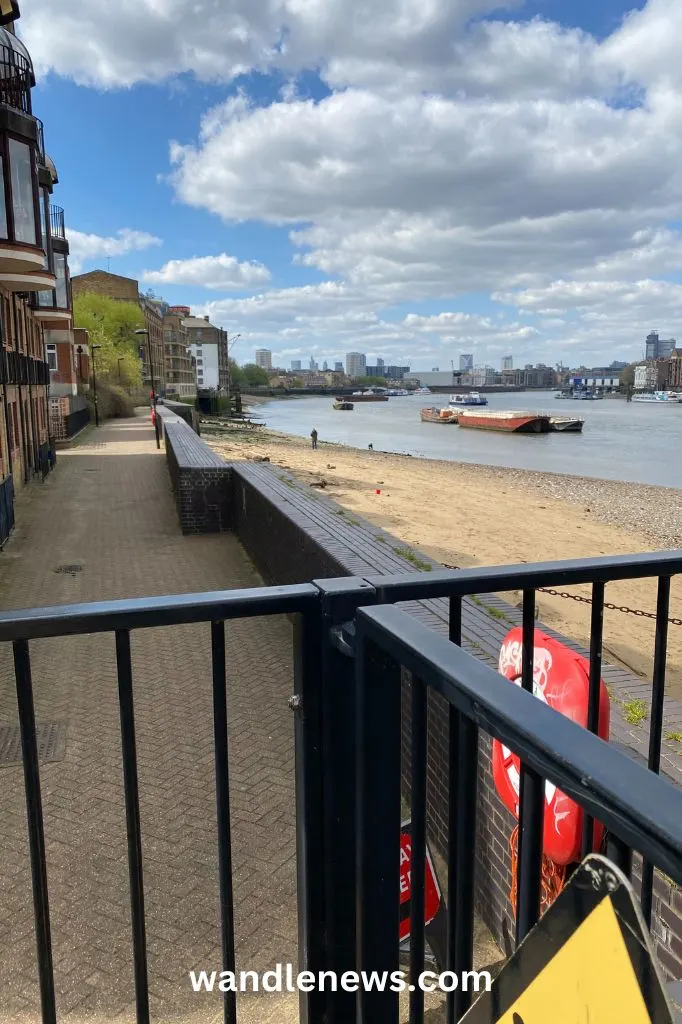 What is the History of Rotherhithe Beach?
In the 18th and 19th centuries the river Thames in Rotherhithe was lined with wharves, warehouses and shipyards. The area served as an important hub for shipbuilding, and maritime trade. It was also the place where the Mayflower ship left for America in 1620, carrying some of the first English settlers to the New World.
It is believed that the original Mayflower ship was dismantled on Rotherhithe Beach in 1624, three years after it returned to London. Today Rotherhithe beach is a popular location for mudlarks looking for remains of the Mayflower ship, or other signs of Rotherhithe's maritime history.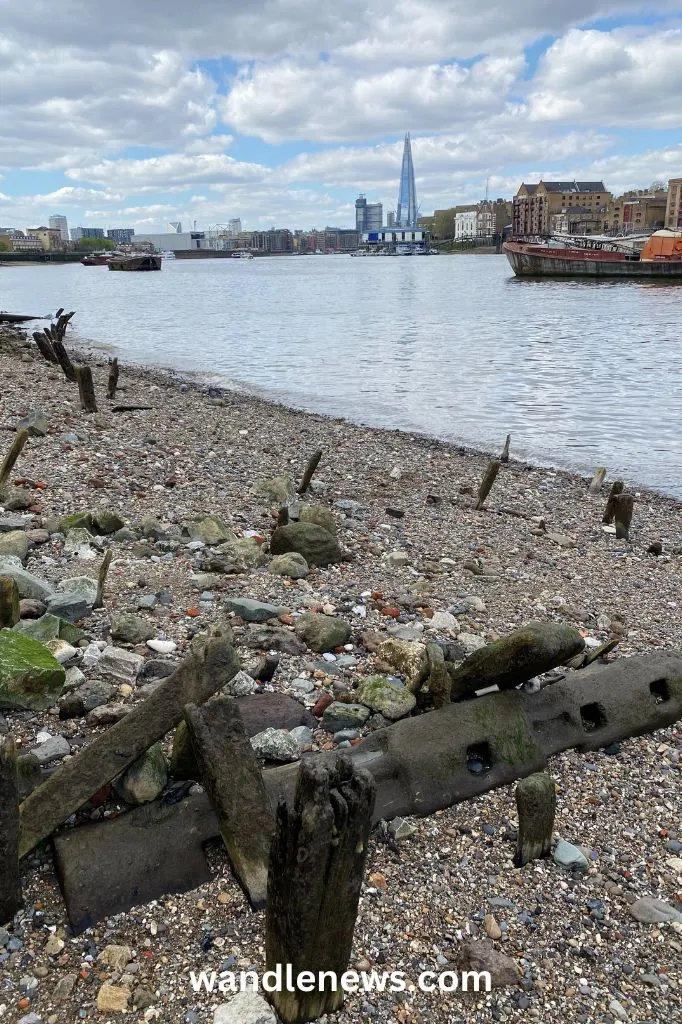 Accessing Rotherhithe Beach
Compared to other beaches on the river Thames, I found Rotherhithe Beach easy to walk along. The top section is sand and fine gravel which is not slippery.
Like all sections of the Thames foreshore, as you go towards the water's edge, there are some stones covered in seaweed, and slippery rocks, but there are less here compared to other places. This is also a popular mudlarking spot, so if you are worried about going somewhere isolated, you won't be alone here.
There are two access points onto Rotherhithe Beach:
Church Stairs
Hanover Stairs
I recommend using Hanover Stairs as it is much easier to access the Thames foreshore from there, and the steps are in good condition.
Church Stairs
Church Stairs, shown in the photograph below, are located alongside the Mayflower pub. At the bottom of the stairs you will need to climb over the Mayflower pub jetty in order to access the beach.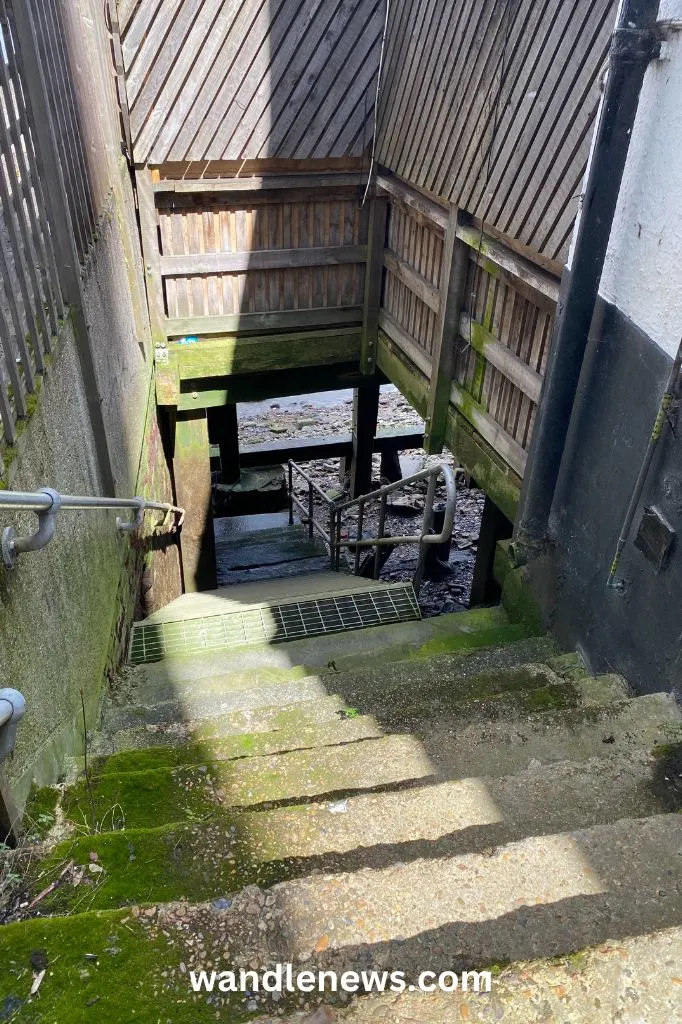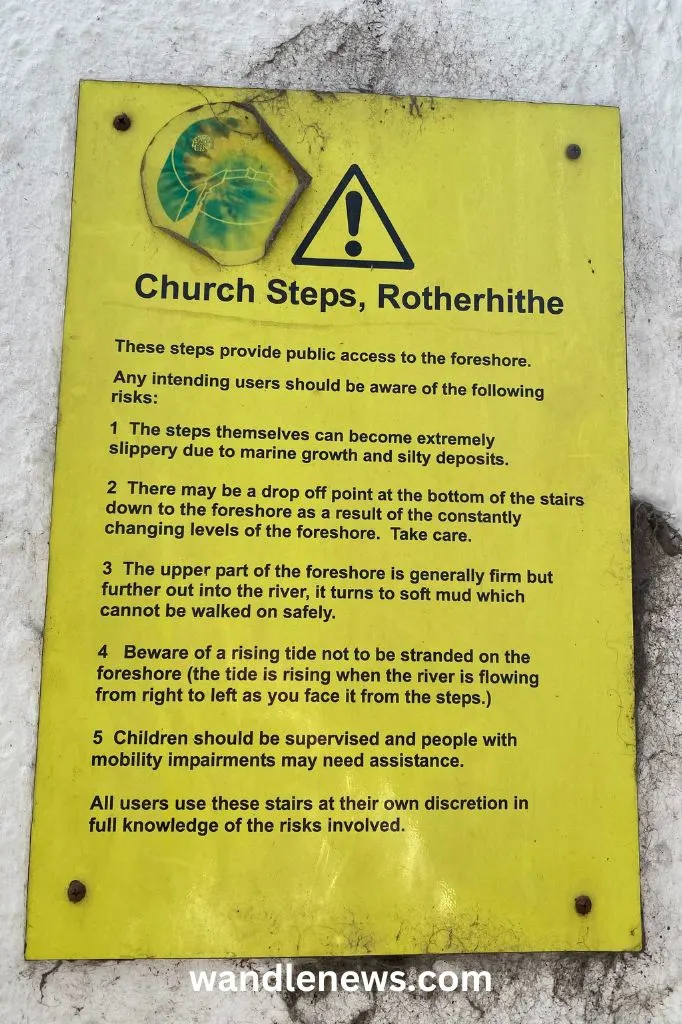 Hanover Stairs
Hanover Stairs are located on Rotherhithe Street, in between Isambard Place and Canon Beck Road. These stairs are easily accessed from the Thames Path, and you can see from the photograph below, that they lead down onto sand.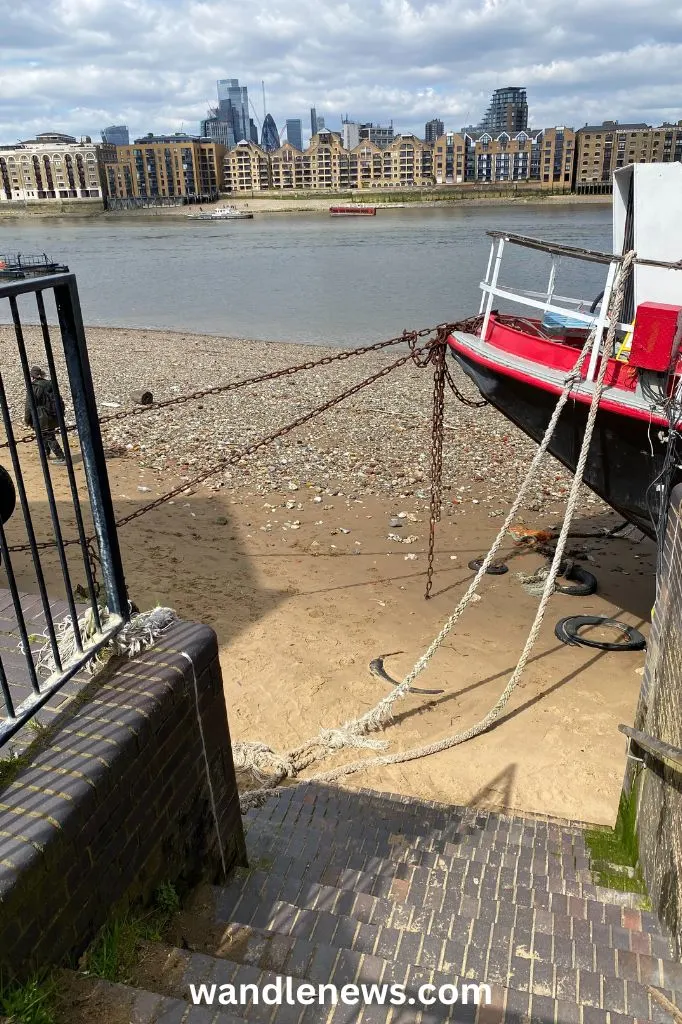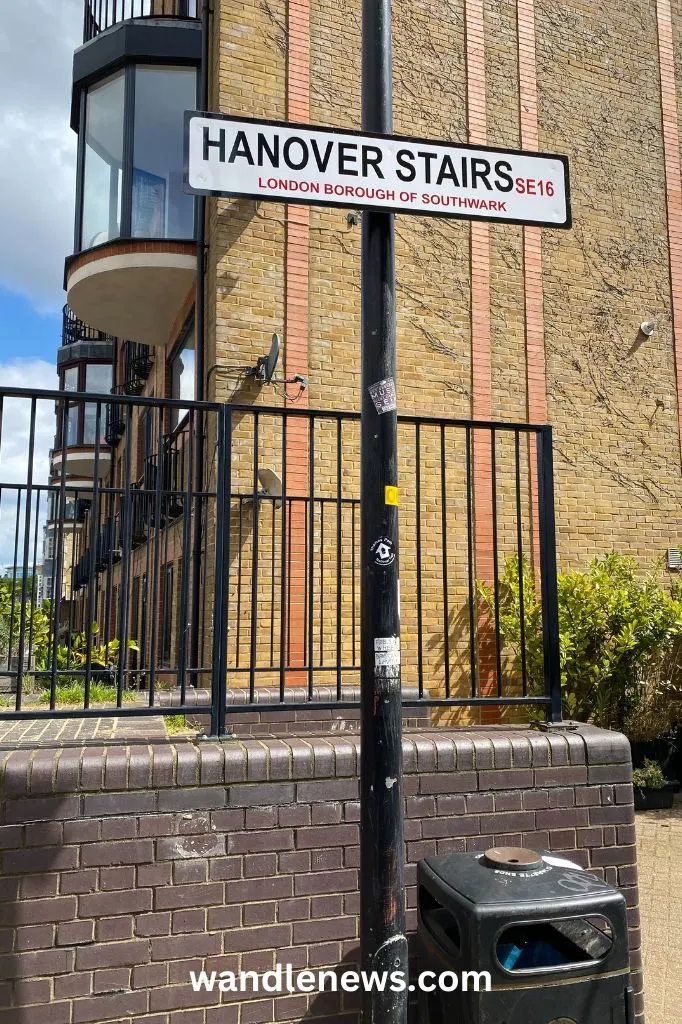 Mudlarking on Rotherhithe Beach
Rotherhithe is one of the best places to go mudlarking as the area has so much history, especially in relation to its maritime heritage. John Rocque's map of London from 1746 showed the Thames in Rotherhithe being so packed with ships, that it was said you could cross the river by walking across their decks.
Today, mudlarks discover many remains of the ships, and personal items that once belonged to the people on board. Some of the items washed up in Rotherhithe include clay pipes, dark green shards of rum and wine bottles, and smashed bowls and plates.
Dominoes and dice carved out of animal bones have also been discovered in Rotherhithe. These were probably brought to Europe from China by sailors in the eighteen century. Other discoveries include coins, buttons, watch chains and musket balls.
Images of Rotherhithe Beach
Below are some of the photographs I took when I visited Rotherhithe Beach at low tide.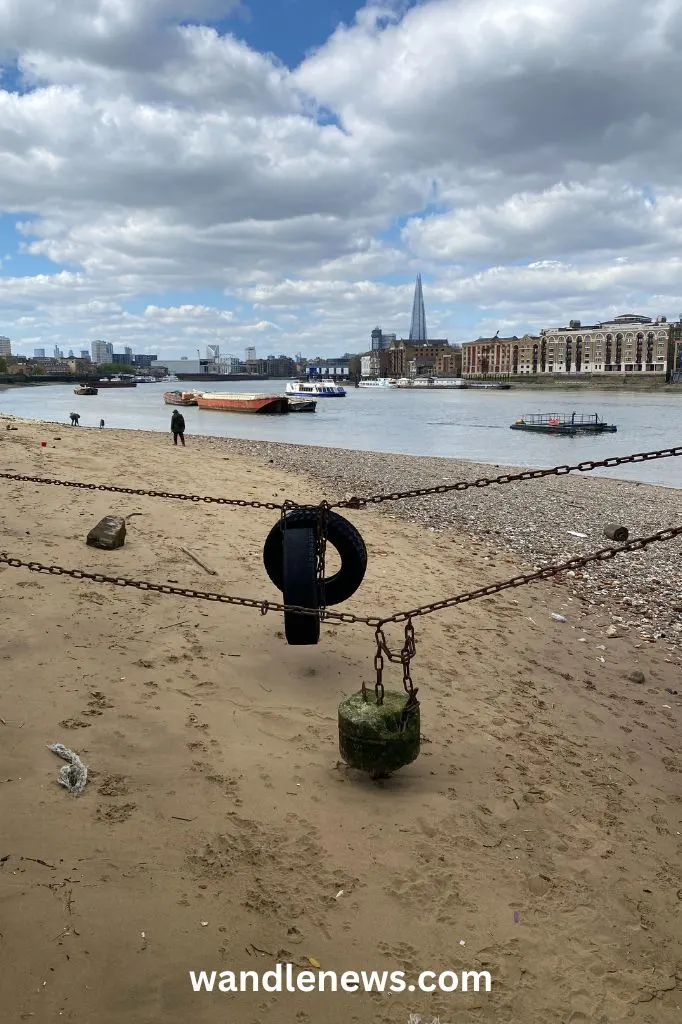 Pubs and Places to Eat Near Rotherhithe Beach
Below is a list of recommended places to eat near Rotherhithe Beach:
Other Beaches on the River Thames
This Post was About Rotherhithe Beach
Thank you for reading my post about Rotherhithe Beach. Hanover Stairs provide easier access to the beach than Church Stairs, however I still recommend visiting Church Stairs as they are worth seeing if you are interested in London's history.