Bermondsey Beach is a stretch of the Thames riverbed in Bermondsey, which is exposed during low tide. While it is not a traditional beach, it has become a popular stretch of the riverbank where locals and visitors can relax and enjoy great views of London's skyline. This post contains everything you need to know about visiting Bermondsey Beach.
Where is Bermondsey Beach?
Bermondsey Beach is on the south side of the river Thames, in between Tower Bridge and Rotherhithe. I walked there from London Bridge, which took around 30 minutes, but there are quicker ways of getting there.
Travelling by Tube
If you are travelling by tube, the nearest tube station is Bermondsey on the Jubilee line. From there it's only a five minute walk. The map below shows the exact location of the beach and the route to get there from Bermondsey Station.
Travelling by Car
If you are travelling by car, put the following postcode into your sat nav: SE16 4TT.
The Tides in Bermondsey
Bermondsey Beach is not a traditional beach, but a stretch of the Thames riverbed that is exposed at low tide. It is therefore important that you check the times of the tides before you go. You can check the Thames tides for Tower Bridge on the BBC website or at Willy Weather.
I recommend going 2 hours before low tide. That way you know you have around 4 hours before you need to worry about the tide coming in. Be aware however that tide times are predictions which can change.
Below you can see photographs of the steps leading down onto Bermondsey Beach. The photographs show the stairs both at high and low tide, so you can see why it is important to check the tides!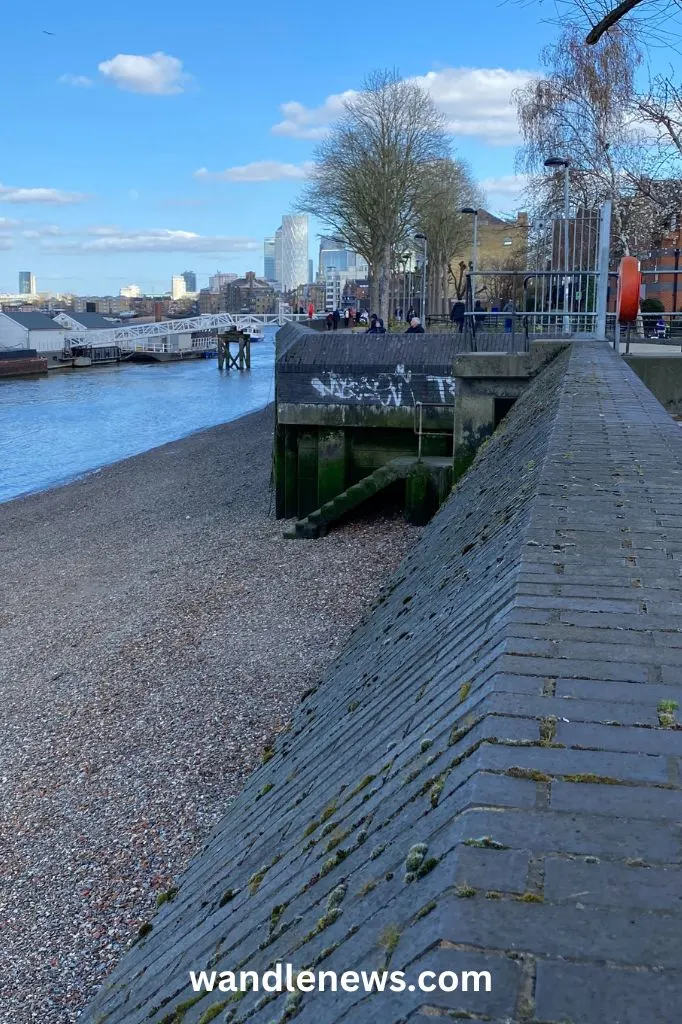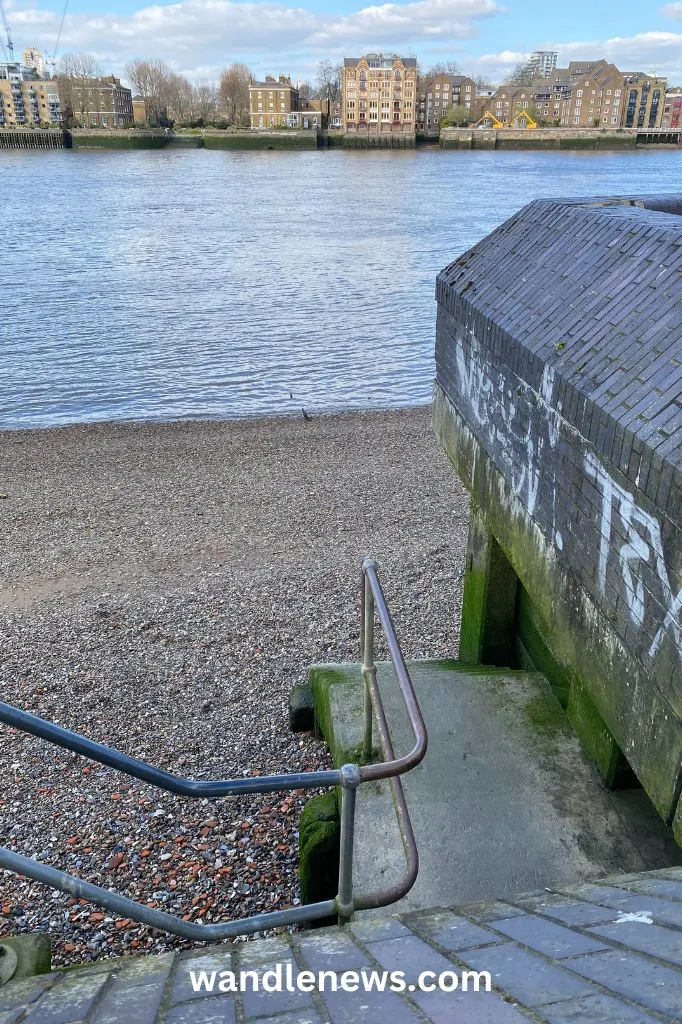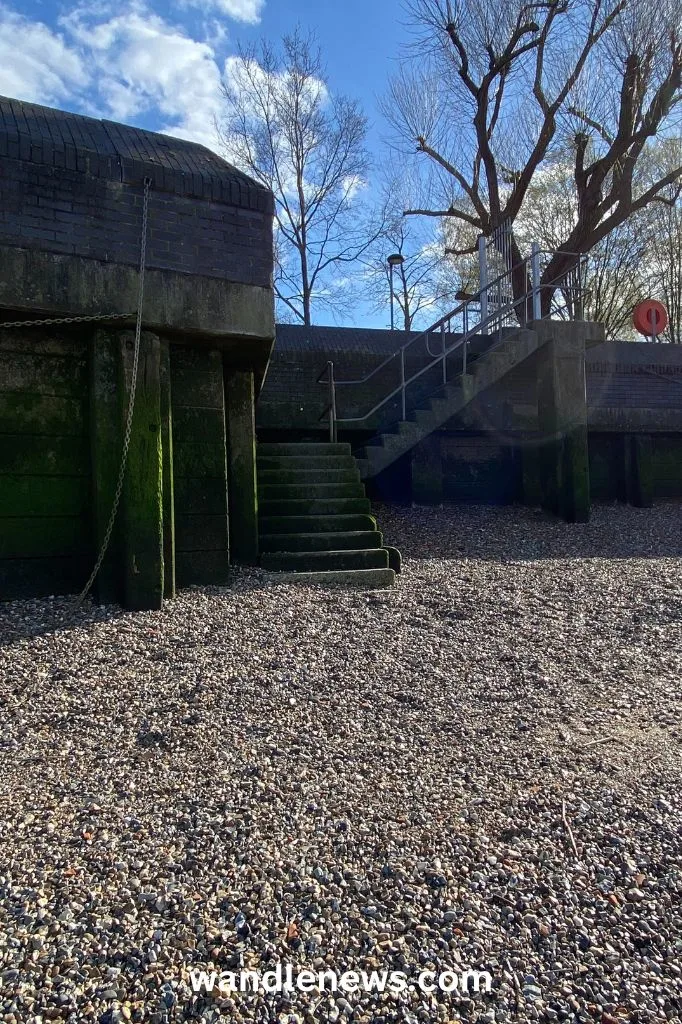 There are two sets of steps leading down onto Bermondsey Beach – one at either end. The second set of stairs, pictured below, is slightly steeper than the first, but both staircases have hand rails on them.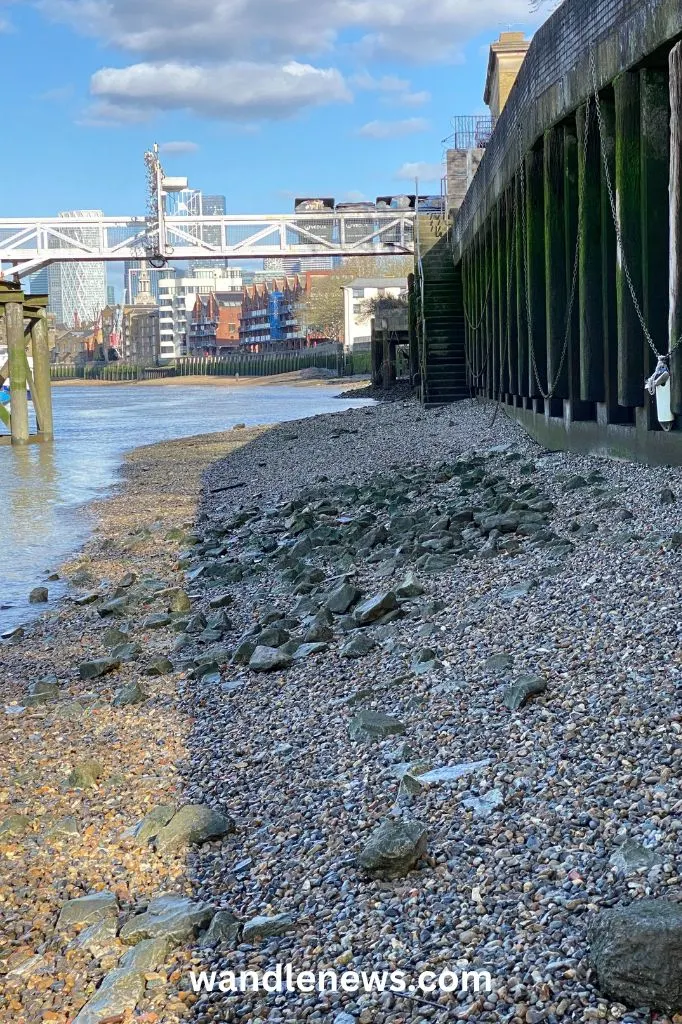 If you happen to arrive at Bermondsey Beach at high tide, there are benches alongside the river where you can sit and wait for the tide to go down. Alternatively, the location is close to The Angel pub and The Old Justice pub which are both open from midday.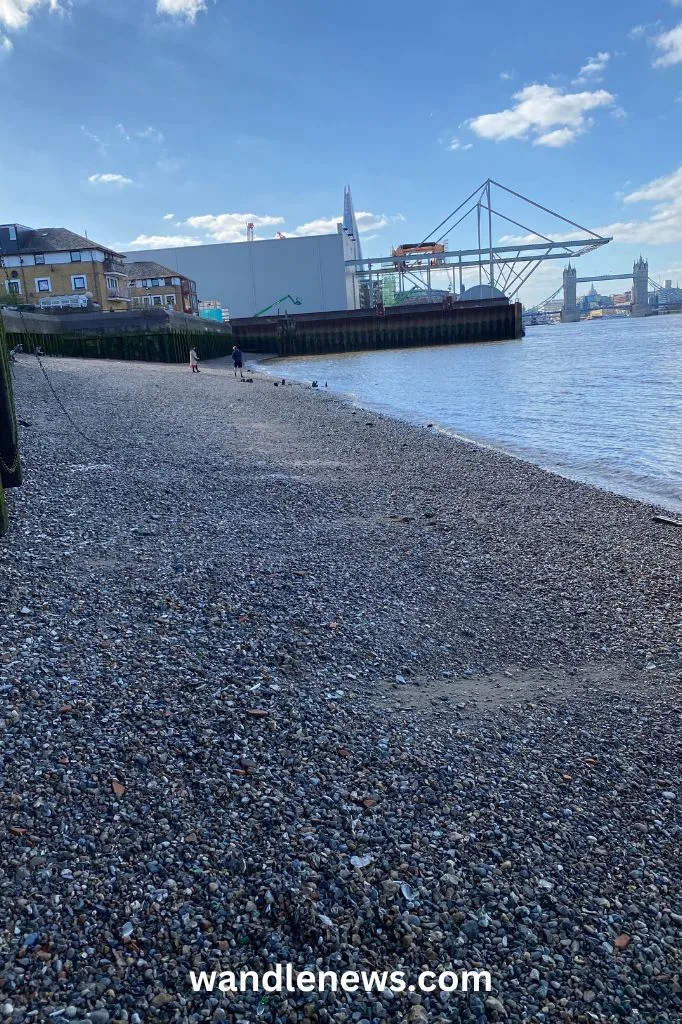 Tourist Attractions Near Bermondsey Beach
Bermondsey Beach is a great place to view some of London's famous landmarks. The two photographs below show what you can see from different ends of the beach. To your left you will see The Shard, Tower Bridge, the Walkie Talkie and the Gherkin, and to your right you will see Canary Wharf in the distance.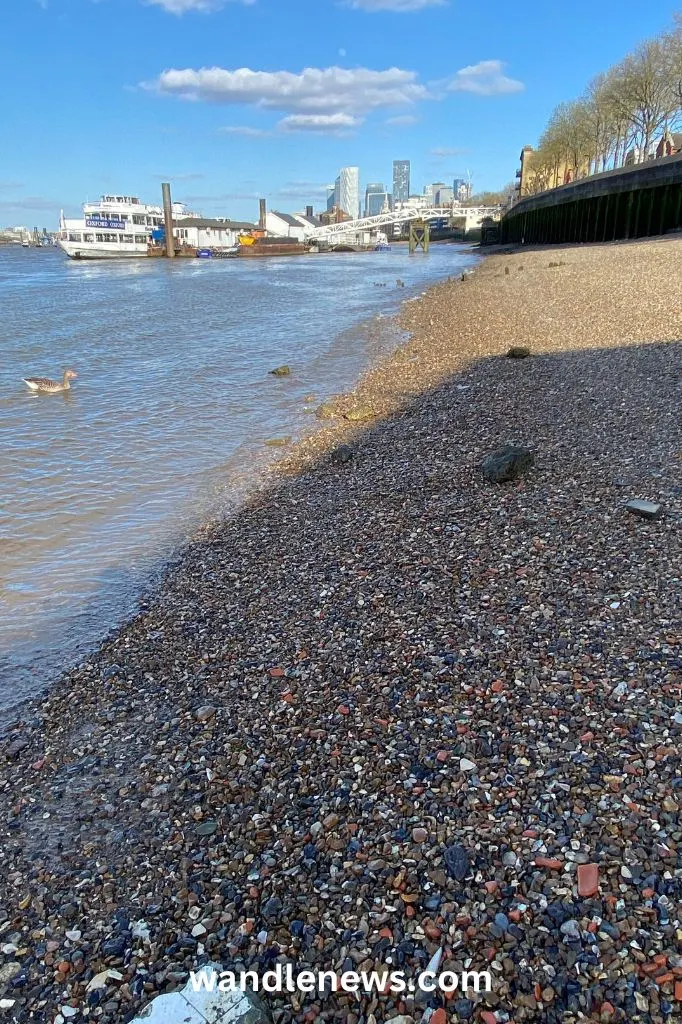 Bermondsey Beach is also a ten minute walk from Shad Thames, which is a historic, part cobbled, street which runs alongside the river Neckinger.
In Victorian times Shad Thames was home to the largest warehouse complex in London, storing tea, coffee and spices to be loaded onto ships on the river. If you are interested in London's industrial history it's worth visiting the street while you are in the area.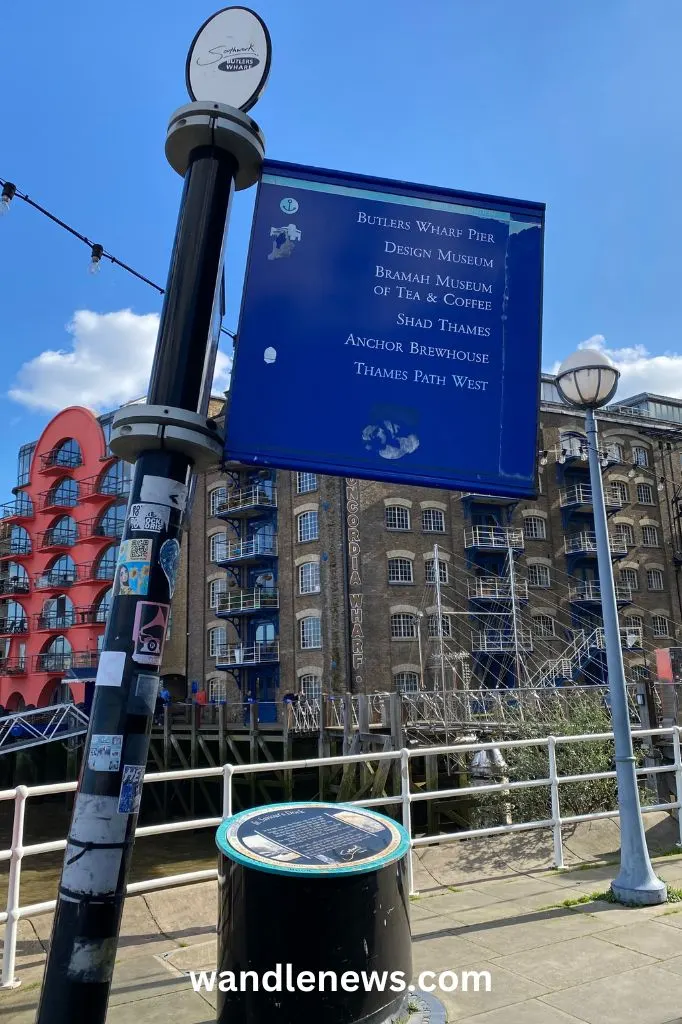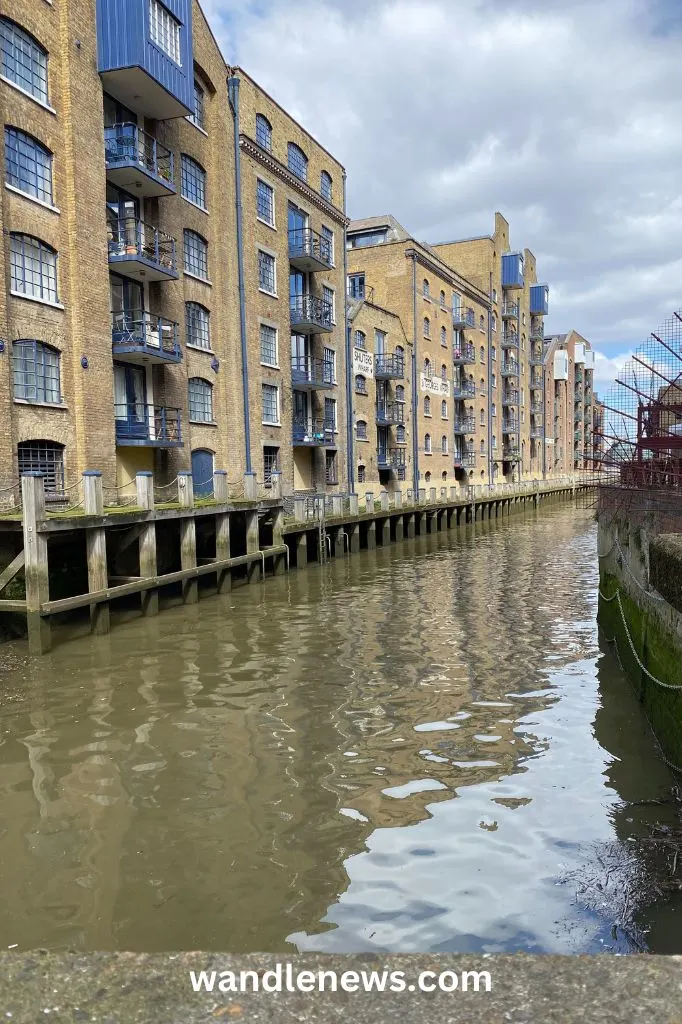 Mudlarking on Bermondsey Beach
Bermondsey Beach is a very stoney beach with lots of tiny pebbles. You can see from the two photographs below that there are some very large rocks on the beach, as well as tiny stones, so you need to watch where you are walking.
Compared to mudlarking in other areas such as under Millennium Bridge, this area has no clay pipes, and very little pottery. I did however find a few bones and pieces of coloured glass, as well as stones with interesting marks on them.
Overall I wouldn't recommend Bermondsey Beach as a place to go Mudlarking. I think the best places are a bit further down the river in Rotherhithe, Wapping or Greenwich. If you are new to Mudlarking, there are some great mudlarking books available to help you get started.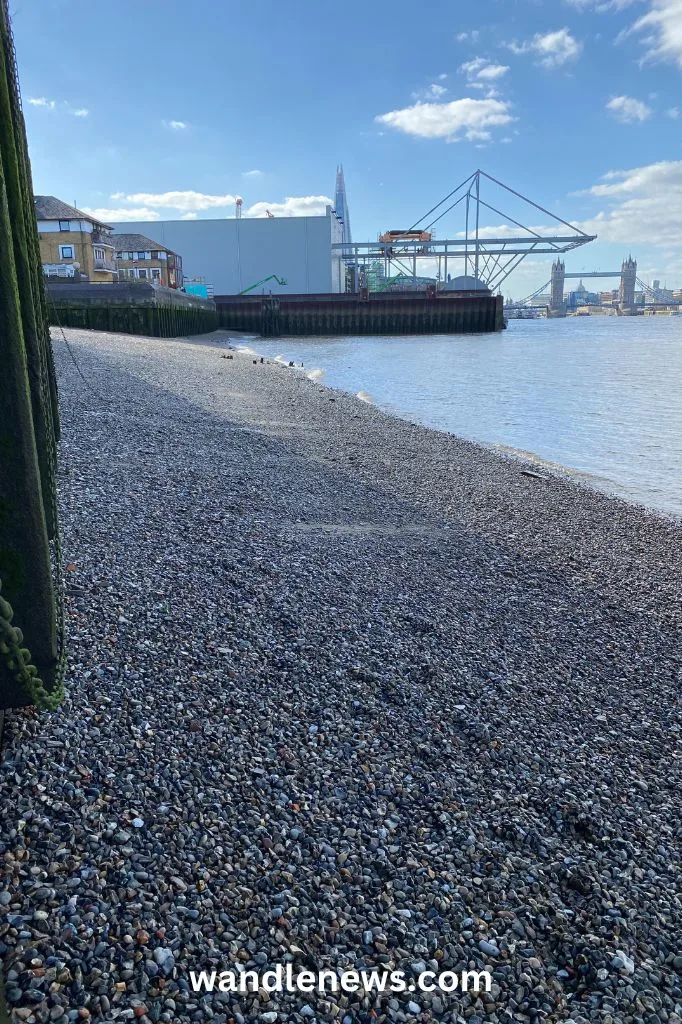 Photographs of Bermondsey Beach
Below is a gallery of some of the photographs I took on Bermondsey Beach. I was there around two hours before low tide, so the beach is actually bigger when the Thames is at its lowest.
Other Things to do Near the River Thames
If you are looking for activities around the river Thames, check out some of my other articles below. I recommend taking the river cruise, or riding on the cable cars in Greenwich.
This Post Was All About Bermondsey Beach
Thank you for reading my post about Bermondsey Beach. On a lovely day it's a good place to go if you just want to relax and get away from the hustle and bustle of the city.