Battersea Park Children's Zoo is the perfect place to take the kids in the school holidays. It has over forty different animals, and various activities for different ages including an adventure playground, and feeding time talks. This post is my review of Battersea Park zoo.
Battersea Park Zoo Review
In my review of Battersea Park zoo, I have included everything I think would be useful to know if you are planning to visit the zoo with young kids. This includes a list of animals, and information about the play areas, cafe, and gift shop. I have also included a map of the zoo.
What Animals do they have in Battersea Park Zoo?
Battersea Park zoo has a reptile house, meerkat enclosure, mouse house and a grassy area where they keep farm animals. Below are photographs of ten of my favourite animals that I saw when I visited Battersea Park Zoo.
1. Common Squirrel Monkey
Squirrel monkeys normally live in tropical rain and dry forests. They eat fruit, nuts, and insects, as well as small vertebrates, like tree frogs.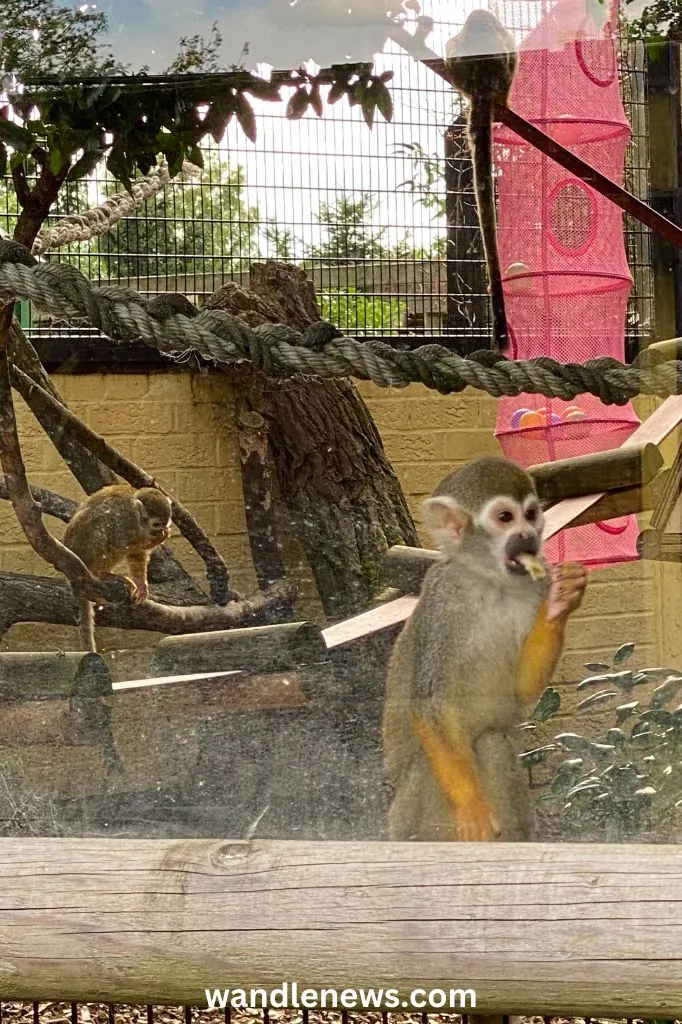 2. Harvest Mouse
Harvest mice are the smallest mice in Europe, weighing only 4g. They eat mostly seeds and insects, but also sometimes fruit and nectar. Close to the mouse house you will also find guinea pigs, rats and rabbits.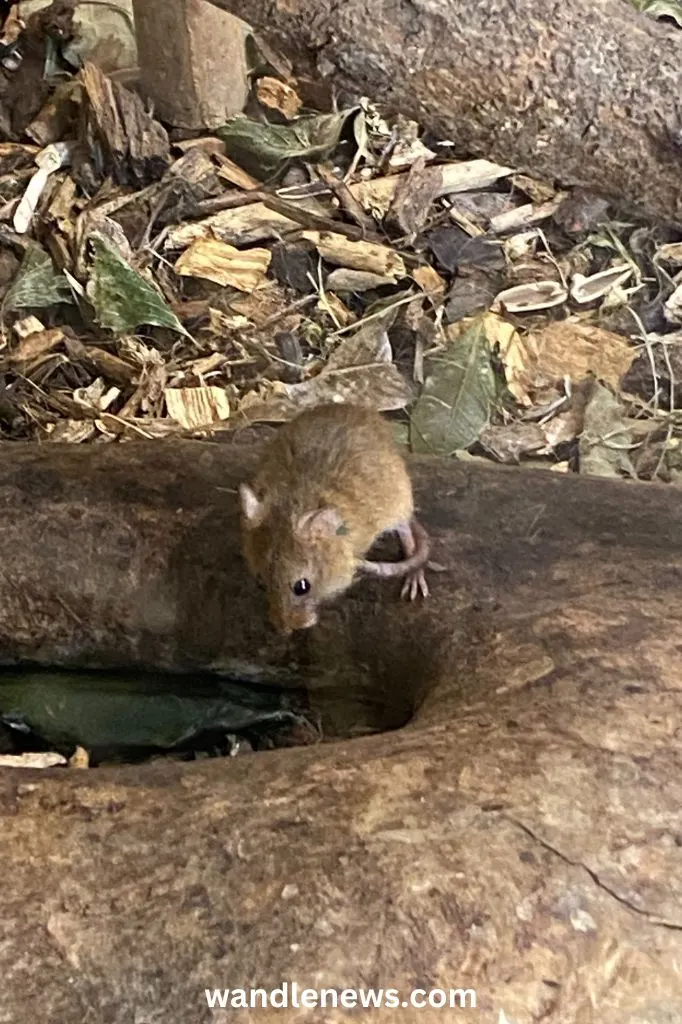 3. Striated Caracara
These giant birds can eat newborn lambs, and weak or injured sheep. You will find them next to the zoo cafe – in fact, one wall of the cafe is made from glass so you can see straight into their cage.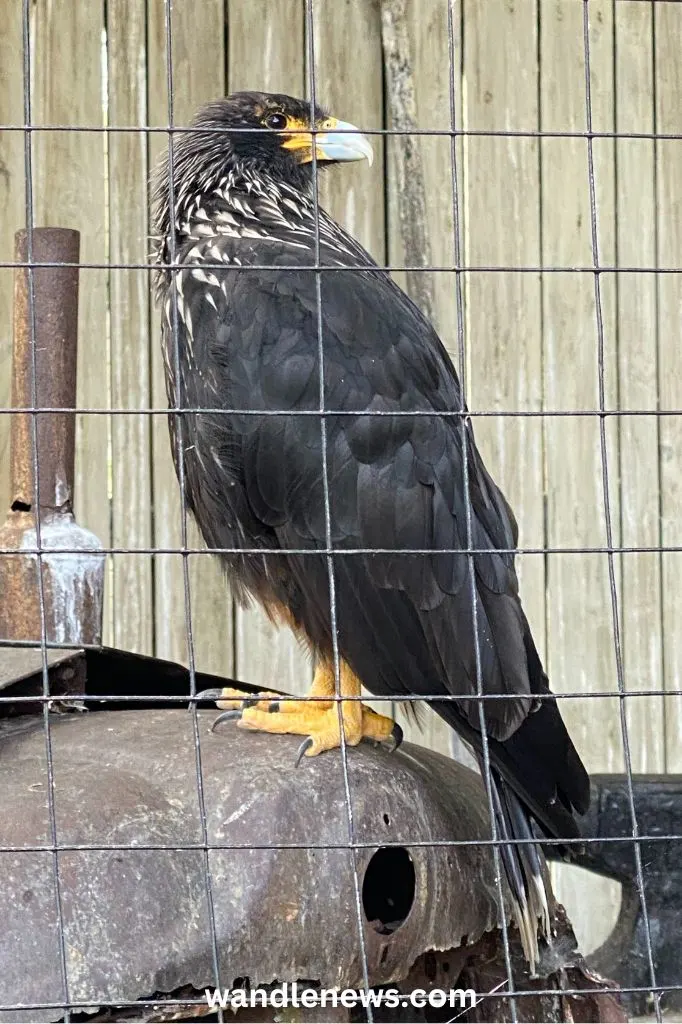 4. Common Emu
The two emus at Battersea Zoo are called Ant and Dec, and are siblings. Emus stand over six feet tall, and are usually found in woods, grassland, and desert areas.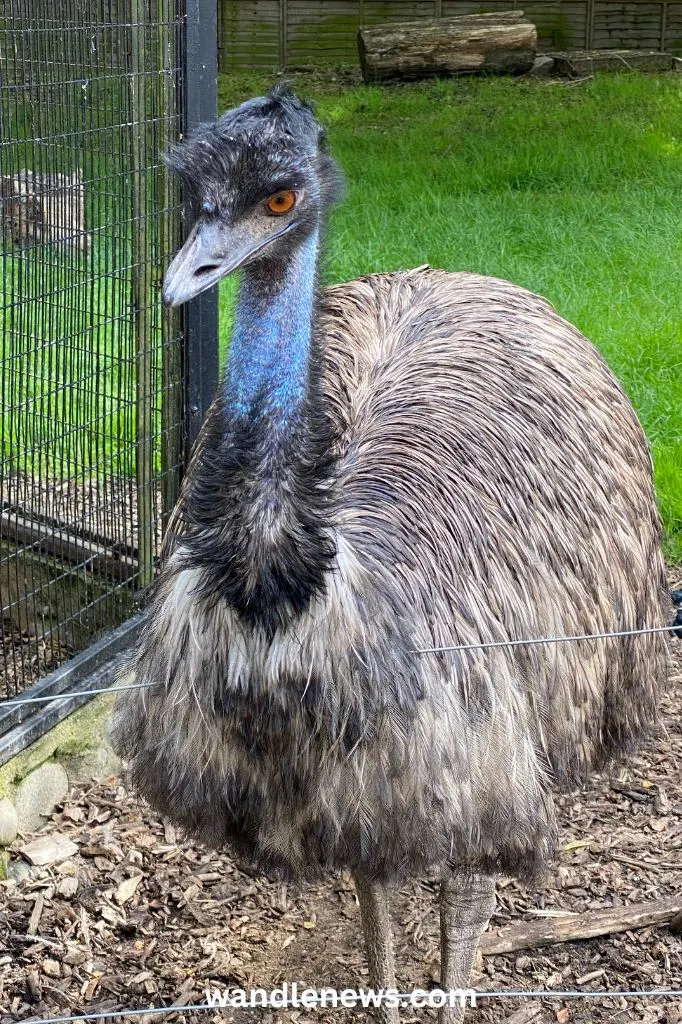 5. Ring-Tailed Lemur
The lemurs are near the entrance to the zoo. These animals are from Southern Madagascar and eat mainly fruit and leaves.
6. Chinese Crocodile Lizard
Chinese Crocodile Lizards have two rigid rows of scales down their tails, like a crocodile's tail. They are native to Southern China and Vietnam, where they live in subtropical forests near freshwater ponds, and slow moving streams.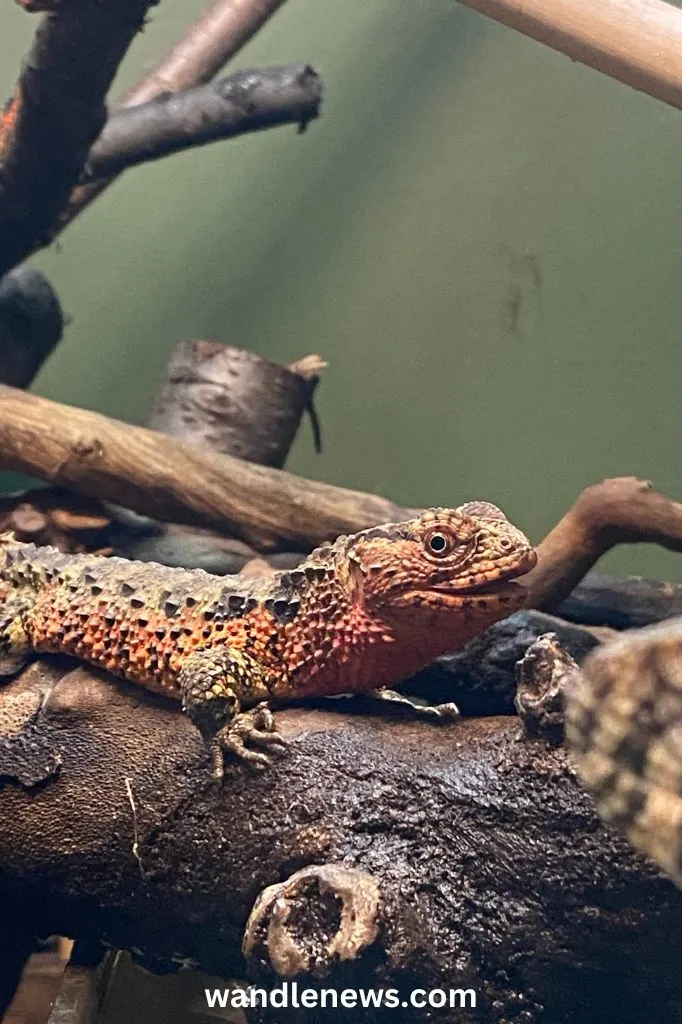 7. Brown Capuchin
Brown tufted capuchins are intelligent monkeys that live in large groups in the wild. They are known for using tools, like sticks, to obtain food. They spend most of their time in the trees, and use their tails like an extra limb.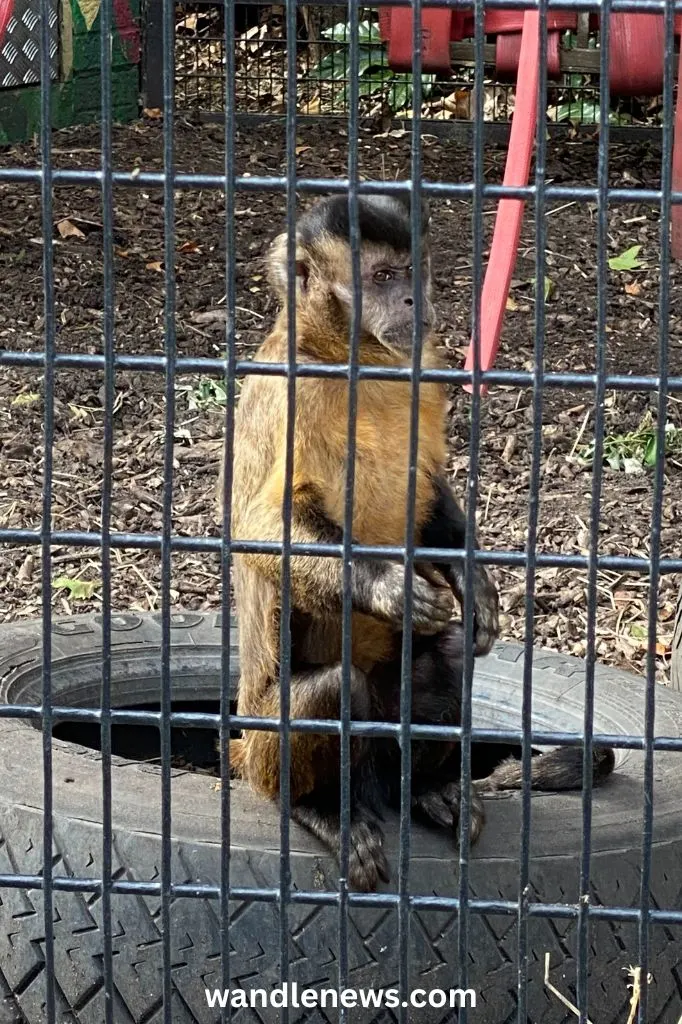 8. Laughing Kookaburra
Laughing Kookaburras belong to the kingfisher family. They got their name from the noise they make when establishing their territory, which sounds like a laugh. It can be heard at any time of day, but usually at dawn or dusk.
9. Grey Crowned Cranes
The Grey Crowned Cranes are 1 metre tall, and have a crown of striking golden feathers. They have long legs for wading through grasses and shallow bodies of water.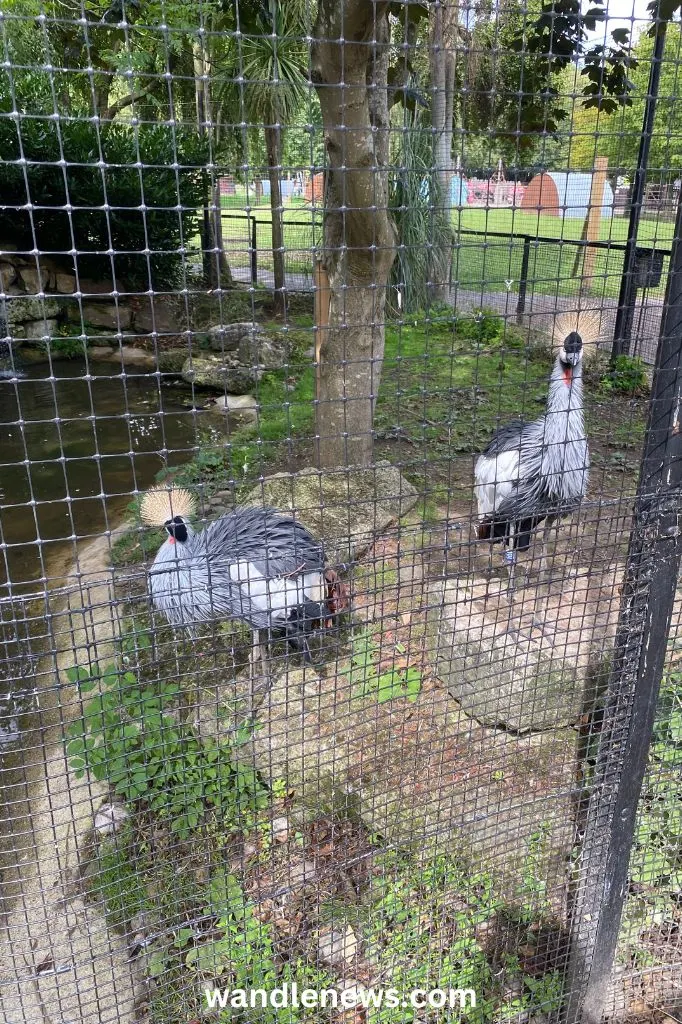 10. Bagot Goat
Bagot goats are one of the UK's oldest documented goat breeds. The first written accounts appeared in 1389, and they are named after the original keeper of the herd, Sir John Bagot. These goats are very resilient to extreme weather conditions, and challenging lowland environments.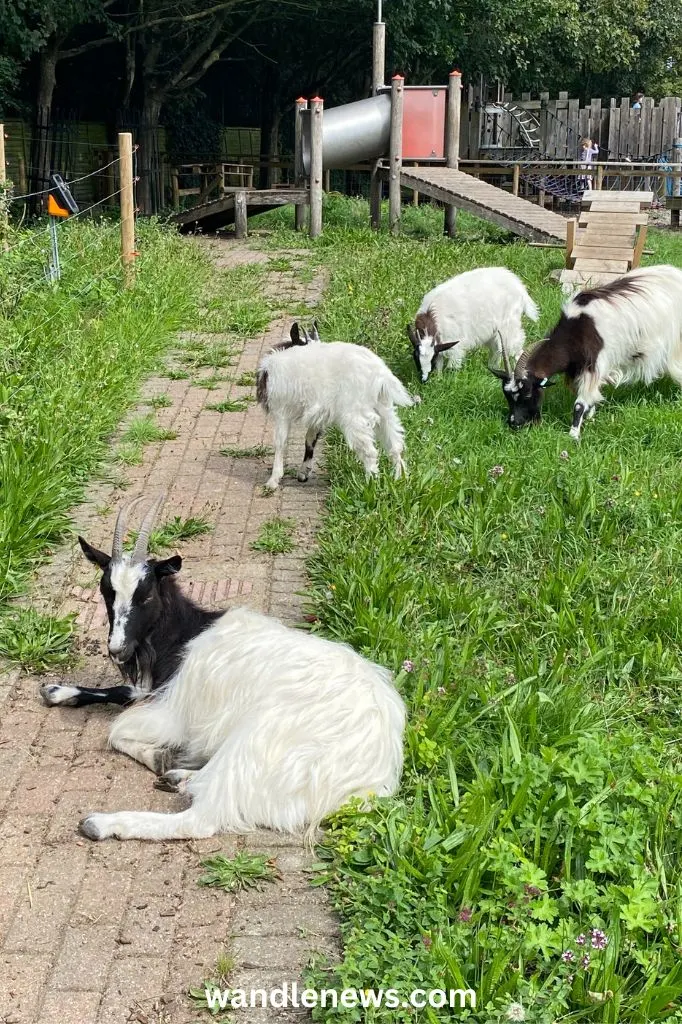 Playground at Battersea Park Zoo
As well as the animals, Battersea Park Zoo has an adventure playground, with different play areas for different age groups.
For younger children there is a large sandpit, and chalkboards where they can draw their own animals. For older children, there is a real fire engine and helicopter for them to explore, plus climbing frames and slides.
The photographs below show the different areas of the playground.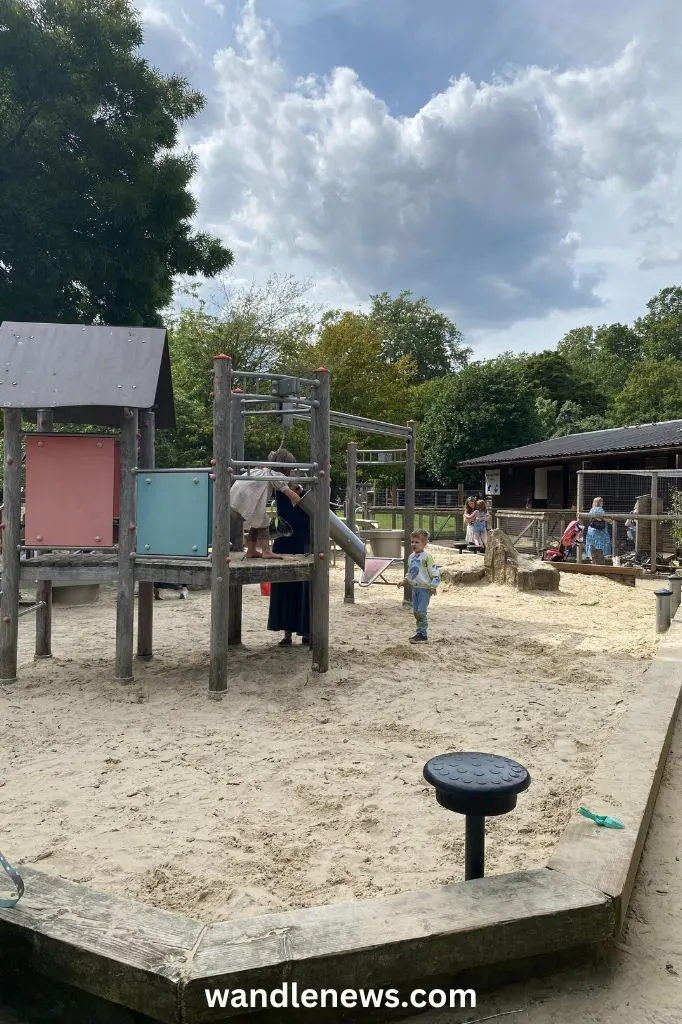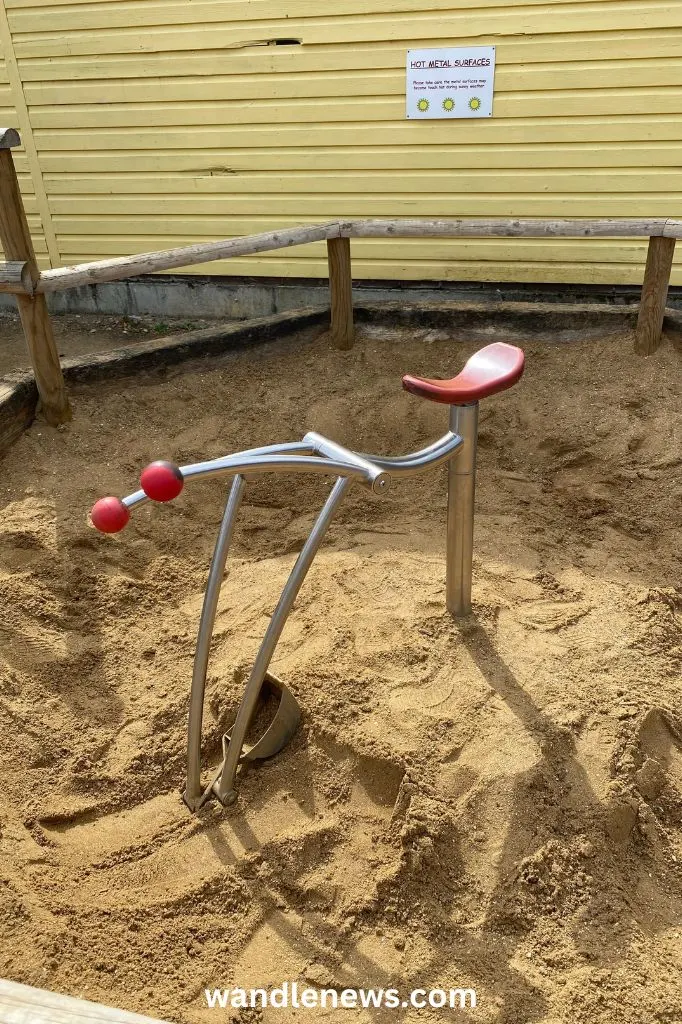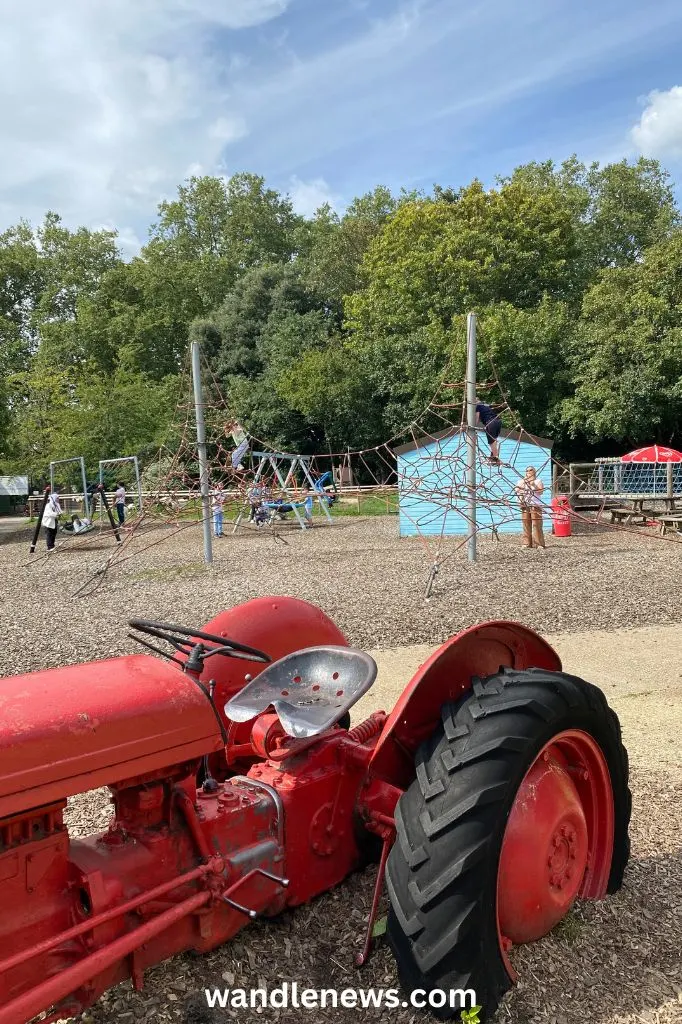 Feeding Time Talks
Throughout the day the zoo has talks, where you can meet the zookeepers and learn more about the animals. There are usually around seven talks throughout the day. Below is the schedule on the day I visited.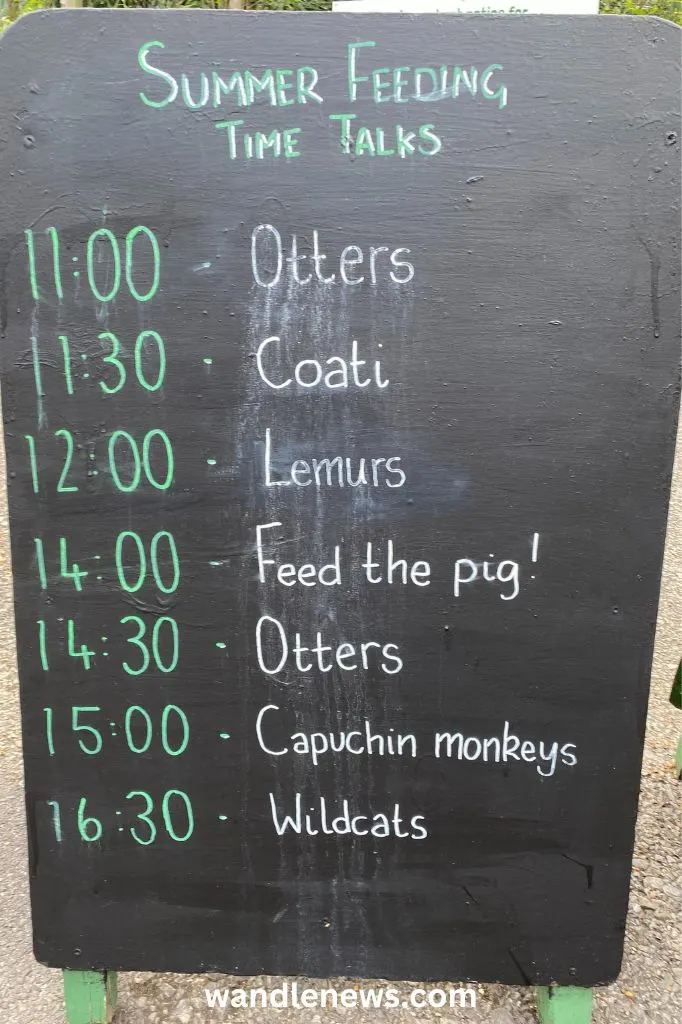 Gift Shop
Near the entrance to the zoo is a small gift shop, which sells mostly toy animals, puppets and children's books.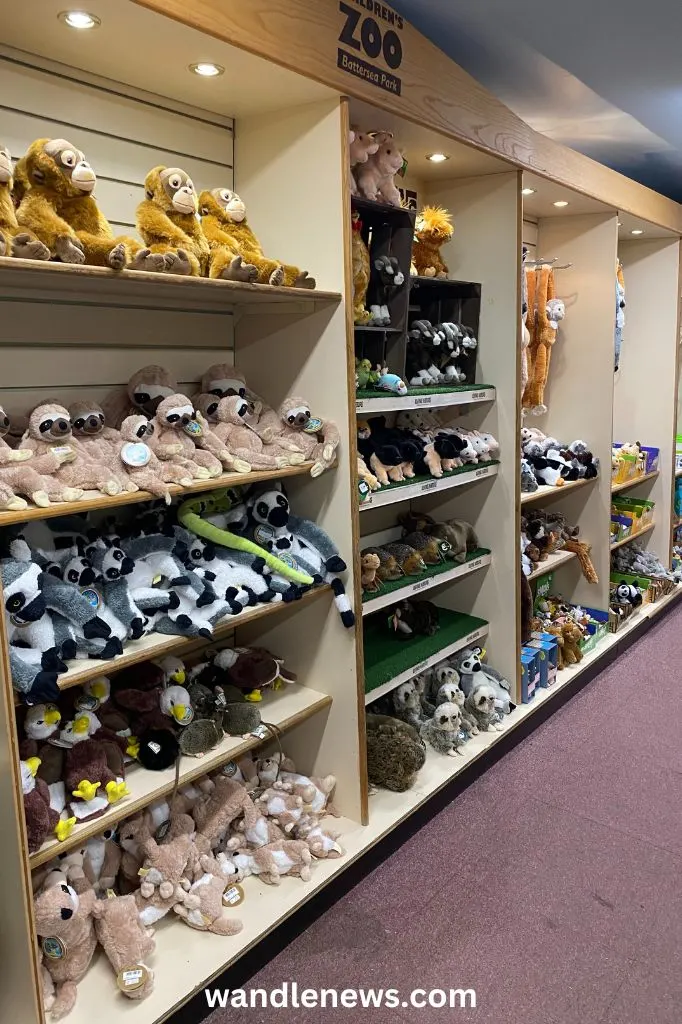 Cafe
At the far end of the zoo is a small cafe selling ice cream, sandwiches, and drinks. If you bring a packed lunch they have a picnic area outside where you can sit, as well as plenty of seating inside.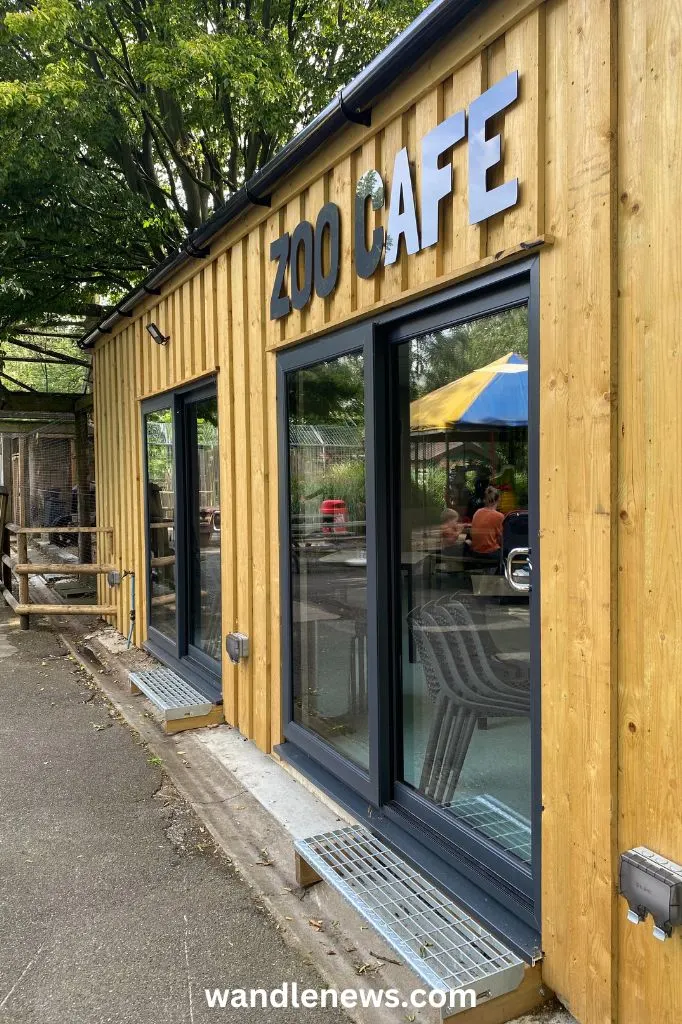 Battersea Park Zoo Map
Below is a photograph of the zoo map that you are given when you arrive.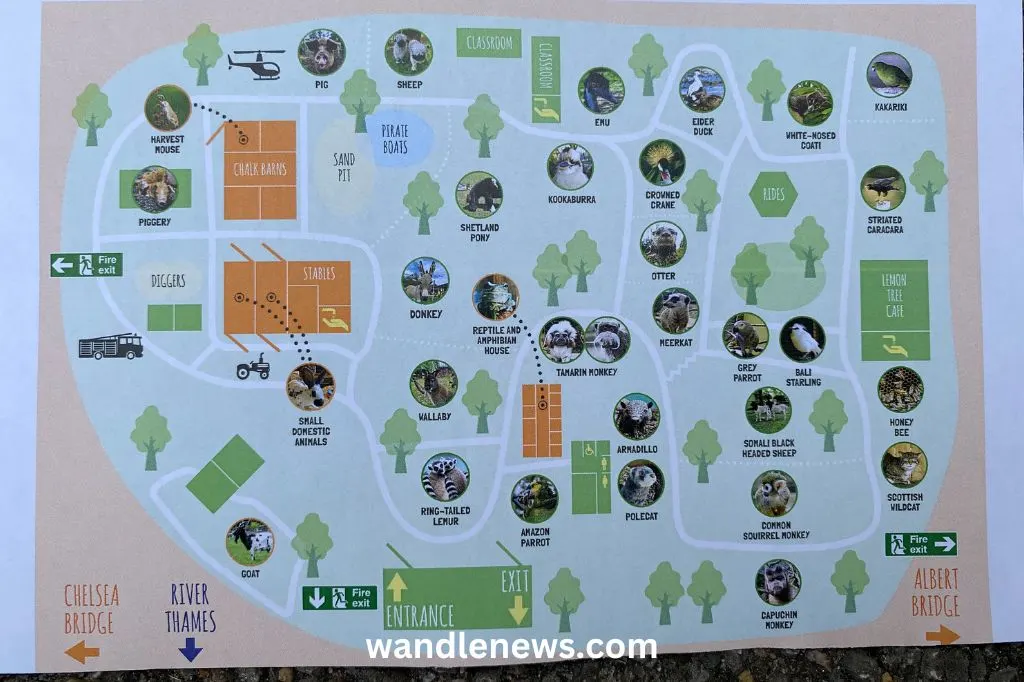 Opening Hours
Battersea Park Zoo is open all year round, apart from Christmas Day and Boxing Day. The opening times are shown below.
Spring and summer – 7 days a week, 10am-5:30pm, with last entry at 4:30pm
Autumn and winter – 7 days a week, 10am-4:30pm, with last entry at 4pm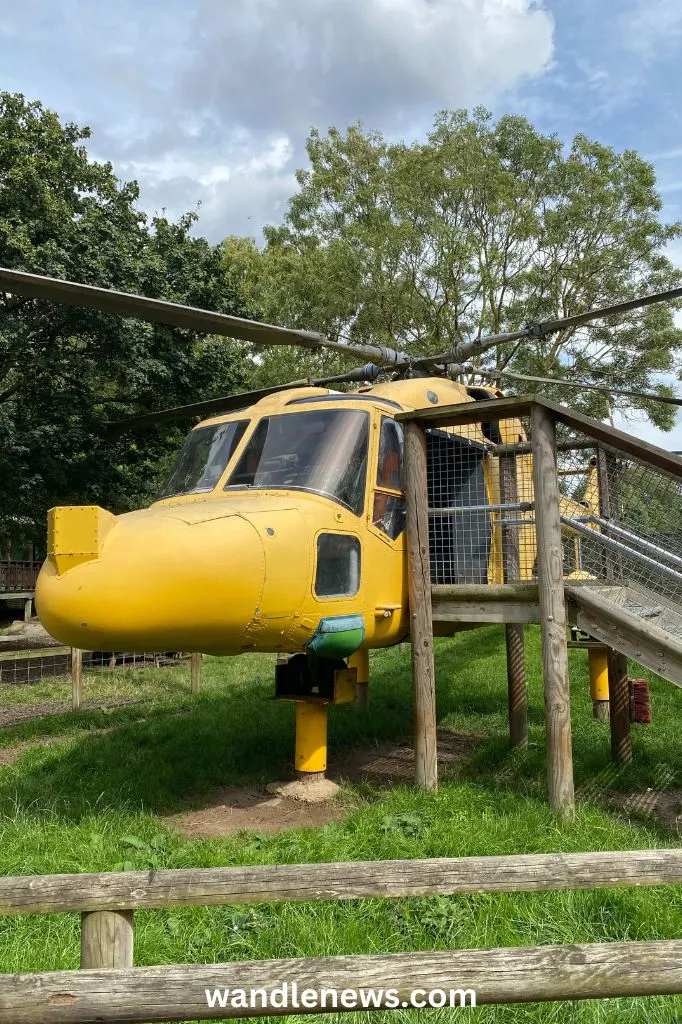 Ticket Prices
The entrance fee for the zoo is shown in the table below. The zoo also offers annual memberships, if you want to go regularly.
| Day Ticket Prices | Price |
| --- | --- |
| Adult (16-59 years) | £12.50 |
| Child (2-15 years) | £10.50 |
| Child (under 2) | Free |
| Students & Military (ID required) | £11.50 |
| Disabled adult (1 carer free) | £11.50 |
| Disabled child (1 carer free) | £9.50 |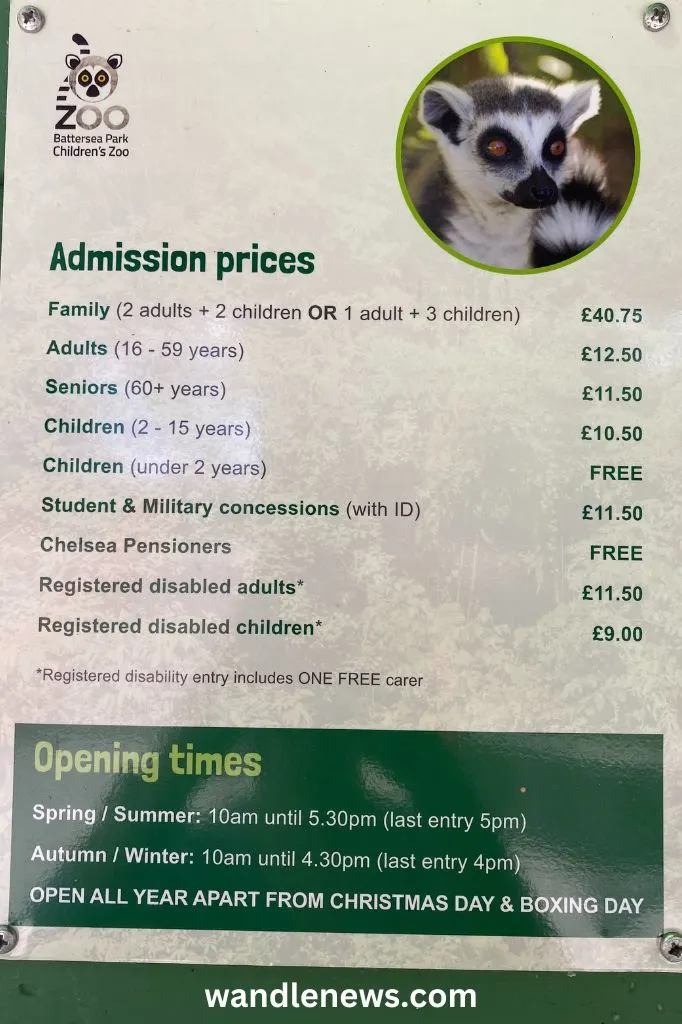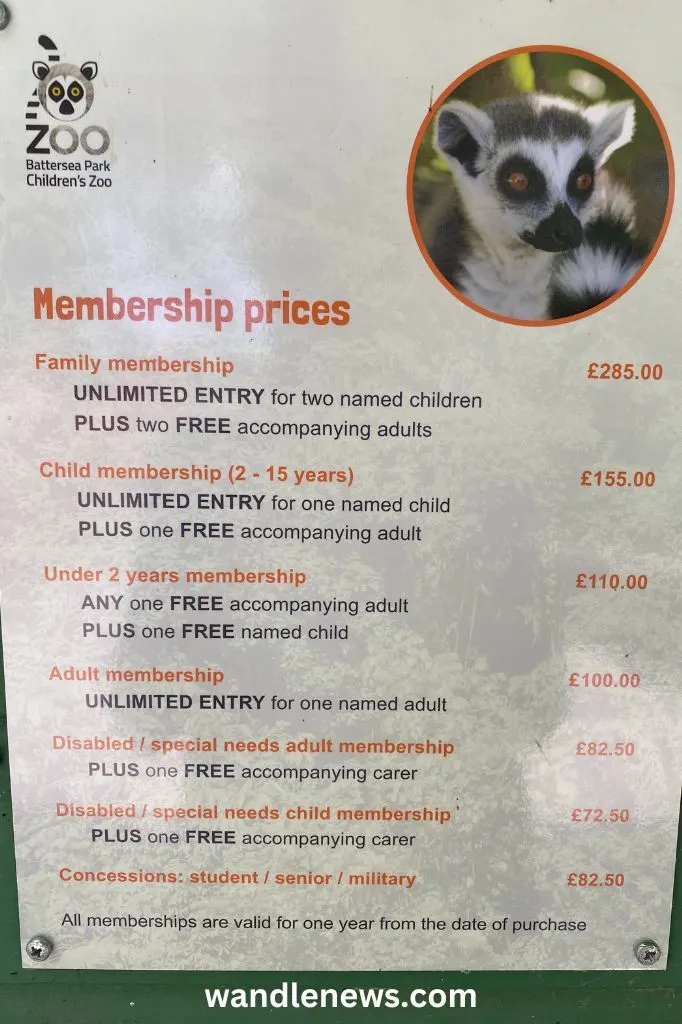 How to get to Battersea Park Zoo
The entrance to Battersea Park Zoo is close to the London Peace Pagoda. The closest gate is Chelsea Gate, which is on Queenstown Road, just south of Chelsea Bridge.
Overground train – the nearest stations are either Battersea Park or Queenstown Road.
Tube – the nearest tube stations are either Sloane Square on the Circle and District Line, or Battersea Power Station on the Northern Line
Bus – the buses which stop closest to the zoo are numbers 44, 452, and 137. Alight at 'Chelsea Gate' bus stop.
Driving – There are three car parks within Battersea Park (at Chelsea Gate, Rosery Gate, and Albert Bridge Gate). All the car parks are pay and display from Monday to Sunday (including Bank Holidays).
The exact location of the zoo is shown on the map below.
FAQs About Battersea Park Zoo
What is the history of Battersea Park Children's zoo?
During the Festival of Britain in 1951, a zoo was created in Battersea Park. It was run by Wandsworth Council until 2003, when it was taken over by the Heap family, who own wildlife parks in Derbyshire and Hampshire.
Are dogs allowed at Battersea zoo?
Only guide dogs are allowed into Battersea zoo, but they are not allowed into the monkey area, for the welfare of the Capuchin Monkeys.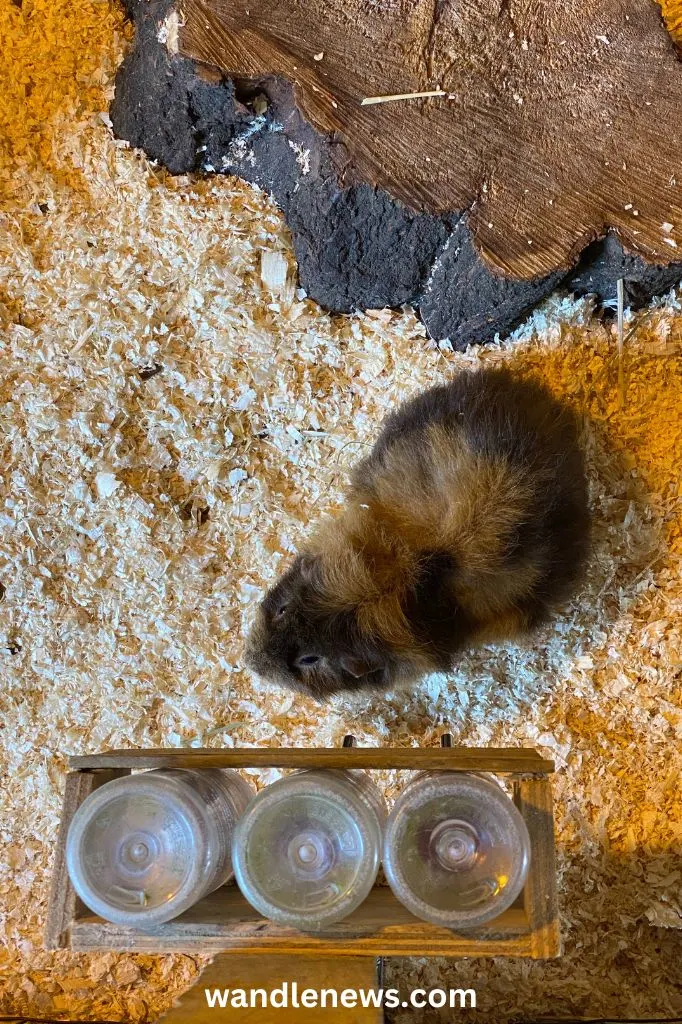 Things to do When Visiting Battersea Park
If you are visiting Battersea Park zoo, why not visit other areas of the park while you're there? Check out the links below for ideas.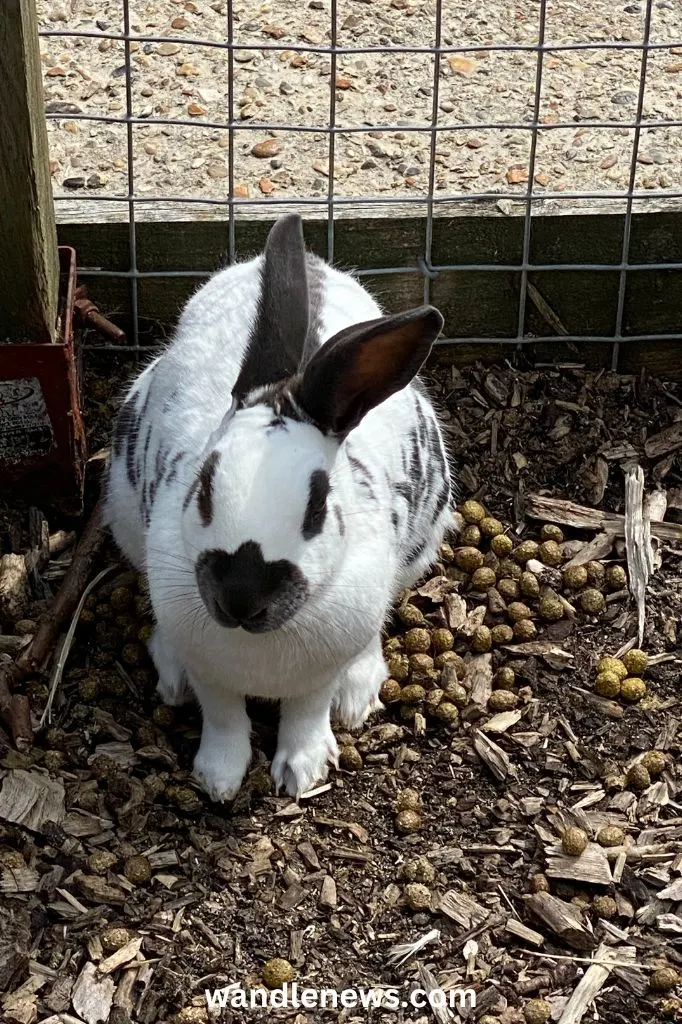 This post was a Review of Battersea Park Zoo
Battersea Park Zoo is a cute little zoo, and a great place to go on a family day out. Overall I thought there was a good selection of animals, and a lot of fun, educational activities for children.