Birdies is a restaurant and cocktail bar where you can play golf at Battersea Power Station. This post is my review of Birdies Battersea, with photos of the mini golf course.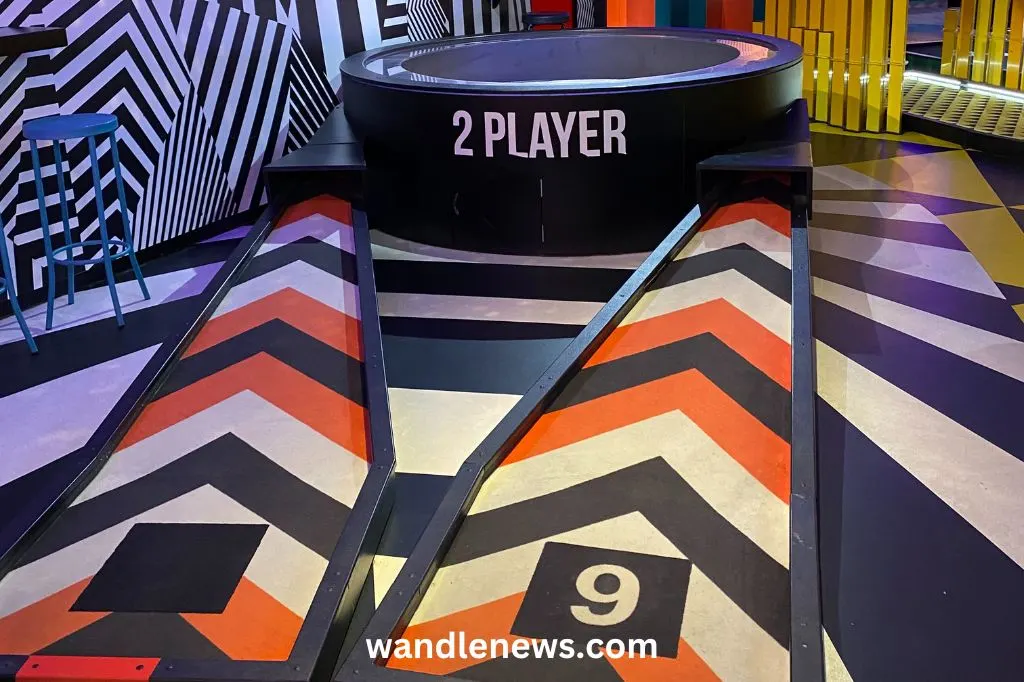 Golf at Battersea Power Station: My Birdies Battersea Review
Birdies is found under the railway arches next to Battersea Power Station. At the front of the venue is their restaurant and cocktail bar, and towards the back is the mini golf course.
The restaurant is decorated with neon lights, and has a fun atmosphere. As you can see from the photograph below, they also have some outdoor seating which is great in the summer time.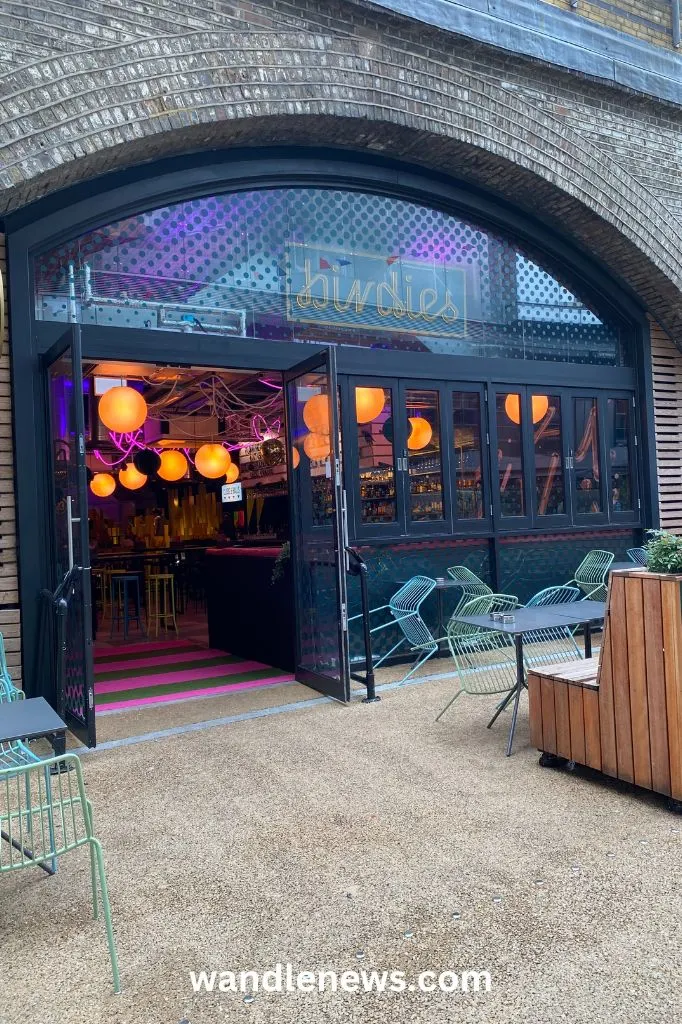 The Restaurant
The restaurant at Birdies offers serious comfort food, which includes burgers, fries and ice cream. Their cheeky burger with cheese, and smoky chipotle mayo, is very popular, as well as their cheeky bacon burger, and Elvis burger. Their sweet BBQ chicken wings are also well-liked!
As well as delicious food, Birdies also serve a wide selection of cocktails and soft drinks. The photograph below shows the seating area in the restaurant with its creative décor.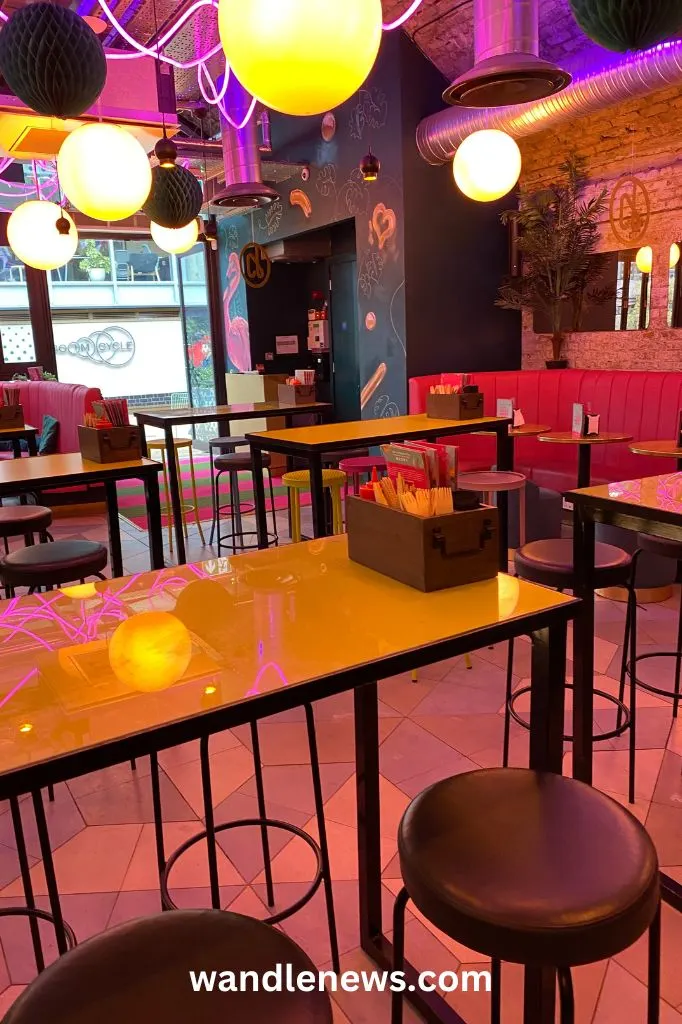 The Crazy Golf Course
The golf course is a surreal 9-hole obstacle course, which contains dark passages, pressure pads and towering ramps. Each individual hole is designed to test both speed and accuracy.
The venue manages the flow of people using the golf course by giving each group a pager that will go off when it's your turn. This means that you shouldn't end up waiting for a group ahead of you to finish a hole, or feel like you're being chased by another group.
The first hole is called Take no Prism'ers, and is decorated with black and yellow triangles. The ground is on different levels which makes it difficult to tell which path to take.
Once you complete this level, you come to the second hole, called Sweet As. This one is covered with obstacles in the shape of ice creams, donuts and liquorice all sorts. There is also a hidden path which is a faster route to the hole.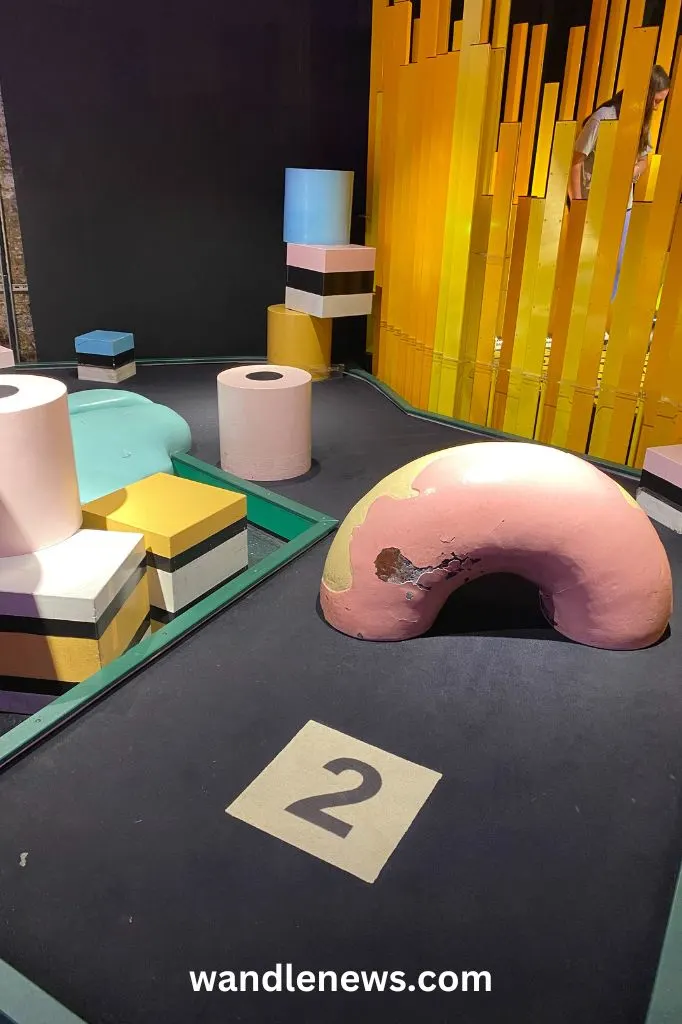 The third hole is down a funny long corridor. This one is called Hazard and includes pulsating lights, ramps and butcher curtains. On this course, you will have plenty of fun trying to work out how hard you need to swing!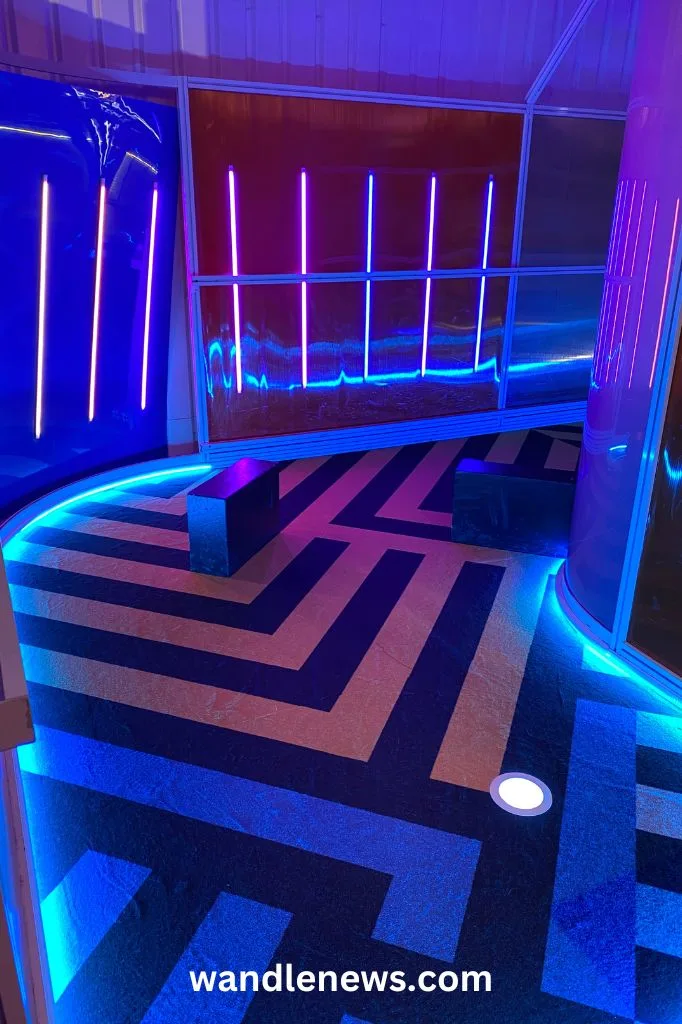 The fourth hole is called Velocity, and is the most popular course, as it contains multiple different routes to get to the hole. This course has an almost vertical wall. If you are able to get your ball to the top, it will roll onto an elevated track which takes it on a rollercoaster ride down to the hole!
I didn't take any photographs of the fifth hole, named Lights Out, because it's in a very dimly lit room. On this course, you need to rely on your senses since it is in almost complete darkness!
The sixth course, called Dugout, was filled with brightly coloured cacti and lots of ramps. It has multiple different paths to the hole. You can either take the straight route, which is very narrow, or an easier but longer path.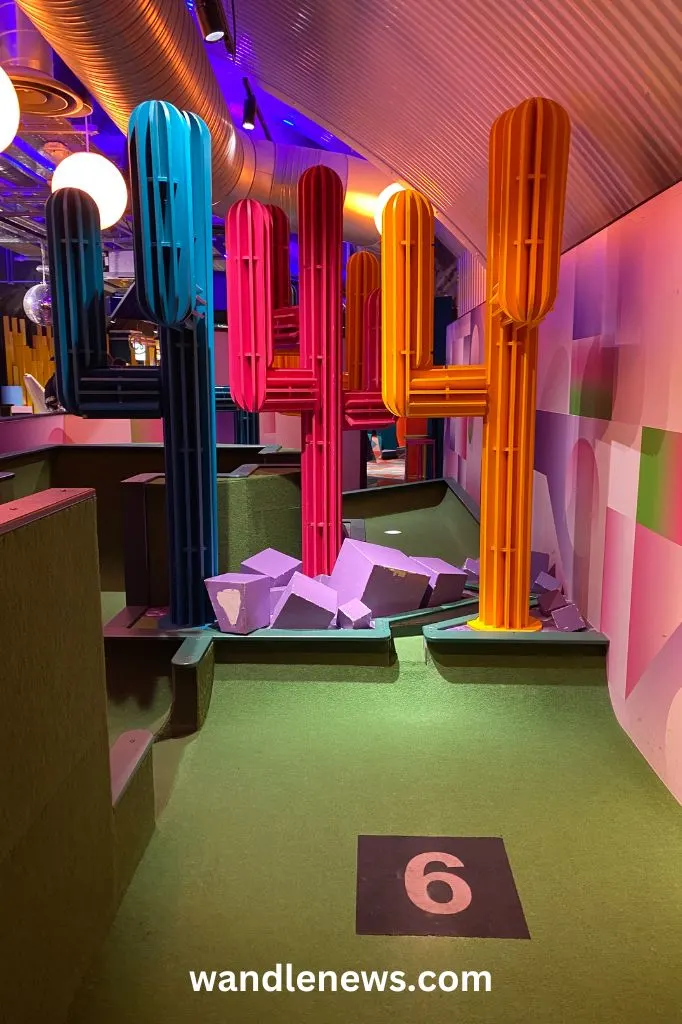 The seventh and eighth holes are called Two-Step and Infinity & Beyond. Two-Step contains various different routes to the hole. It has multiple layers and a jump. Infinity & Beyond is a simple straight tunnel, but contains optical illusions that make you think the tunnel is longer than it is.
The final hole is called Fat Shot. On this course two players play at once. You can see from the photograph below, the idea is to hit the ball into the circle, and then luck will determine how many points you get!
Cost and Timings
One round of mini golf at Birdies takes around 25-40 minutes in total, but this will depend on the size of your group. There are various different ticket options to choose from, depending on the size of your group, and whether you want food and cocktails included. The table below shows some of the options available.
Tickets
Price
Notes
Adult

£13

Sundays before 4 PM (last slot 3:20 PM)

Child

£8

Sundays before 4 PM (last slot 3:20 PM)

Student
£8

Walk-in only.

Monday to Friday before 4:40 PM
Date Night (includes

Golf & Prosecco for 2)

£15

All Day Every Weekday. (From 3:40PM during School Holidays)

Golf & Cocktail Special

£18

All Day Every Weekday. (From 3:40PM during School Holidays)

Patty & Putt (includes Golf, Cheeky Burger & Fries)
£22

All Day Every Weekday. (From 3:40PM during School Holidays)

Family Ticket (2 adults & 2 kids)
£30
Sunday and School Holidays
Events at Birdies
If you are looking for fun ideas for a team building day, or Christmas party, Birdies offer group bookings, private hires and parties. You can book smaller groups of around 12, or a larger group of up to 150 people. The venue is the perfect environment for a party, and every year has a great Christmas menu.
Birdies is also a good option if you are looking for an activity for a rainy day, since everything is indoors. You can also get group pictures, as there are plenty of good picture ops on the mini golf course.
Location of the Mini Golf at Battersea Power Station
Birdies is located under the railway arches, opposite Boom Cycle. It is just a short walk away from the Thames Path and Battersea Park. The exact address is: 6 Arches Lane, Nine Elms, London, SW11 8AB, United Kingdom.
About Birdies
Birdies is a restaurant chain which has become known for its quirky mini golf courses with immersive obstacles. It was created by the same team who were behind the Rooftop Film Club, and the SFG Club. The chain has two branches, one in Battersea, and one at the Angel central shopping centre.
If you are looking for the ultimate crazy golf experience, Birdies offer a vibrant environment and a great day out. It is a popular venue for special events like birthday parties, as with the food, golf and cocktails combined, it's a brilliant experience.
Other Posts Related to Battersea
If you are looking for other things to do in Battersea, check out the posts below.
This Post was About Playing Golf at Battersea Power Station
Thank you for reading my review of Birdies Battersea. Birdies is a place where you can play golf at Battersea Power Station. In my opinion, the 9 hole golf course, is one of the best places for an immersive crazy golf experience, with all sorts of obstacles. The best bit is you get to play a game of miniature golf next to the iconic Battersea Power Station!
Battersea Power Station is the ultimate destination in south London for the best shops, restaurants, pubs and entertainment. If you have had a fun game of mini golf at Birdies' new venue in Battersea, leave me a comment below and let me know your thoughts!