Whether you're a fitness enthusiast or someone looking to kickstart a healthier lifestyle, Battersea Power Station is the perfect destination to achieve your fitness goals. It has gyms offering high-energy spin classes, rigorous military fitness sessions, and will soon have a luxury health club with state-of-the-art facilities. This post lists the top gyms at Battersea Power Station.
Best Gyms at Battersea Power Station
1. Be Military Fit (BMF Urban)
Be Military Fit (also known as Urban Battersea Power Station) offers outdoor, military inspired workouts, as well as fitness programmes that combine all-round fitness, heart-rate monitoring, physical challenges, and team training.
BMF Urban is located under the railway arches, had as a large space with free weights where you can work on strength, conditioning and cardio. You can buy memberships or individual sessions, and they offer a free trial class for beginners.
BMF's urban training systems offer the ultimate fitness programmes, to help you become stronger and fitter.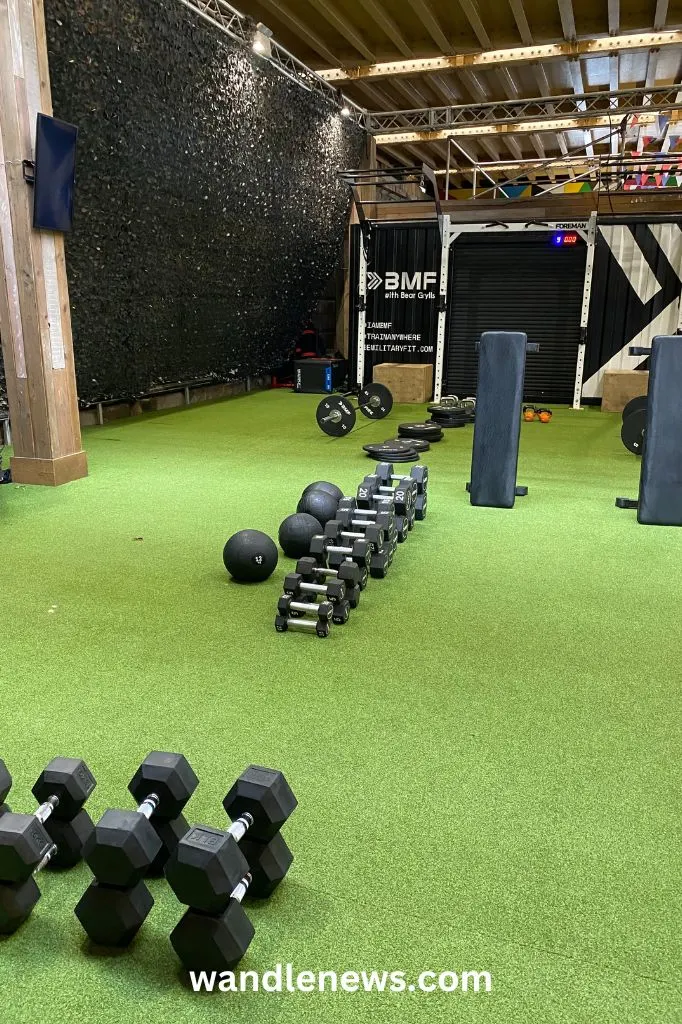 2. Boom Cycle Battersea
Boom Cycle Battersea offer 45 minute cycling classes every morning, lunchtime and evening. They offer themed rides every month, and have a shake bar. If you want to try it out, you can get a 14 day, five class trial for £50.
When you go for your class, you will find a sweat towel waiting for you on the bike. Shower towels are available in the changing rooms, along with body wash, shampoo, conditioner, hairdryers and hair straighteners. They will also let you borrow a pair of their Shimano cleats, which are compatible with their bike pedals.
3. Gym within Art'otel
Art'otel have a fully-equipped gym in their basement which has a range of Technogym equipment, along with weights, and mats on the gym floor. Although the gym is mainly for the use of their guests, it is possible for members of the public to pay a fee to use it.
4. Third Space – opening summer of 2024
Third Space is a health club that will be opening at Battersea Power Station in the summer of 2024, and will have a state of the art gym, and world-class spa facilities with a steam room, hot tub, and relaxation area.
Some of the facilities on offer will include hot yoga and pilates, a 20-metre performance pool bathed in natural light, and a wet spa recovery area with hydro pool.
There will be different membership options, and Third Space members will be able to use the club's app, which has over 700 on-demand classes. You will also have access to personal trainers, and a cafe serving fitness food.
When it opens, Third Space will be located on Electric Boulevard, outside the Power Station.
5. BXR – opening late 2023
BXR is a Battersea gym that will be opening in late 2023. It will have a fully equipped fitness studio, as well as studios for boxing, yoga, Versaclimbing, and strength and conditioning.
The gym will have trainers to help you get the best experience from your workout, and strengthen specific muscle groups.
When it opens, the entrance to BXR will be in on Pump House Lane, outside The Power Station.
Map of Gyms at Battersea Power Station
The nearest underground station to the gyms mentioned in this post is Battersea Power Station, on the Northern Line. All of the gyms mentioned, that are currently open, are marked on the map below.
Posts Related to Battersea
If you are looking for things to do in Battersea, check out the posts below.
This post was a list of Gyms at Battersea Power Station
Thank you for reading my post about the best gyms at Battersea Power Station. As new clubs and leisure facilities open, I will update this post. At the moment, if you love spin, then I recommend Boom Cycle as the best place for you, but if you are looking for more of a luxurious environment, you might want to wait for Third Space to open.