Wimbledon Village Farmers' Market is held every Sunday from 10am-3pm on the High Street, near Wimbledon Common.
The market is full of delicious, fresh produce such as artisanal baked goods, homemade jams, sauces, organic meat, and a huge range of fruit. It's a great day out, and you'll be supporting the small, independent businesses that make this market so special.
This post is all about what to expect at Wimbledon Village Farmers' Market.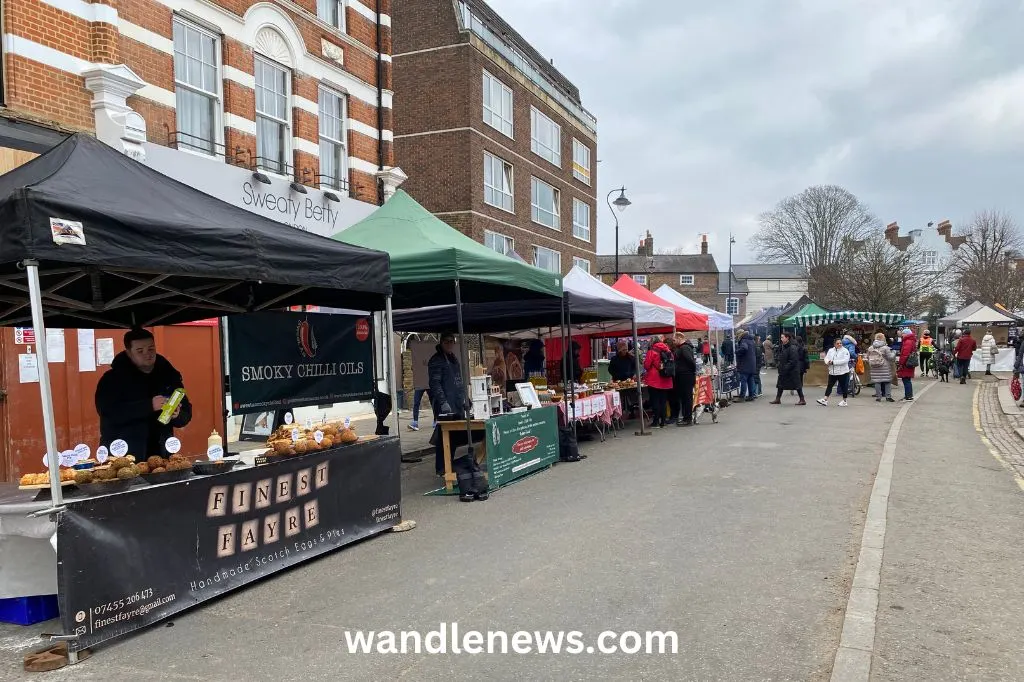 Wimbledon Village Farmers' Market
The Wimbledon Village Farmers' Market plays an important role in the local community by offering access to fresh, nutritious food whilst supporting small, independent traders and entrepreneurs. It also allows residents to contribute to the local economy, connect with local farmers, and enjoy a shared passion for great food and community spirit.
Discover below the variety of delicious food available at the market.
Artisan Bread
The farmers' market offers a wide range of artisan bread, made fresh by skilled bakers using traditional techniques. You can find everything from crusty sourdough loaves to soft and chewy ciabatta. Each loaf is packed with flavour and texture. Some options include a nutty malted sourdough, or sourdough with black olives.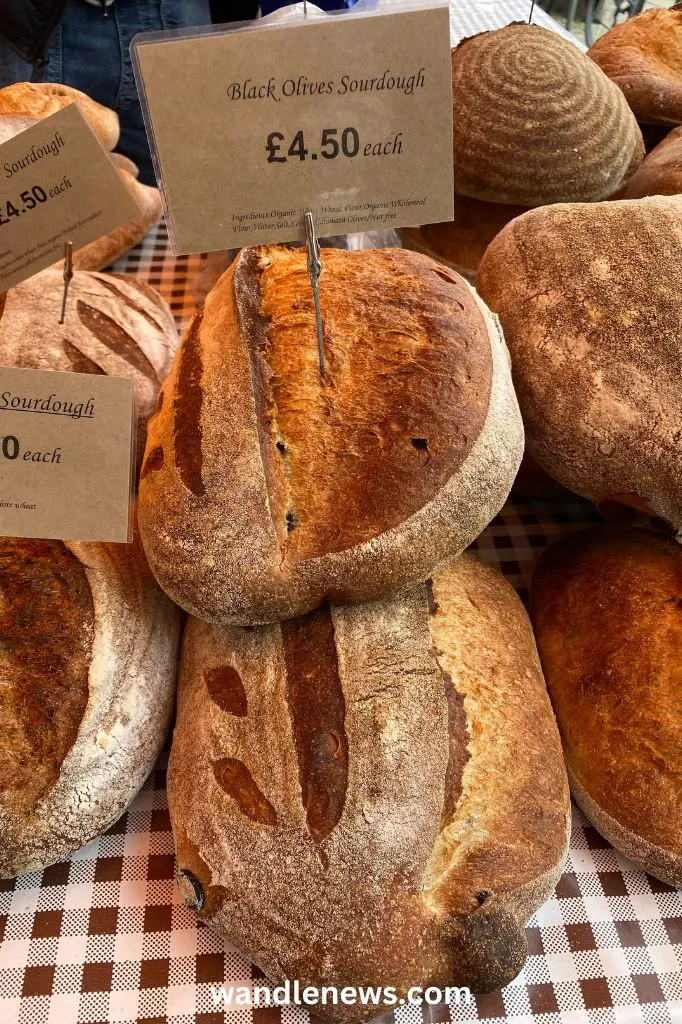 Fresh Fruit & Vegetables
You'll also find a wide selection of fresh fruits and vegetables, that are locally sourced . From juicy strawberries and raspberries, to crisp apples and pears, to seasonal root vegetables and leafy greens.
The fruits shown below are from Chegworth Valley who grow their fruits in the Kent countryside.
Chegworth Valley also sell a selection of juices from hand picked fruit on their farm. Some of the delicious flavours include pear and apple, apple and strawberry, orange, spiced apple, cherry, and apple and raspberry.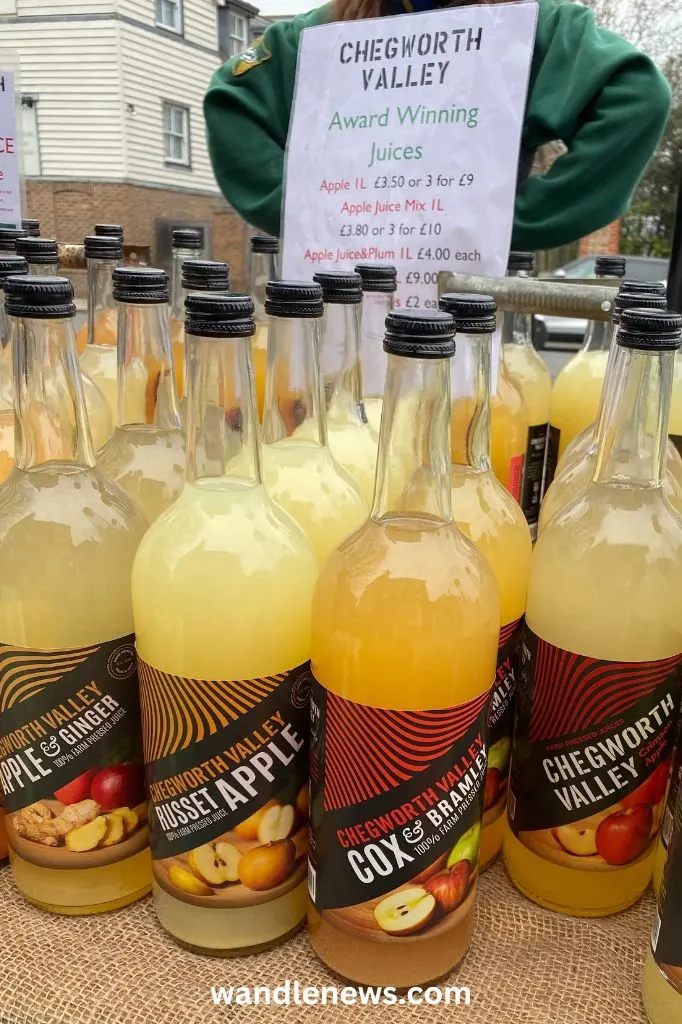 Fresh Fish
One of the standout stalls at the farmers' market is The Portland Scallop Company, who sell fresh fish and seafood from the Dorset coast. Their selection includes turbot, monkfish, Dover and lemon sole, bass, plaice, and mackerel.
Cheese
If you're a cheese lover, the market has a cheese stall with an impressive selection of artisanal cheeses with gorgeous flavours. From creamy brie and tangy goat cheese, to sharp cheddar and smoky gouda, there's something for every taste and preference. Plus, the affordable prices make it a great opportunity to indulge in some of the finest cheeses without breaking the bank.
Olives & Olive Oil
The Spanish Gastro Larder stall at the farmers' market offers a selection of high-quality artisanal Spanish extra virgin olive oils, and olives. Their selection includes olives seasoned with paprika, green olives, olives with almonds, and olives stuffed with sun-dried tomatoes and garlic.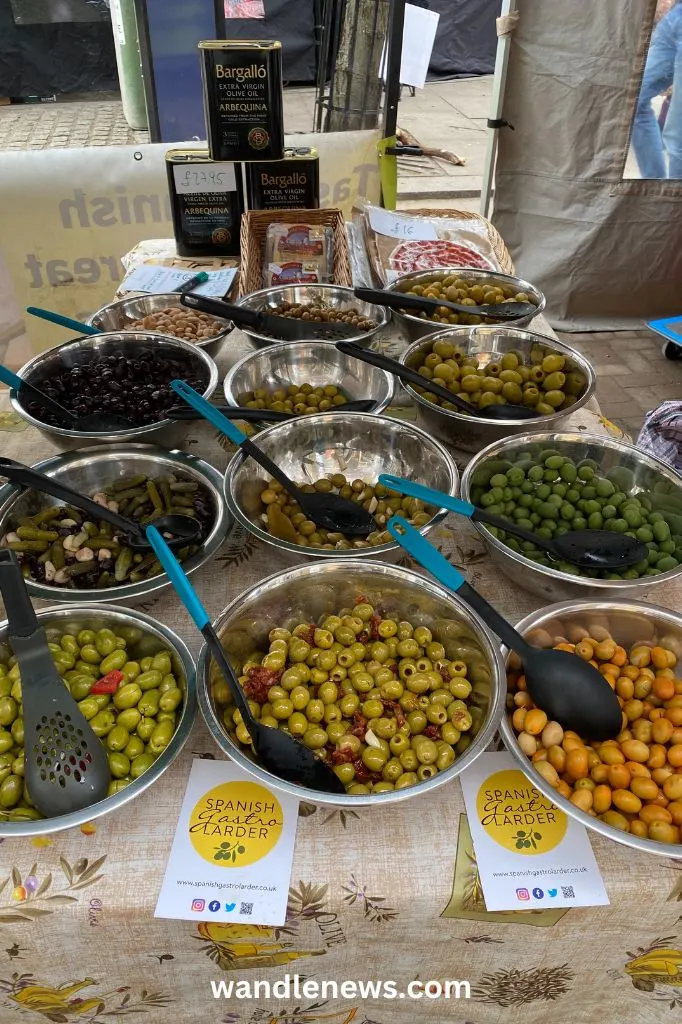 Quiche and Tarts
The Popina stall is known for its delicious sweet and savoury baked goods, made with fresh, seasonal ingredients. Their menu includes crispy tarts, fresh creamy quiches, Mexican rolls and baked falafels. All of their products are vegetarian, and they also offer vegan and gluten-free options, ensuring that everyone can enjoy their mouth-watering treats.
Popina make a wild mushroom quiche, and spinach and tomato quiche, which are especially delicious! I've put a close up photograph of them below.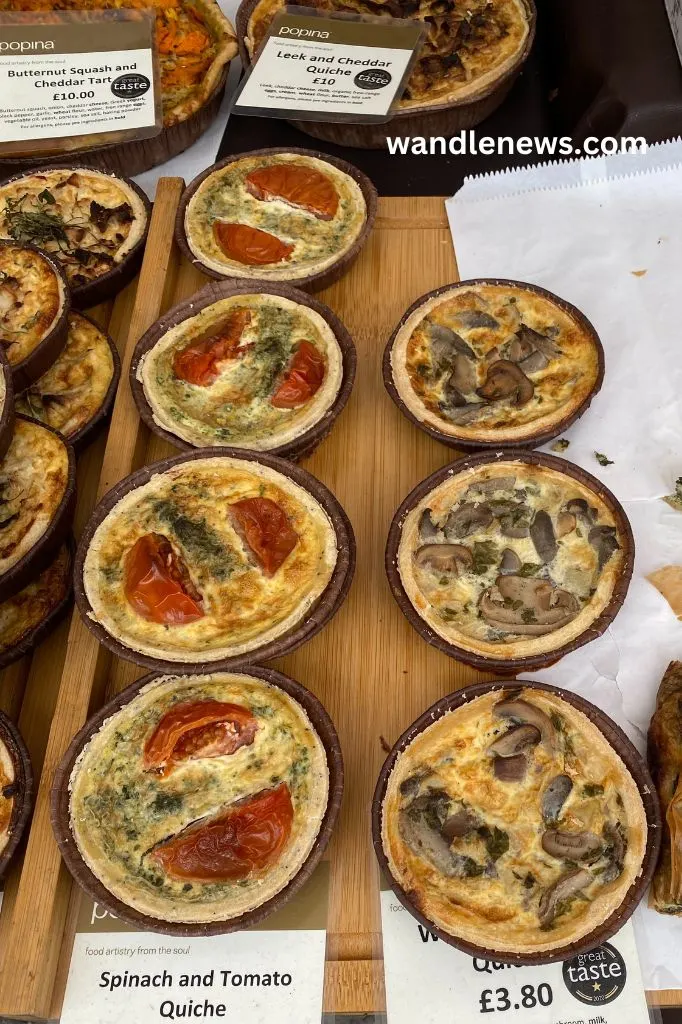 Focaccia
If you enjoy Italian street food, The Real Focaccia have a market stall selling freshly baked Focaccia. The options include tomato, mushroom, or aubergine with stracchino cheese.
Smoky Chilli Oils
The Sweet as Sauces stall sells delicious smoky chilli oil, which is created from a blend of six different chillies. The oil is made from all-natural ingredients, and cold-pressed extra virgin rapeseed oil sourced from Britain. There are three unique oils to choose from, including the original, fiery, and zesty variation, which contains hints of citrus, star anise, and cinnamon.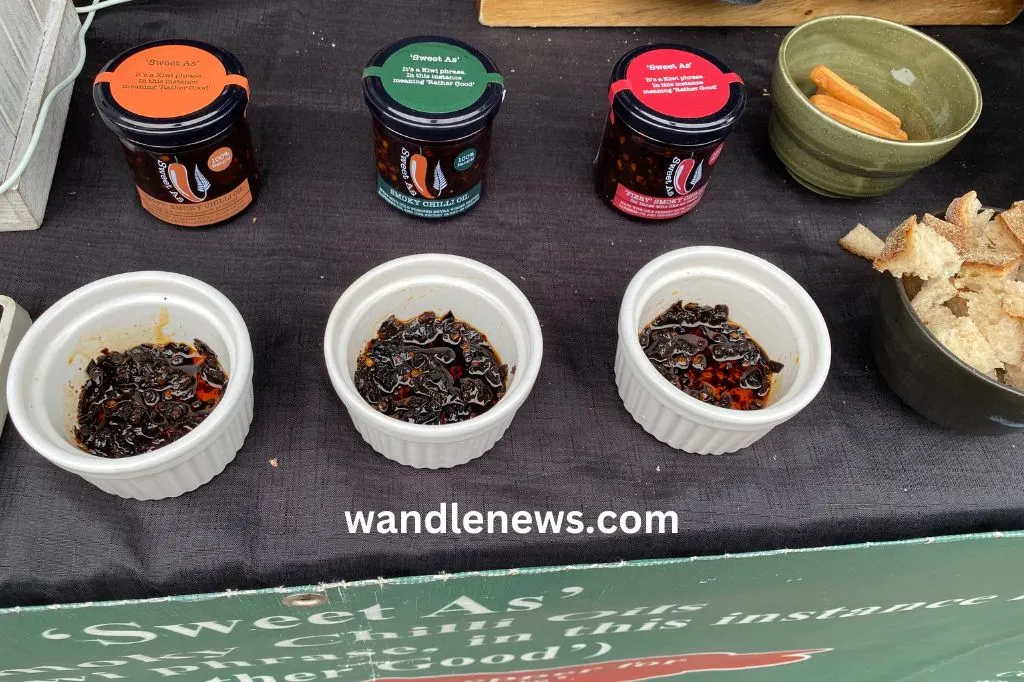 If you're a chilli fan, these oils are great to use in curries, or to marinate fish and chicken. The owners are also very friendly, and will help you pick the right oil for your taste. All of these oils are also free from refined sugar.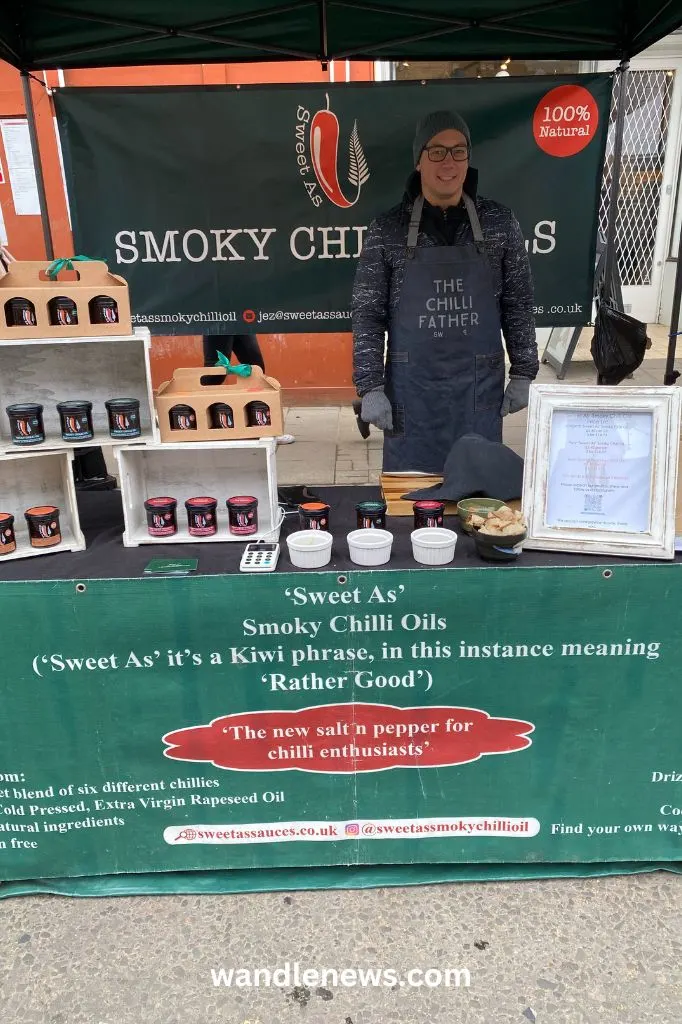 Tomato Sauces
Isle of Wight Tomatoes offer a range of tomato-based products at the market, including Shakshuka tomato sauce and Makhani tomato curry sauce. Their products are made with high-quality tomatoes and are a popular choice among customers.
In addition to their delicious sauces, Isle of Wight Tomatoes also offer a variety of other tomato-based products. These include ketchup, tomato and chilli jam, tomato sea salt, and oak smoked tomato balsamic, which is a perfect complement to salads, grilled vegetables, and roasted meats.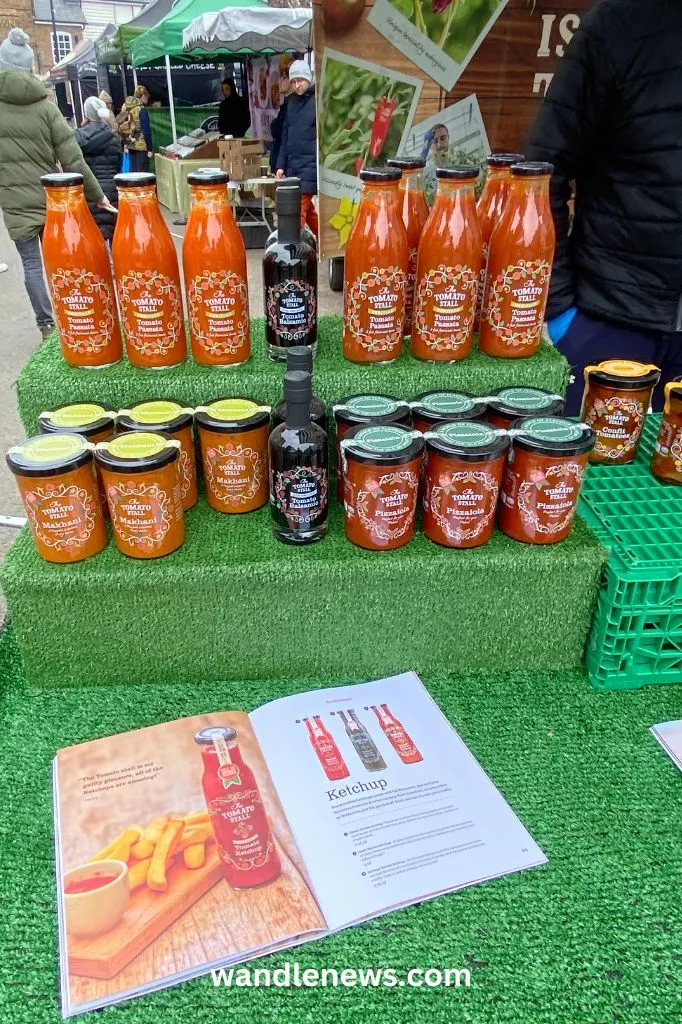 Honey, Sauce and Jam
You can find an extensive range of honey, sauces, and jams at the market, and what's even better is that many of the stalls offer free samples. This way, you can taste-test the products before you make a purchase and ensure that you're getting something that you'll enjoy.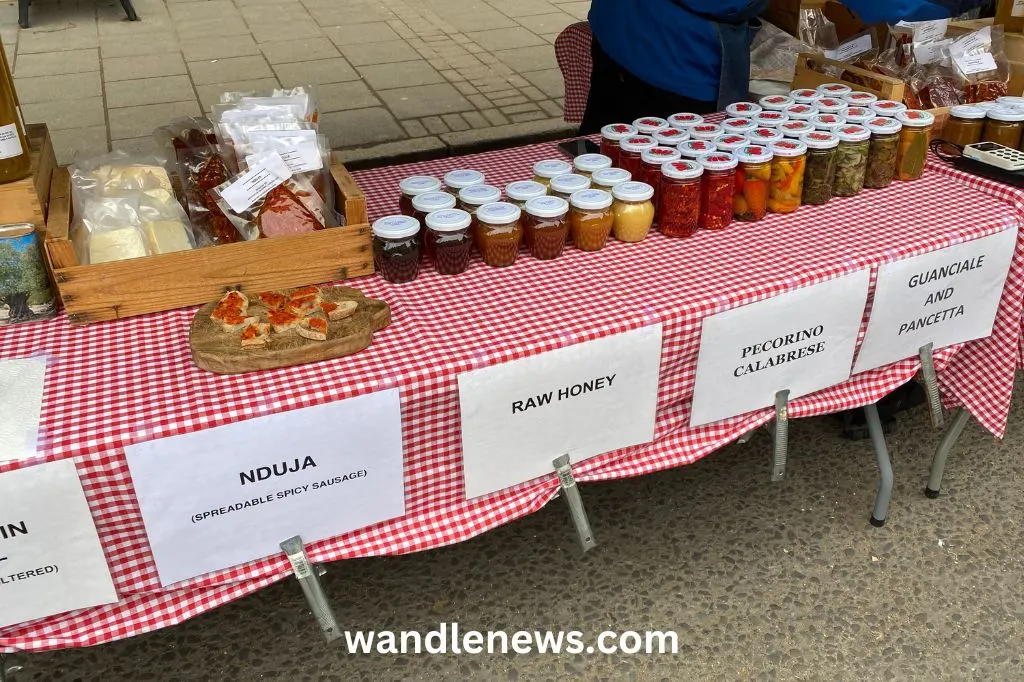 Scotch Eggs
The Finest Fayre stall offers delicious homemade scotch eggs and pies. Some of the options include vegetarian lentil and mushroom scotch egg, chicken sage and cranberry scotch egg, and black pudding scotch egg. They also sell vegan sausage rolls that are sure to satisfy any plant-based foodies.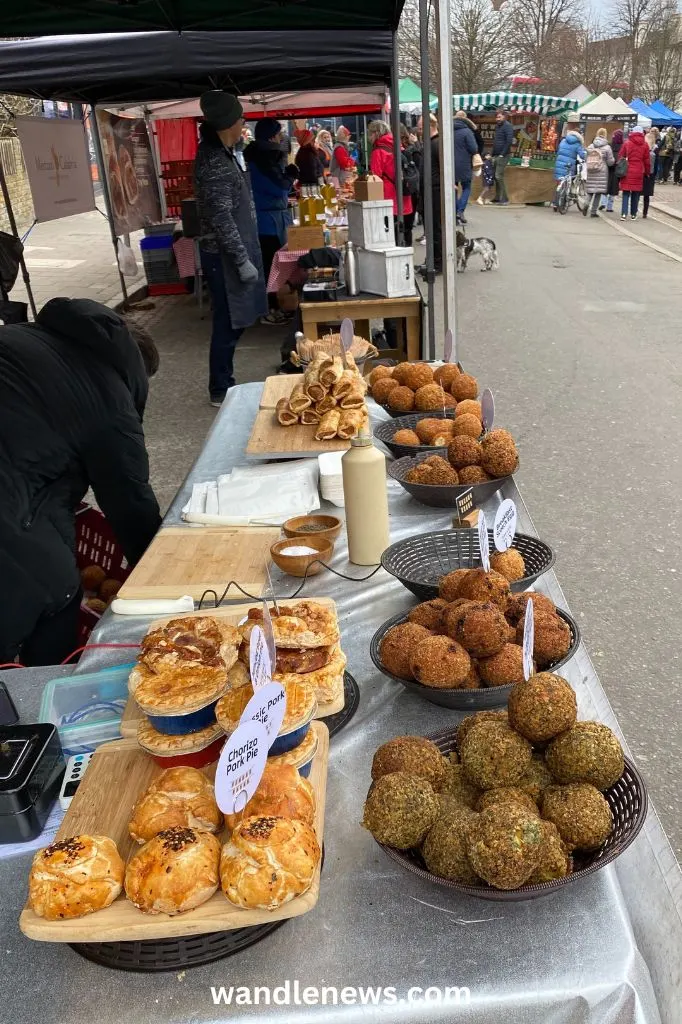 Sweet Treats
If you have a sweet tooth, then you won't be disappointed by the range of stalls offering delectable treats at the market. From homemade fudge and cookies to artisanal chocolates and cakes, there's something for every taste and preference.
Delfina Sweets is a popular choice with their artisanal Argentinian sweets, including mouth-watering alfajores and delicious dulce de leche.
The Simply Handmade London stall is another popular choice selling strawberries dipped in chocolate, macarons, handcrafted chocolates, and white chocolate vanilla fudge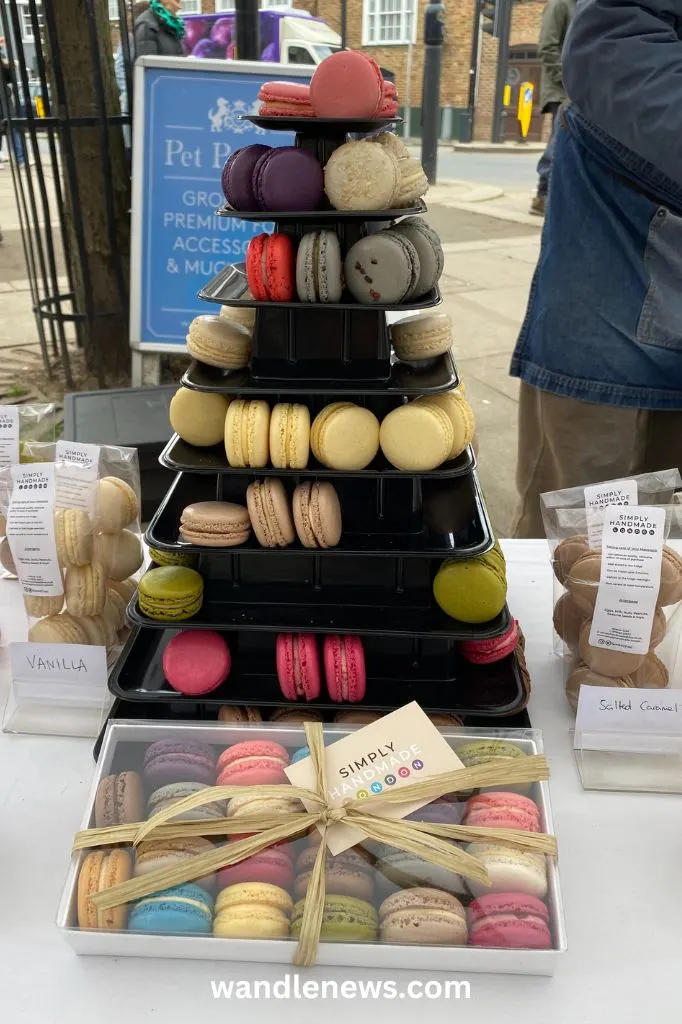 If you are looking for vegan, dairy free or gluten free options the Bombons stall offers a variety of cakes, pies and sponge that cater to specific dietary requirements. Their gluten free, vegan Whoopie Pies are especially delicious!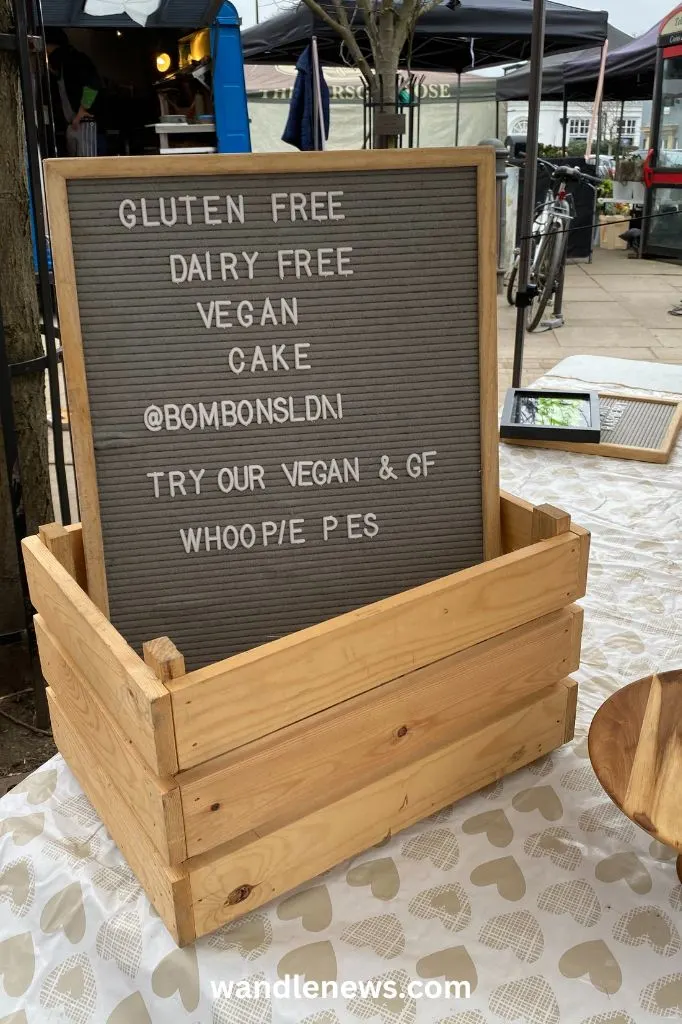 Seasonal Cut Flowers
The market is not just about food, as The Stand Flowers offers a variety of seasonal cut flowers that are sure to brighten up your day. You can choose from pre-made bouquets or even create your own custom arrangement with the help of the friendly and knowledgeable florists at the market.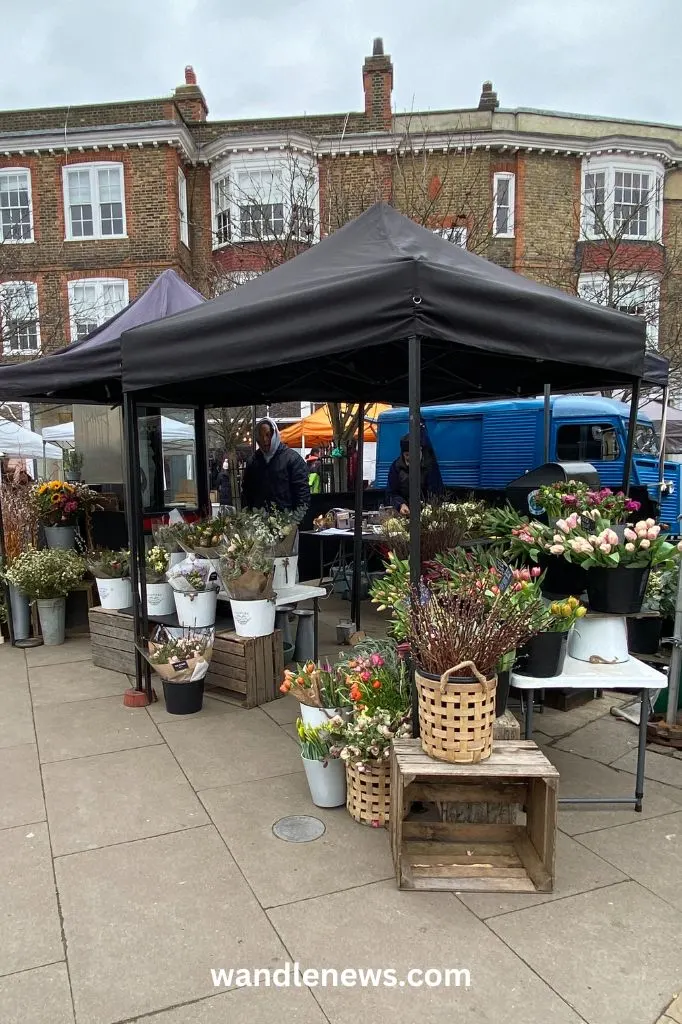 Other Market Stalls
This post only mentions a small selection of the stalls at farmers' market. Some of the other stalls sell:
Butchers meat
Free range eggs
Coffee
Pasta
Korean cuisine
Turkish cuisine
Portugese Treats
Find out what healthy food is on offer this weekend at the on the market's Facebook page.
How to Get to Wimbledon Village Farmers' Market
The Wimbledon Village Farmers' Market is held every Sunday from 10am-3pm at the following address: High Street, London, SW19 5AX. The location of the food market is shown on the map below.
Other Posts Related to Wimbledon
If you found this article helpful, you may enjoy the following posts.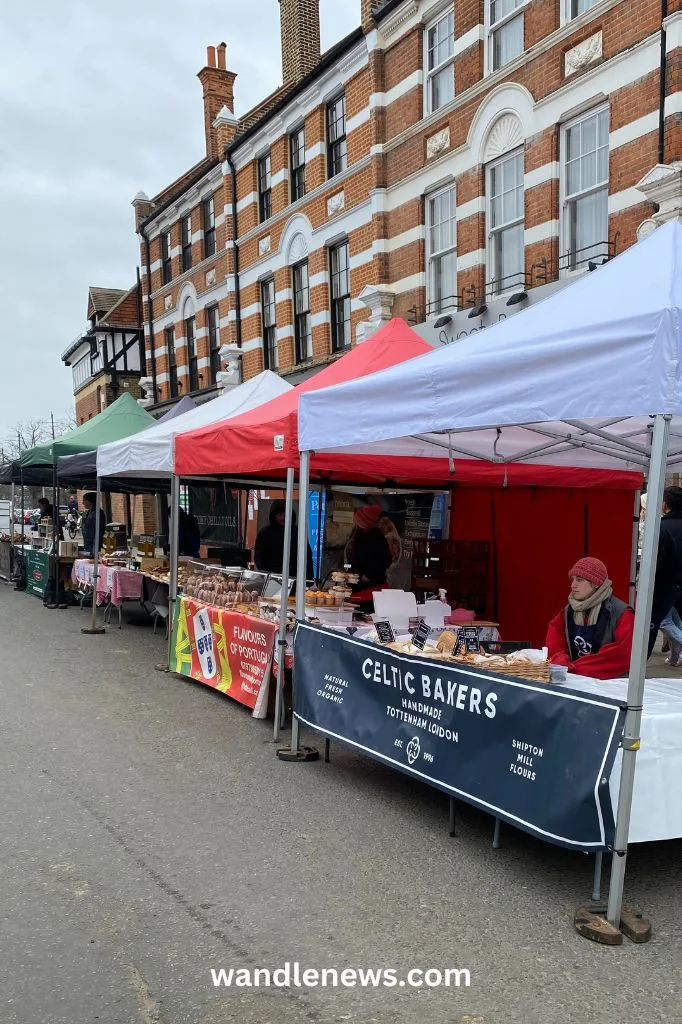 This post was all about Wimbledon Village Farmers' Market
Wimbledon Village Farmers' Market is a great place to buy locally sourced, seasonal produce whilst supporting local businesses. With a wide range of stall holders offering everything from fresh fruits and vegetables to artisanal cheeses and baked goods, there's something for everyone at this vibrant market.
If you are a stall holder at the market and would like to feature in this post, please email Olivia.