Earlsfield's brunch scene has been thriving in recent years thanks to all the cozy cafes, bakeries and restaurants on Garratt Lane. Many of the brunch spots in Earlsfield also offer outdoor seating, which is great in the summer! This post is a round up of all the best places for brunch in Earlsfield, that have been recommended by locals!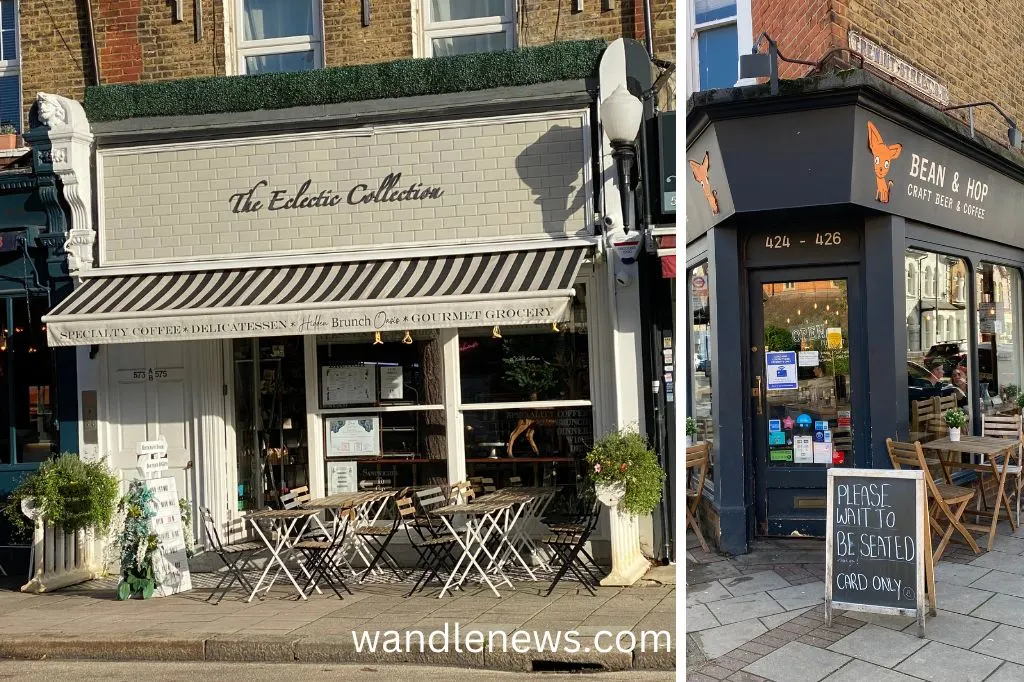 ---
Top 10 Places for Brunch in Earlsfield
---
Looking for brunch spots in South London? Check out my other posts here!
1. Bean & Hop
424-426 Garratt Lane, London SW18 4HN. Tel: 020 7998 6584
The Bean & Hop in Earlfield offers a delicious brunch menu with a variety of dishes to satisfy any appetite! They also serve specialty roasted coffees and craft beer from around the world.
Some of their menu options include smashed avocado with sautéed chorizo, shakshouka, and Turkish eggs with spiced yoghurt on sourdough.
Must-try: Pancake stacks with Canadian maple syrup
2. The Eclectic Collection
575 Garratt Lane, London SW18 4ST. Tel: 020 8265 2007
The Eclectic Collection in Earlsfield is a bit quirky and different. The cafe has some seating outside and an area at the back with a conservatory, which is cozy and nicely decorated (check out the photograph below).
The menu includes homemade banana bread, beetroot salad, toasted sourdough, and their signature English breakfast. You can also build your own brunch, and choose exactly how you want your eggs, with a variety of different sides and toppings.
Although this cafe had been recommended to me by a number of locals, we found the food to be disappointing. When we went we tried the Eggs Royale and Berry Pancakes. I found the bread was really doughy, the eggs were not cooked properly, and there was water all over the plate. The pink hollandaise sauce also tasted as weird as it looks (see the photograph below).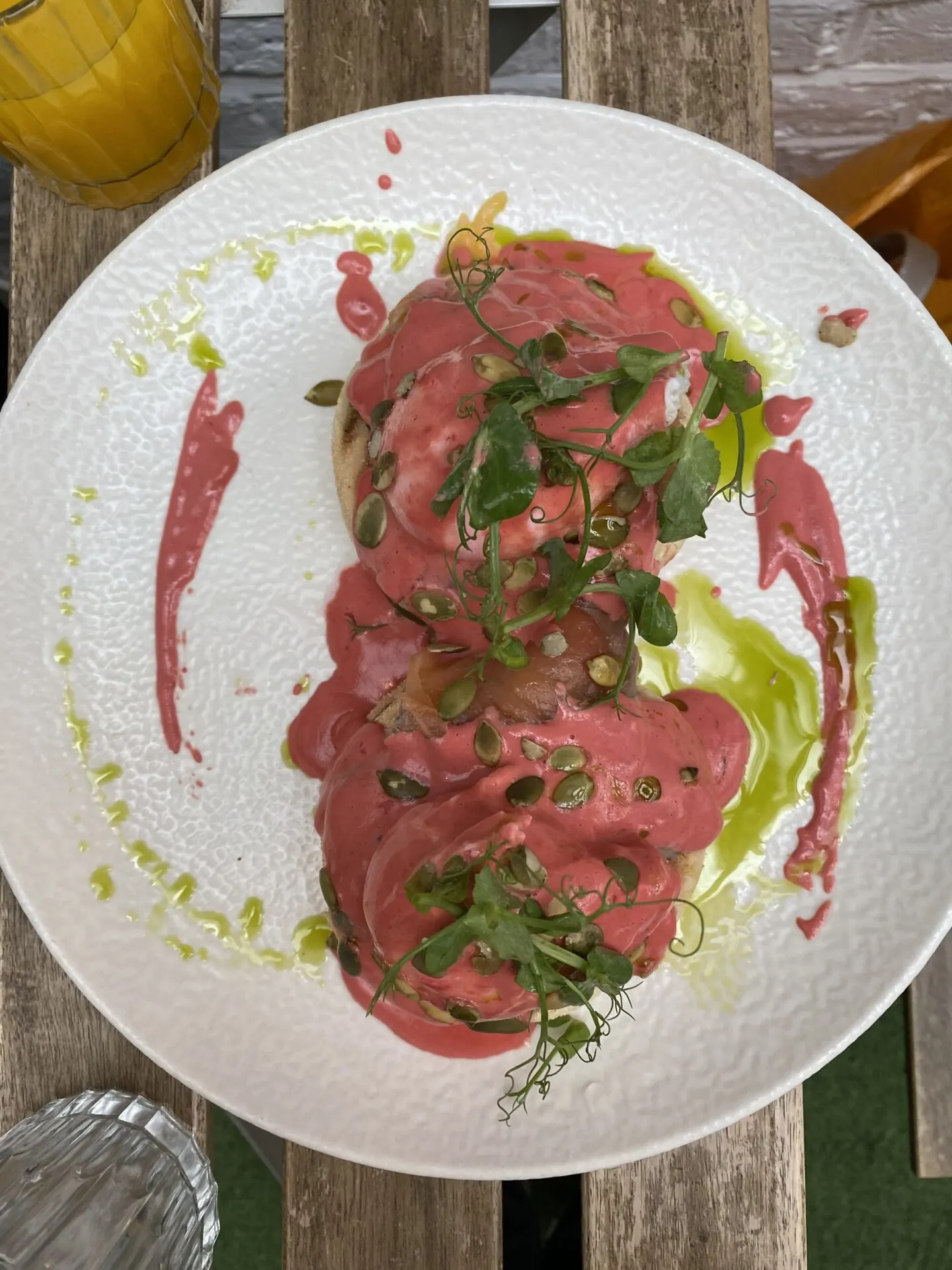 Most of the tables are also too low for the seats and are uncomfortable to eat off. This brunch spot wasn't a favourite for us (sorry), but I've kept it on the list as other people have said they liked it here.
Must-try: The freshly squeezed orange juice was nice, although small.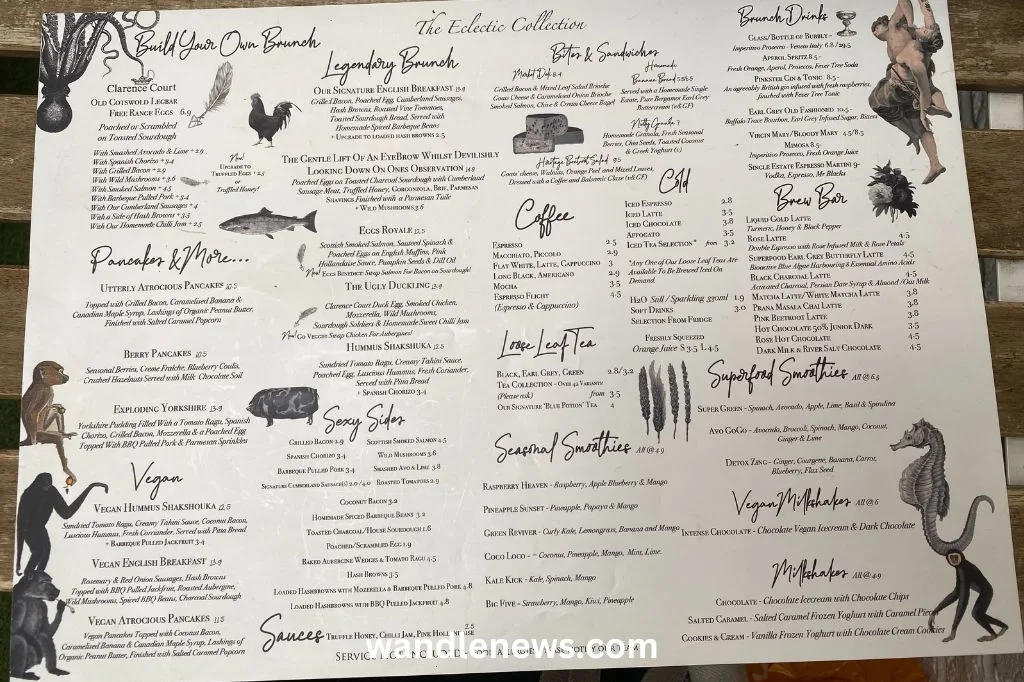 3. Belle Amie
404 Garratt Lane, London SW18 4HP. Tel: 020 8944 8886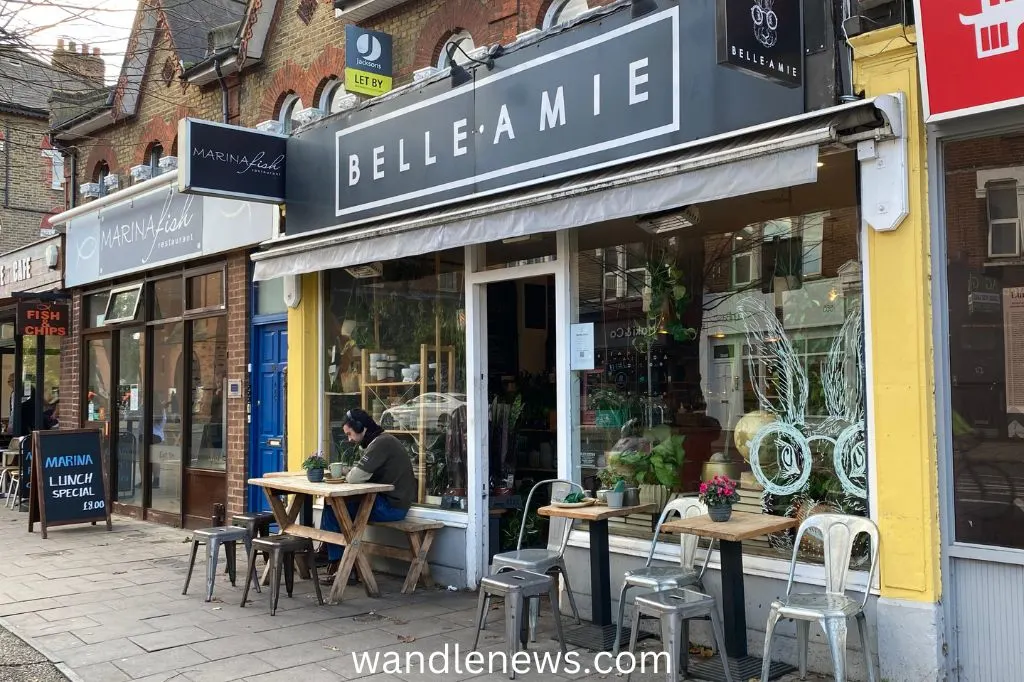 Belle Amie is a quaint little cafe with a cozy atmosphere. Their brunch menu offers porridge, granola, eggs hollandaise, and a traditional English breakfast.
This is a great option for a leisurely weekend brunch, as the vibe is relaxed and welcoming. They are also very friendly to families with children.
At the moment this is our favourite brunch place in Earlsfield! When we went we tried the smashed avo with chilli and lime (on its own and with streaky bacon), and the eggs royale. Everything was delicious!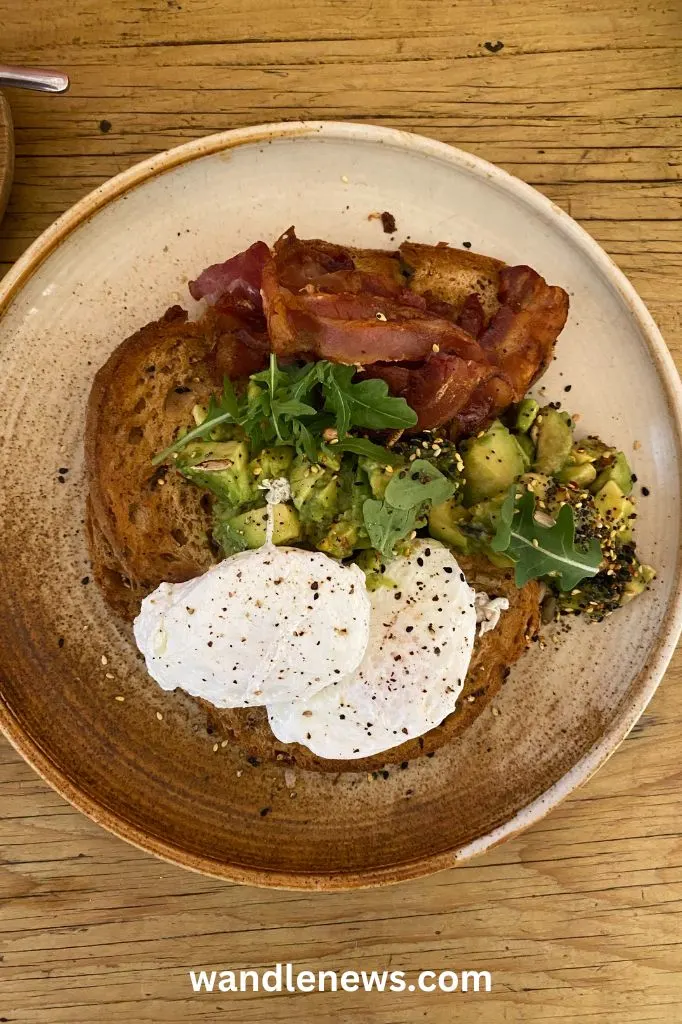 Must-try: Big Belle Breakfast (there's also a vegetarian option)
4. Manny Dartin
366 Garratt Lane, London SW18 4ES.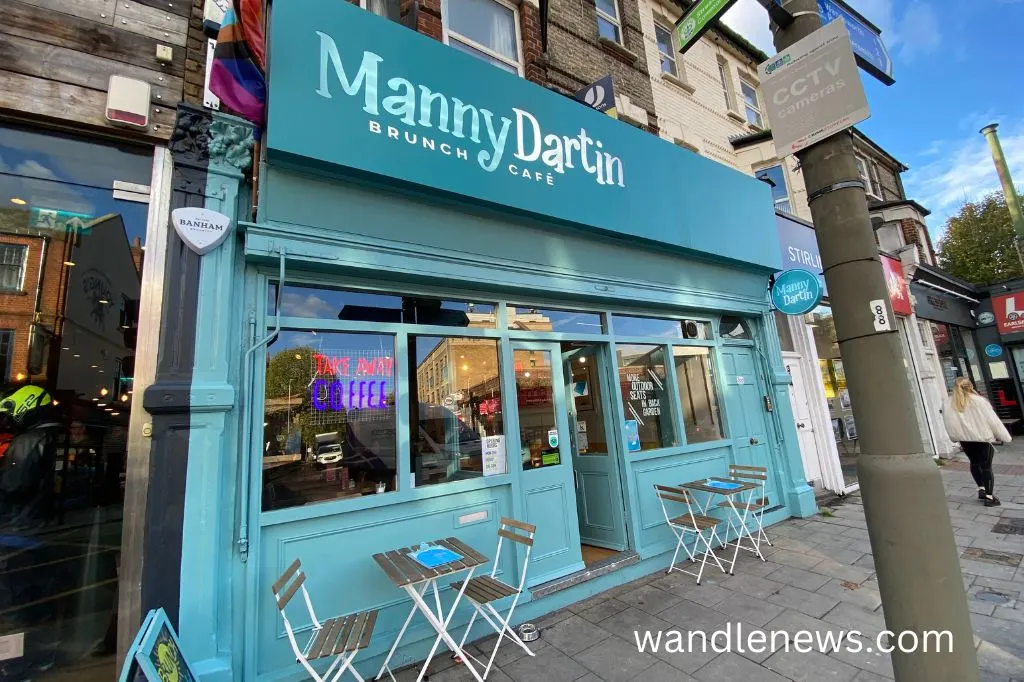 Manny Dartin is the perfect spot for brunch and coffee. Their menu includes cauliflower fritters, beef brisket, meatballs and chicken sausage, as well as more traditional options such as egg on toast.
Manny Dartin has also got a reputation locally as being one of the best spots in Earlsfield for a great coffee! It's especially popular amongst commuters since it's directly opposite Earlsfield station.
When we visited we took a dog with us, and the staff there were very dog friendly. They even told us they prefer it when customers bring dogs with them! I tried out the avocado on toast, which is shown below.
Must-try: Vegan banana bread
5. Corner Cafe
219 Garratt Lane, London SW18 4DT. Tel: 020 3489 2322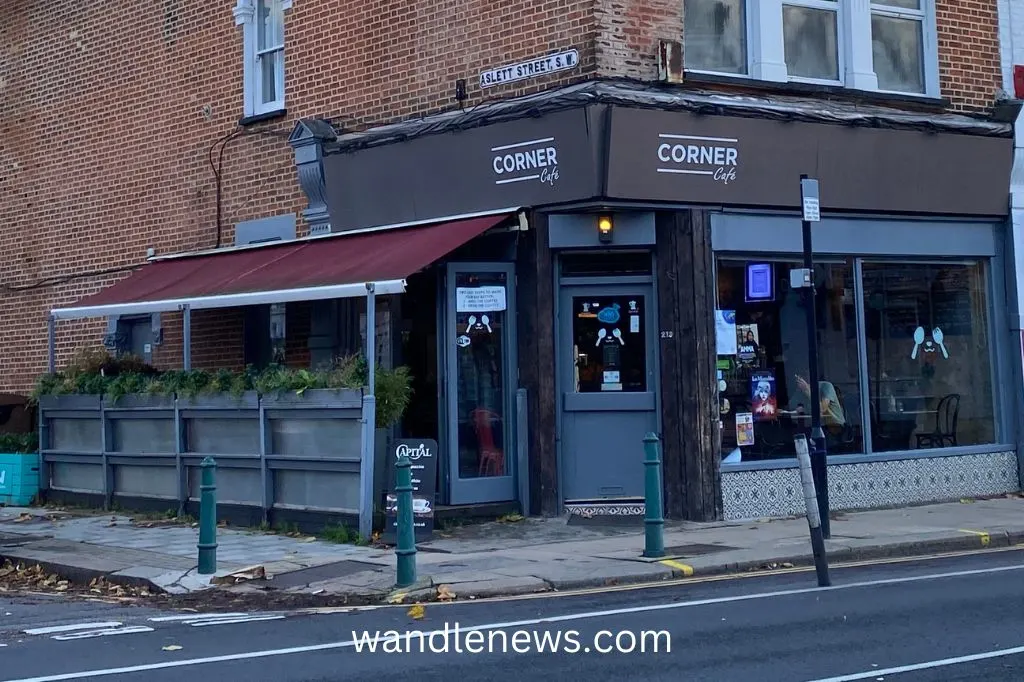 The Corner Cafe is located at the north end of Garratt Lane, and has a very comfortable, friendly and relaxed atmosphere. Their brunch menu includes scrambled eggs with smoked salmon on toast, wholegrain granola, or pancakes with maple syrup.
The Corner Cafe also has a great selection of healthy juices including orange, carrot and ginger, apple and spinach, and pineapple juice.
Must-try: Avocado crush
6. Home Community Cafe
St Andrew's Church, Garratt Lane, London SW18 4SR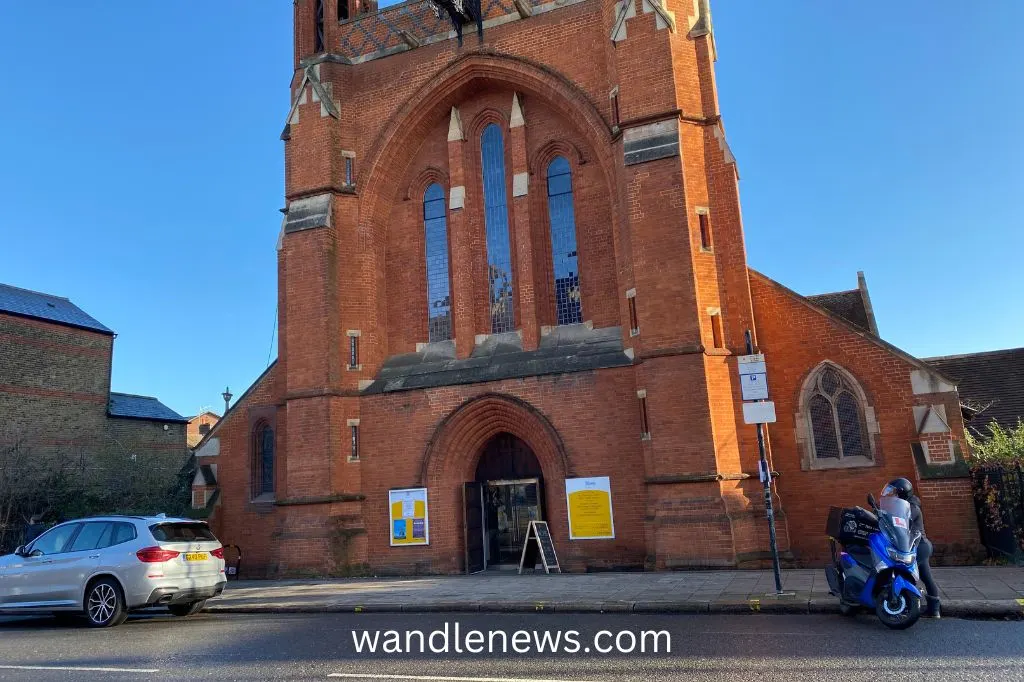 The Home Community Cafe is a not for profit cafe and community space in the heart of Earlsfield. They offer a small menu which changes regularly, and uses local produce as much as possible.
Their current menu includes granola, toast and jam, and their popular Hc Muffin which is a toasted muffin, with vegan sausage patty, scrambled tofu and "cheeze".
Must-try: Hc Muffin
7. Cafe Elena / La Pernella
470, 472 Garratt Lane, London SW18 4HJ. Tel: 020 8946 9712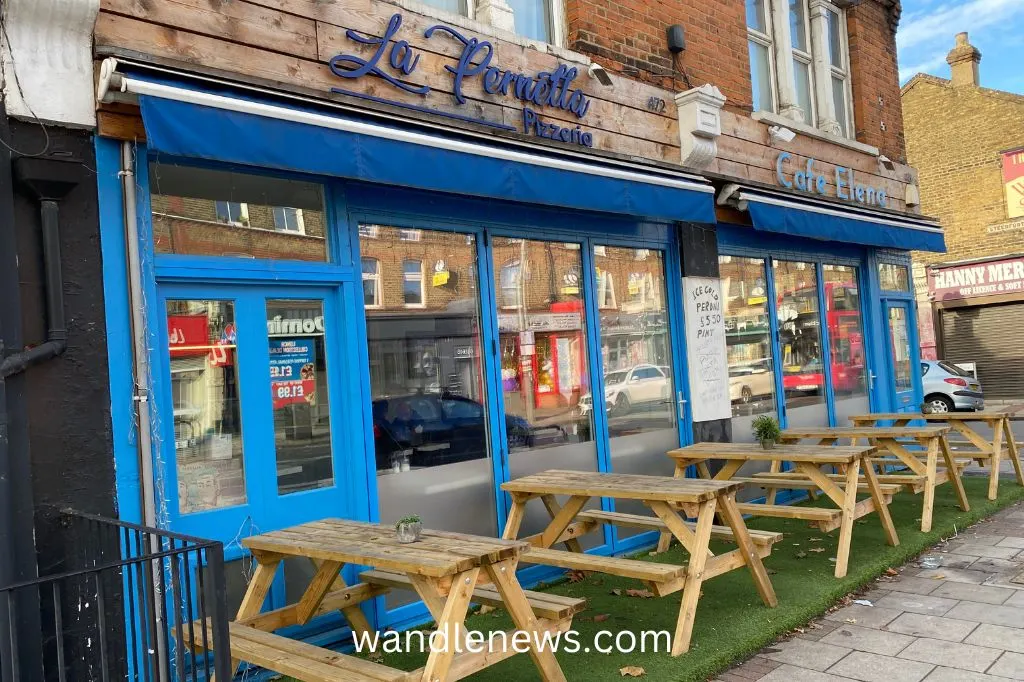 Cafe Elena is an Italian restaurant within La Pernella in Earlsfield. It offers a delicious menu, and has a cozy and welcoming atmosphere, which is perfect for a leisurely brunch with friends.
They have a great breakfast menu which includes vegetarian options, and also offers ciabattas, and wood fired pizzas. Your brunch can be washed down with a cup of rich and flavourful coffee or tea.
If you are particularly looking for an Italian restaurant, check out my article on the best Italian restaurants in Earlsfield.
Must-try: Tomato mozzarella panini
8. GAIL's Bakery Earlsfield
537, 539 Garratt Lane, London SW18 4SR. Tel: 020 8946 0537
Gail's Bakery is only a couple of minutes from Earlsfield Station. Their brunch menu includes porridge, soup and toasties, as well as toast with either salmon, jam, eggs, avocado or baked beans.
This is a great spot if you are looking for somewhere close to the station. They also have larger tables compared to some of the other brunch spots, so it might be a good choice if you are looking for somewhere to go with a large group.
Must-try: Avocado salsa on toast
9. The Open Page
573 Garratt Lane, London SW18 4ST. Tel: 020 3971 0820
The Open Page is a pub that serves brunch every Saturday. Their menu includes Eggs Benedict, smashed avocado, scrambled egg with salmon, and a full English breakfast.
The Open Page might be a good option if you are looking for somewhere for a boozy brunch, as they serve a variety of cocktails, wines and beers.
Must-try: Veggie breakfast with freshly squeezed orange.
10. The Halfway House
521 Garratt Lane, London SW18 4SR. Tel: 020 8946 2788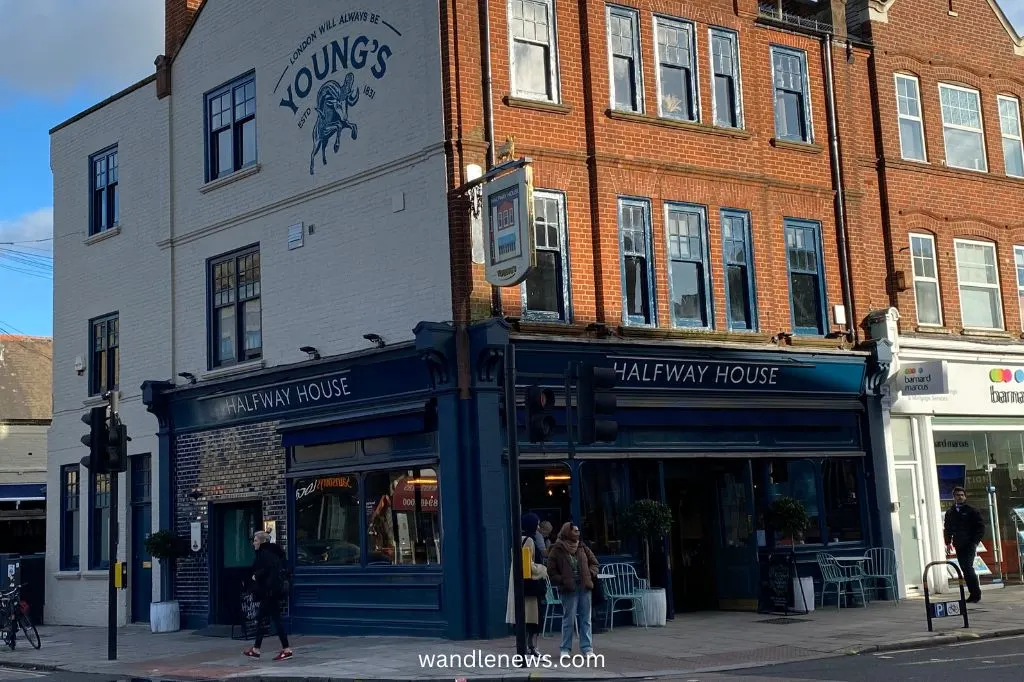 The Halfway House serves brunch every day from 10am. Their menu includes a full English breakfast. jacket potato, and smashed avocado, with toasted sourdough, poached eggs, and seeds.
Nearly all pubs in Earlsfield (and actually most of South West London) are Youngs, so I recommend you download the Youngs app on your phone for quick access to the menu!
Must-try: Smashed avocado
Map of Places to Have Brunch in Earlsfield
More Posts Related to Wandsworth
The Post was About the Best Places to eat Brunch in Earlsfield
Thank you for reading my post about the best places to brunch in Earlsfield. If you have tried any of the restaurants listed in this post, please leave me a comment below and let me know your thoughts.